Racism, Not Protests, Is Fueling COVID-19
Dr. Lauren Powell, executive director of Time's Up Healthcare, shares how to protest safely, why we need more Black women in leadership roles in health care, and how systemic racism has made COVID-19 more deadly for Black people.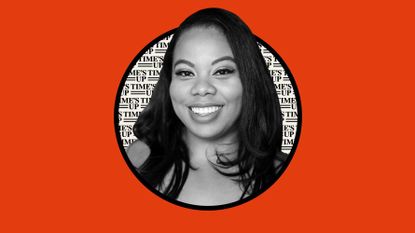 (Image credit: Courtesy of Time's Up)
Marie Claire Newsletter
Celebrity news, beauty, fashion advice, and fascinating features, delivered straight to your inbox!
Thank you for signing up to Marie Claire. You will receive a verification email shortly.
There was a problem. Please refresh the page and try again.
Our country is fighting two pandemics: The COVID-19 pandemic, which has taken the lives of more than 130,000 Americans over five months (disproportionately impacting people of color), and systemic racism, which has claimed the lives and livelihoods of countless Black men and women over the course of generations. Both battles are crucial, both urgent and one long overdue. Right now, we're seeing a surge of new COVID-19 cases across the country (more than three dozen states have seen cases rise over the past two weeks). In the wake of George Floyd's murder just over a month ago (and the many murders of Black people before him), the Black Lives Matter movement has swept the nation.
For months, citizens have been encouraged to stay home and not gather in large groups to quell the spread of COVID-19. However, the fight against racism has compelled many to take to the streets in protest. Some worry that this social justice movement is contributing to the spread of coronavirus. But it's actually racism that's exacerbating the impact of COVID-19, particularly for people of color.
Dr. Lauren Powell, the executive director of Time's Up Healthcare, is focused on eradicating gender bias for women working in health care and advocating for the equity, safety, and opportunity of Black women in health care. Here, as a Black woman and leading health care official, she shares her perspective on the convergence of the COVID-19 pandemic and Black Lives Matter protests, and why our country needs to fight both pandemics with rigor.
Marie Claire: You've commented that your "worst nightmare" was realized over the past few weeks.
Lauren Powell: Very early on in the COVID-19 response, I was talking with a colleague about worst case scenarios. From his perspective, the worst thing that could happen [during the COVID-19 pandemic] would be a natural disaster. My biggest fear was that there would be another shooting of an unarmed Black person, and that people would take to the streets in protest.
You can't deny that people have the right to protest. It is a First Amendment right, and it makes sense that people want to protest racism. But to do that in the midst of a pandemic, especially in the midst of a pandemic that is disproportionately taking the lives and livelihoods of Black people in America, was horrifying to me. Many people in the Black community find ourselves between a rock and a hard place: Racism is both fueling COVID-19's disproportionate impact on the Black community, and it's also racism that's at the root of police brutality and the modern day lynching, if you will, of Black people in America.
MC: Has the scope of your job shifted over the past few months?
LP: This moment has opened everyone's eyes a little bit wider. For some people that means opening their eyes for the first time; for others that means opening our eyes even more to the ways that systemic racism, institutionalized racism, and injustice permeate throughout different systems. Time's Up has always embraced equity and has advocated for breaking down systems of racism and sexism, but this moment has pushed us to be even more explicit about that and really demonstrate what good leadership looks like.
MC: Racism and COVID-19 are both taking lives. How do we approach both in this moment when they're colliding?
LP: COVID-19 has been with us for a matter of months; racism has been with us for 400-plus years. There's the very true and sheer reality that racism has killed many more people than COVID-19 has. That is not to undermine the threat of COVID-19, but to show the ongoing threat that racism is to America, and specifically to Black people. There is this very real debate that one may have to have with his or herself about how comfortable he or she feels to go out and protest. I actually do think that protesting [during the pandemic] can be done safely; I protested in my own way, safely. I'm very encouraged to see the number of protesters who are wearing masks.
There were a few preliminary studies that found that [new] COVID-19 hotspots are not necessarily coming from protests, at least not yet. That was encouraging, but people still really need to be safe. On the flip side, it's a privilege to be able to step back and actually weigh which of these two pandemics is a bigger threat. To intellectualize this moment is a privilege. To be Black in America...quite often moments like this happen every day. Very early on when the CDC was advising everyone to wear a mask, there were people in my community, Black men in particular, who said, I don't know if I can wear a mask in public because I'm already a threat without a mask. In the attempt to save my life and the expense to potentially save others' lives, that could even be putting my own life at risk. Stepping back and seeing the complexity of making a decision like this, in this particular moment, is a snapshot of what it's like to be Black in America every day.
MC: Are there a lot of women of color in executive positions in public health to help flag these concerns?
LC: Broadly, in comparison to the number of women who make up the health care workforce, we know that it basically almost zeros out when it gets to the leadership level. There's a complete lack of women of color in leadership. That's really unfortunate and actually catastrophic. As we think about the hierarchy in health care, women of color often fall into roles at the very bottom of the pyramid: Their roles are low wage and do not offer protections like paid sick leave. It's unfortunate that it's taken to a pandemic for us to realize that the health, safety, and wellbeing of my neighbor also is dependent upon my health, safety, and wellbeing. Paid sick leave, equity, and the need for childcare is something that Time's Up has been focused on for quite some time, and we're continuing to push that in this moment.
MC: What are the safest ways to protest?
LP: We have to recognize that there is a spectrum to demonstration; not everyone may be able to take to the streets to protest. Resisting oppression can happen wherever you are. That means equipping people. Think about organizations making policy change—that's a way to resist an entire system that was created to oppress. Treating coworkers well and calling out things that happen interpersonally is a way to push back against a system that was created to oppress. Then, we have digital advocacy. We've got people who are thinking about running for office. I'm encouraging all of us to understand that activism comes on a spectrum and that there's not one right way to protest an overarching, overwhelming system that's had a 400-year-plus head start.
If you're able-bodied and have the time and flexibility to take to the streets, right now that means putting yourself in harm's way. But I think that can be done safely: Wear a mask and carry hand sanitizer; potentially wear gloves. It is still possible to stay six feet away from other protesters if you're demonstrating. When you get home, wash your clothes, take a shower and keep away from other folks in your home if you can.
MC: How do we, as a nation, pull ourselves out of this difficult moment?
LP: That's a dissertation question. From a macro level, I'm so proud of the social movement that we're seeing, but that can't be enough. We can't just stop at words, and we can't stop at just protests. Protests matter for sure, but it has to just be the beginning. We should think about what other demonstrations looked like in history. The Civil Rights bus boycott lasted 381 days. If we think about where we are right now in proximity to where we could be going, that's a really long time to continue to keep something front and center.
At Time's Up, we're focused on the intersection of racism and sexism. I very much verbalize that eliminating racism is the foundation for eliminating all other forms of oppression. If we push to eliminate racism, like a domino effect we will knock down other forms of oppression.
For a Time's Up guide on approaching equity and inclusion, specifically during the COVID crisis, click here.
---
Related Story
Celebrity news, beauty, fashion advice, and fascinating features, delivered straight to your inbox!
Megan DiTrolio is the editor of features and special projects at Marie Claire, where she oversees all career coverage and writes and edits stories on women's issues, politics, cultural trends, and more. In addition to editing feature stories, she programs Marie Claire's annual Power Trip conference and Marie Claire's Getting Down To Business Instagram Live franchise.