The Women Helping Space Tourism Lift Off
As Virgin Galactic preps the first rocket ship trips for paid passengers, two space-savvy women prepare to launch.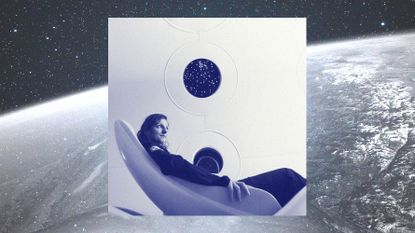 (Image credit: Courtesy of Virgin Galactic)
Marie Claire Newsletter
Celebrity news, beauty, fashion advice, and fascinating features, delivered straight to your inbox!
Thank you for signing up to Marie Claire. You will receive a verification email shortly.
There was a problem. Please refresh the page and try again.
Like much of the STEM world, space exploration has been male-dominated for decades. NASA's early female "computers" (see Hidden Figures) made the calculations that enabled the men's orbits—behind the scenes. Sally Ride only became the first U.S. woman in space decades after male astronauts walked on the moon. Despite their vision and skill, women have struggled to rocket through this particular glass ceiling.
Now, as Virgin Galactic (an offshoot of Sir Richard Branson's Virgin Airlines) works to send the first space tourists skyward, women are integral to the project. In fact, without them, the $250,000-per-ticket service might never get off the launch pad.
COVID-19 managed to scratch an early summer 2020 launch. But now, with two test runs complete, the company is planning a first trip that will send Branson and five tourists into space in the first quarter of 2021. By its very nature, space travel engineering and design dovetails well with the grim requirements of coronavirus isolation, but the company has still instituted stringent new health and safety protocols. The six-seat Virgin Galactic Space Planes are assembled and equipped in pristine "clean rooms," where neither a virus nor a speck of dust can flourish. Flights will go on even without an approved vaccine, according to a spokesperson, since passengers wear Star Trek–y protective custom space suits (a collaboration with Under Armour, they come complete with helmets, gloves, and booties), and the two rows of rotating seats are spaced out for the best views.

Some 700 orbital tourists have plunked down a $50,000 deposit for a spot onboard (about 600 of them have paid in full). And, until T-minus 10 seconds to launch, it will be Clare Pelly, 35, head of the Virgin Galactic Astronaut Office, keeping this elite and galaxy-minded club informed and connected. For the world's first space tourists, Pelly enables social communication and organizes special events. "These people are joined together not just through a love of space and the potential for space travel," she says, "but also by a shared pioneering spirit to be the first." While COVID-19 is keeping them physically apart, expectant passengers share their excitement via the private network Pelly runs.

Pelly came to Virgin from a management consultant job at Deloitte and then a gig helping design, engineer, and manufacture the torches for the London Organizing Committee of the Olympic and Paralympic Games.
She's not an astronaut, but she feels a duty to share a love of space with young women—and help recruit ones with the right stuff. Working with efforts like Virgin Galactic's Unite, a not-for-profit service inspired by Apollo 11, Pelly helps send female future astronauts (i.e. VG tourists) to speak at schools and local youth events. "Our female future astronauts are very engaged in Galactic Unite, perhaps because they lacked role models when they were young," she says. "These are phenomenal women who have often fought against the odds and expectations to reserve their flight to space, and they want to share their story. I believe passionately in the role our female future astronauts will play once they have flown to space. They will have a platform and people will want to meet them and hear their stories."
Thanks to a free interactive augmented reality app, even those without the cash can experience cabin life. For the fully booked space cadets, almost everything they see and do before and during flight is the responsibility of chief astronaut instructor and cabin tech lead Beth Moses. From the training to the space suits to the seats from which they'll observe the curvature of the earth, the former NASA assembly manager for the International Space Station (she designed and developed spacewalk mechanisms) brings to the table her extensive experience with testing under extreme conditions, such as weightlessness and high G. Despite all the dry runs, Moses was still surprised by her VG test flight and those first moments in actual outer space. She became the first female commercial space traveler and, on that same flight, the first human on a suborbital mission to unstrap and free-float around the cabin.

Moses can't wait for passengers to feel those same sensations. "There's a moment in flight when the rocket booster lights and you experience that max G for a couple of breaths when you realize you're on your way to space," she says. "It's never uncomfortable or painful in any way. It's just great fun—the greatest roller coaster ever."
Moses was given her astronaut wings by the FAA after the test flight, and calls them her most prized and life-changing possession. For the entire first year, she says she kept them on or, at night when she slept, next to her on the bedside table. Apogee, she says, is the highest point of the trip in more than one sense.
RELATED STORIES
Celebrity news, beauty, fashion advice, and fascinating features, delivered straight to your inbox!
John Scott Lewinski covers lifestyle, travel, technology, liquor, fashion, and hard news for a variety of publications including BBC Travel, Max, The Atlantic, Fortune, Fast Company, Shape and Women's Health.