Black-Owned Coworking Spaces Are Providing a Safe Haven for POC
For people of color, many of whom prefer to WFH, inclusive coworking spaces don't just offer a place to work—they cultivate community.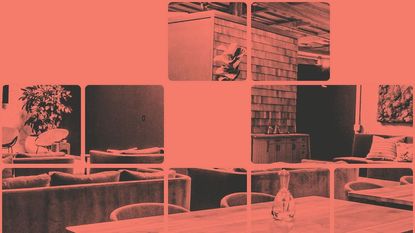 (Image credit: Rae Maxwell / Morgan McMullen)
Marie Claire Newsletter
Celebrity news, beauty, fashion advice, and fascinating features, delivered straight to your inbox!
Thank you for signing up to Marie Claire. You will receive a verification email shortly.
There was a problem. Please refresh the page and try again.
The world of coworking spaces has been riddled with controversy. First, there was WeWork, one of the original coworking companies that more or less imploded after the cash-strapped, once start-up crown jewel tried—and failed—to go public. Then in 2020 it was revealed that The Wing, a millennial-pink women's coworking collective, was harboring discrimination and inequality behind its rosy doors.
But despite the problematic history, there still might need to be a place for coworking spaces in the new world of work: Our Marie Claire x LinkedIn survey found that, for those who worked from home during the pandemic, 41 percent want to remain working from home full-time whereas only 33 percent want to return to the workplace full-time (26 percent want a hybrid arrangement). Historically excluded groups want to remain working from home full-time the most: 48 percent of Black respondents, 41 percent Hispanic and Latino respondents, 41 percent Asian and Asian American respondents compared to 28 percent white respondents.
The stats are not surprising. People of color are often assailed with microaggressions at the office. Women of color are underrepresented at work. We also know that the pandemic hit women of color particularly hard: women of color are disproportionately represented in frontline jobs, many had to leave the workforce to serve as caregivers to loved ones, and they experienced job loss at higher levels.
As office buildings begin to slowly reopen, it makes sense that many marginalized people would prefer to continue to work in spaces that make them feel safe. Luckily, the future of coworking spaces is looking bright: A cohort of Black women founders are changing coworking's bad reputation by launching inclusive physical spaces and digital communities. We talked to three women helming coworking spaces designed for people of color to learn how the traditional coworking model is evolving and what role these spaces serve for people of color, especially women, in the new world of work. A topic that echoed in each interview: the spaces—whether physical or digital—are not solely places to get work done. They are places where community is built and nurtured.
---
Bridgid Coulter, Founder and CEO of Blackbird House
Self-described serial social impact entrepreneur and curious creative Bridgid Coulter came up with the idea for Blackbird House in 2018: She wanted to build a community where women of color and allies could come together, work, and create positive social and economic change. An interior designer by trade, she designed a welcoming and Instagram-worthy physical flagship in Culver City, California. When the location shut down due to the pandemic, Coulter instead offered up the space for free COVID-19 testing for those in the community. Though Blackbird will be opening a new permanent flagship this year, anyone, anywhere can apply to join the digital life-work community as a "nomad" member.
Our research found that historically excluded communities prefer to stay working at home at higher rates. Why do you think that is?
I think there are a myriad of reasons. I would start generationally: My grandmother worked at a hospital in the laundry room. [There was a] hierarchy of how she was treated as a woman of color between any other women in the laundry room. So she would come home and, in a way, my aunties, who are her daughters, and her sister, and cousins—all of them were her Blackbird. She could come home and talk about the injustice, or some way she was treated badly, or the horrible names she might have been called, and go, "okay, I'm going to face another day and go do this."
What I'm hearing at Blackbird now, through our community and our collective, is that they're leaving [offices] for childcare, number one. Then there's healthcare, and microaggressions, not getting invited to the bar after work…there are a lot of reasons.
We know that women of color, unfortunately, are promoted at lower rates; we also know that people who go into the office might be elevated more quickly than those who work from home. As people rely on remote working more and more, how do we keep this bias gap from growing?
That's such a powerful question, and a concerning topic because I don't think there's an easy answer. Multiple things have to happen at the same time: First of all, the policy of, "I see you so I remember you," can't be the basis for promotion. There should be a system, especially while we're remote, to help [companies] track goals and metrics. If we can use our face to open our phone, and a database to work together, there has to be a way to democratize [tech for this purpose].
Something that I hear a lot from people in my community and collective is that their work has been historically adopted as someone else's. Or, they're part of a team and then credit is not given [to some on the team]. [Why wouldn't we track things like that with something as simple as a] worksheet and credit everybody for what they're doing? Executives have to be aware and then managers need to really respect and understand how each person works.
Based on your background in design, what goes into making a physical coworking space inviting, one that evokes a feeling of safety and positivity?
What I have come to understand, after many years of assessing space and looking at how we convene publicly, and having the privilege of working with really cool people and helping them create sanctuary in their personal space, is that we are very affected by our environment. If you go into the woods to forest bathing, you feel better.
For me, nothing is done without a clear thought. In our pilot location [in Culver City], we adopted a space and updated it for us. We had the ability to bring in some velvets and some colors, reshape a few rooms, create this experience. The design is the story we tell about the community. How is that experience when you go through that first gate? Is it welcoming, or is it off-putting? Blackbird is your auntie's house, the fun one who lets you drink a little bit of wine when you're 12, but still keeps on you if you're not doing right. She'll tell you, 'No, you need to focus. Your attitude is not good right now, you do not go into a workplace that way.' So she's the one who loves you unconditionally, but gets to give you back to your mom when you act crazy. Your auntie's house is the safe space. For me, the design of each space is essential in how you feel.
What does the future of Blackbird look like?
What we're aiming for is both hybrid in terms of people who may work in another space or work from home, and also hybrid in terms of our global members—members from all over the globe can feel like welcome to Blackbird via the digital experience. We're building a new website so that you can enter the space safely, both virtually and in person. Going back into physical space, which we're doing this fall, is one of the most exciting, terrifying things. We're just going forward with an open heart saying 'This feels right, it's the right thing to do.' I'm rooting for [all of the coworking spaces] because there's so much room for us. I'm really about marginalized communities having safe space.
Naj Austin, Founder of Ethel's Club
Naj Austin founded the wellness platform Ethel's Club in 2019. Ethel's Club launched as a physical coworking space for people of color in New York City; during the four months the physical space was open before COVID forced a shutdown (Ethel's Club was the first coworking space to close for COVID in NYC), it also served as a community space and hosted a variety of events, like group therapy for writers, book clubs, and more. Since then, Ethel's Club has moved away from a traditional coworking model and has instead been operating as a digital wellness collective catered to helping people of color work, live, and stay well. Wellness-oriented experiences and classes—currently virtual but with plans to expand IRL—are a focus.
What was your inspiration for Ethel's Club?
I was inspired to start the original version of Ethel's Club, which was a physical space, mainly because I was tired of entering other spaces, whether they were coworking spaces, offices, galleries, or coffee shops and not feeling like it was made with me in mind. When I had that original thought, I had no idea what that even meant. But it just didn't feel right and I thought, there should be a space where my Blackness is centered from the moment I walked in. What would that look like?
We opened in November 2019, which feels like 1,000 years ago. I remember the first person who walked in. She started tearing up, and said, 'Can I take a video and call my grandma?' And I was like, "'Oh my God, of course. Like, yeah, you go for it.' [Ethel's Club was named after Austin's grandmother, Ethel Lucas.]
You can't always choose who you work with, but in coworking spaces, you can at least choose who you sit next to. Was that a draw for members of your community?
I think that a lot of the members in the physical space worked at institutions that are primarily white and male. With Ethel's Club, when you close your computer, you are surrounded by things that are not centering whiteness but that are centering your identity. And then it's five o'clock and there's going to be some event that also speaks to your identity in a way that is not going to happen in your traditional office environment. People definitely gravitated towards Ethel's Club for that. [They are] looking for community. Effectively, Ethel's Club steps in to be that space in all those ways—both [with] your interests but also just the ability to work in a place that felt affirming.
Why did you decide to evolve Ethel's Club from the coworking model into more of a wellness and events space?
The biggest culprit was COVID, though I feel really strongly that if we had stayed open physically, we [still] would have moved away from a coworking model and toward this sort of multi-use space that offers different [purposes]. It would have been very much like, come for what you need. And that could be a cooking class. It could be the therapy group. It could be to work — but we offer space and then you would just pay for whatever that means to you.
I remember even early when I was pitching Ethel's Club before it existed, I would always say it's more than just a desk. And it's not a place where you go to be heads down. You can, but that's not what we want. That's not the ideal user journey. We want people to feel like they're a part of a community, and community involves conversation.
As we move into the new future of work, what is the power in physical coworking spaces, specifically for women of color? And secondly, what's the power in a different type of space, like Ethel's Club, that exists digitally and is more focused on wellness, less on coworking?
Things don't have to be so binary. There's value in both, and I don't think that one is more important than the other. [For us, it's supporting our customers on] that lifelong journey. Our members came here to cowork, and now that they can't cowork, they don't feel great. How do we support them through that? At some point, our members are going to grow up and have different things that happen in their life. How do we support them through that? We are thinking very mindfully about what that means.
There's power in real connection; there's power in looking someone in their eyes, not through Zoom. There's power in literally being in a space with other people who look like you. And that's one of the reasons why people take pride in coming to Ethel's Club.
LC Johnson, Founder of Zora's House
Zora's House is the only coworking and community space in Central Ohio that was built for women of color. Founder LC Johnson purchased the house—yes, it's a real house—as an investment property; it's located on the same lot as her home, which she shares with her husband. Coworking spaces are more prominent in urban and coastal areas, so it was crucial for Johnson to build a place where her community could thrive and feel supported.
Zora's House is right in front of your house, correct?
When you come to Zora's House, you can see my house right in the back. Part of the reason that we had this arrangement is because, when it comes to business loans, many Black folks face higher discrimination. The thing about bias and racism in a lot of cases, especially now when it's so...it was not as obvious as it once was. For so many experiences in my life, [there was] that question of, "Is this because I'm Black?" You have that moment of being like, "This is incredibly hard. Do they make it this hard for everybody?" So never really knowing: [Did I not get this loan] because you see a certain name, or a certain ethnicity on this application? Or is it for another reason?
How would you describe Zora's House?
We stopped talking about it as coworking space. We started describing it as: 'Imagine that your favorite coffee shop and your homegirl's house had a baby — that's Zora's House.' You can come in, you can do work. You can also kick it. You can read a book. Again, it feels like this space that doesn't exist for so many professional women of color, because it's not our workplace. Many of us are not trying to replace, or replicate, or even create a better version of the workplace: We want and need something different. That is a space where we can not just produce, but also dream, and just be.
Coworking spaces tend to be popular in major coastal cities like New York or Los Angeles. Why is it important for a space like Zora's House to exist in Columbus, Ohio?
I'm not originally from the Midwest; I'm from the Southeast. I grew up in communities where, for better or for worse (and some of it pretty ugly), Black history was on display. I think Blackness was an undeniable part of the history and the present of those places. I grew up looking around and seeing myself, my history, my people everywhere. Some of that history is pretty brutal. And yet there is the resilience, the beauty — these are places where Black life has been chronicled in real ways. It's interesting to me in the Midwest, where the Black experience oftentimes is made to be invisible.
People think there are no people of color in the midwest. They don't know about Black cowboys in the Midwest. They don't know about the history after the Great Migration and Black Midwesterners and how rich a culture that is. So often when we have discussions about hubs, about diversity, about cities, about the new Black experience and how Black culture is being created and preserved, we're talking about what's happening in New York or Oakland or Atlanta. And you leave out Columbus and Oklahoma City and Pittsburgh and Indiana and all these other places where there is also a very real and diverse community.
I'm speaking from the Black experience, although Zora's House is for [all] women of color...It's really thinking about the stories and perspectives that are oftentimes invisible. So it is incredibly important that Zora's House exists in a place like Columbus, Ohio. It's critical that our narratives as women of color, our needs, our experiences, are well-documented as a part of that conversation.
What is the challenge of working from home or remotely from a coworking space?
I think one of the challenging parts about that desire to just want to work from home and not have to deal with bias in the workplace is that it also means that it's going to alienate us even further from the necessary, informal relationships that are needed to be able to advance and move forward.
So often this is a choice that women of color have to make: Is it my mental health or am I going to try to [push through]? Just being at home, you get to do it a little bit more on your own terms.
There are larger forces at play here. This is just highlighting and exacerbating things that we already know to be true. I would focus specifically on, 'well, there are microaggressions and honestly, I don't want anybody to touch my fucking hair, so I'd rather be at my house.' But the other very real piece of this equation is that women, and women of color in particular, need a higher level of flexibility because so often they are serving as caretakers in one role or another. And being able to manage home and manage work, that level of flexibility is something that we've been talking about for a really long time. For folks who not only want that, but need that—need that level of consideration in order to successfully perform at their role, [it] requires employers to start reevaluating what success looks like.
How can coworking spaces create community for those who never want to return to an office?
A lot of women of color carry a lot of trauma as it is related to office and professional experiences: the way that our bodies are policed, our hair is policed, our tones are policed, and the weight of feeling like we constantly have to assimilate and how that in-and-of-itself is something that shows up every day. [At Zora's House] the level of microaggressions gets cut down significantly. I don't have to run into you in the hallway for you to make some stupid-ass comment about something you saw on Facebook, or ask me about my hair, or do whatever. I don't need to do all that. I don't have to do all that. A lot of us have had to deal with levels of ignorance with our coworkers and supervisors, so I'm not surprised that there are more women of color who are saying, "I actually...I'm good."
Interviews lightly edited and condensed for length and clarity.
Related Story
Celebrity news, beauty, fashion advice, and fascinating features, delivered straight to your inbox!
Megan DiTrolio is the editor of features and special projects at Marie Claire, where she oversees all career coverage and writes and edits stories on women's issues, politics, cultural trends, and more. In addition to editing feature stories, she programs Marie Claire's annual Power Trip conference and Marie Claire's Getting Down To Business Instagram Live franchise.