How to Save Like French Women
What living in the style capital of the world taught one American about scaling back.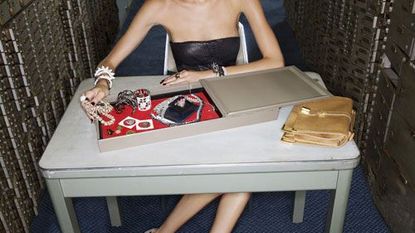 (Image credit: Bill Diodato)
It's sale time at the very chic, very tiny, and very expensive Eres shop in Paris—the moment when cool French women lose their heads. Eres makes the most beautiful and flattering bikini in the world. It's a French institution, like the YSL Muse bag or K Jacques sandals. But even if Eres is renown for coaxing impressive cleavage and bums from even the most, ahem, intractable figures, here in France, we are, like everyone else, in the midst of a bleak economic crisis. Unemployment hovers around 10 percent, and there are rumors of a double-dip recession. Sound familiar?
So how does a chic French woman weather the storm? She waits in line, carefully sorting through boxes of silky maillots and elaborate bottoms, until she finds the one perfect bikini, unlike me, the American next to her, waiting to pay for three, none of which I'm entirely happy with.
That's the secret of the credit crunch in France: What you don't have in the bank, you simply don't spend. Last year President Nicolas Sarkozy bragged that France would weather the economic crisis better than the Anglo-Saxons. He was right. Credit cards don't really exist here—it's more of a debit-card nation. Which means you don't live, as a French friend of mine calls it, "on the never never." You buy one timeless Prada dress on sale instead of a truckload of junk that will last one season.
For an American who has lived most of her life in Britain—where in 1991 I got a no-money-down mortgage for a Notting Hill apartment and lived on overdraft for years—it has been a steep learning curve. But in some ways, I'm grateful for it. I own my own home in Paris; I'm not in debt as badly as some of my American friends. I stopped spending wildly a while ago.
Years ago I remember walking into the Azzedine Alaïa boutique and snapping up two dresses, a pair of trousers, and a skirt. I cannot remember what it cost, but I am sure that it would have fed my household for six months. Now I think carefully and actually write down (sometimes) what I spend. "Shop in your cupboard," my mother always told me, looking in dismay at my endless shopping bags. "You will be happier. It's less complicated."
The current situation has made me realize just how right she was. Somehow the streamlined economic life is lighter. It's easier getting dressed in the morning when you have fewer clothes, but you like all of them. Who needs 10 pairs of jeans and 40 white shirts, anyway? Or, as the case may be, a dozen expensive bikinis, none just right?