Movies for Women Who Like to Kick Ass in the Office
Marie Claire's list of movies for women who like to kick butt in the office.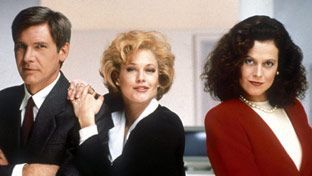 (Image credit: Archives)
Traffic was brutal.
You spilled coffee on your button-down.
Now, your boss is asking for that report you thought was due next week. It's not yet noon and your head already feels heavier than the Poland Spring refills stacked near the watercooler.
Days like this call for some Rocky Balboa-size motivation. As soon as that clock strikes quittin' time, make a beeline for your sofa, order some takeout, and pop in one of these cinematic classics starring kick-ass career gals who broke the rules and succeeded. Use that for motivation.
Here's your list of Movies for Women Who Like to Kick Ass in the Office