These Young CEOs Are the Next Rising Stars
They forged their own paths and created their own businesses. Meet the women defining success on their own terms.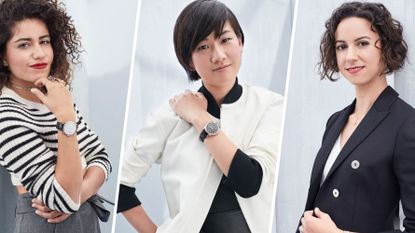 (Image credit: Alexei Hay)
Marie Claire Newsletter
Celebrity news, beauty, fashion advice, and fascinating features, delivered straight to your inbox!
Thank you for signing up to Marie Claire. You will receive a verification email shortly.
There was a problem. Please refresh the page and try again.
Success means different things to different people: Power, money, a big family, helping others—the possibilities are endless. But no matter where you are in life, or on your path to success (because we're all still working on it, tbh), chances are you're not entirely sure what, exactly, the word means to you.
But hey, you're not alone! These five women are still defining "success" themselves, despite some ultra-impressive accomplishments along the way. All of these women launched their own companies while still in their twenties, designing products and creating platforms that are already changing the world. But the biggest achievement? Doing it on their own terms.
Here, they share the "lightbulb" moments that got them there—and how they celebrate their success with Rolex.
Prop stylist: Andrea Huelse; Stylist: Anna Katsanis; Makeup: Jodie Boland; Hair: Matthew Tuozzoli
Jessica Semaan, The Passion Project
How She Got There: Seven years into her career, Jessica Semaan felt restless about her purpose in life. "I figured, why not try to learn from people who have figured it out?" she says now. She set out to interview 100 passionate people, blogging about the trends she found. "I was learning so much, I wanted to share it with others," she says. "So I started hosting workshops in my apartment." Those workshops grew into The Passion Project, which is now a 30-day course designed to help get dreams off the ground.
How She Rewards Herself: "I used to just give myself love when I succeeded. Now, it's more can I give myself love when I fail?" Semaan explains. "When I'm in a bad place, that's the real challenge." The Lebanon native rewards herself with meditation retreats, but the ultimate dream gift to herself? The Rolex Cellini Time, because, in her words, it's just so easy: "As an entrepreneur, I'm always on the go," she says. "This Rolex makes my style high-low."
DKNY Gesso Merino Wool Extra Longsleeve Cropped Pullover, $228, dkny.com; Maje pants, $325, shop similar at maje.com; Giuseppe Zanotti Design Black Patent and Silver Pump, giuseppezanottidesign.com; Jewelry, subject's own, necklace by Peony Paris; Rolex Cellini Time, $15,200, rolex.com
Benita Singh, Le Souk
How She Got There: "My parents came here from India and started their own business," says Benita Singh. While still an undergrad, Singh embarked on a project in Guatemala and saw an opportunity with female artisans who were weaving beautiful textiles, leading her to launch a nonprofit to sell housewares in the U.S. That company was a precursor to Le Souk, a sourcing platform of artisanal products from around the world. "Launching a company is hard, but launching a global company when you have suppliers in 19 countries is even more challenging—our materials are translated in four languages!"
How She Rewards Herself: Of all her accessories, her favorite watch, a Rolex, was a gift from her parents on her wedding day, an item she calls "regal." Today, she has her eyes on the Oyster Perpetual Lady-Datejust 28 with diamonds. "I love rose gold—I think it adds a feminine elegance," she says.
Helmut Lang Black Knot Skirt, $345, shopbop.com; DKNY Gesso Triacetate One Pleat Front Cropped Pants, $358, dkny.com; Rolex Oyster Perpetual Lady-Datejust 28, $38,100, rolex.com
Hannah Chung, Jerry the Bear and Sproutel
How She Got There: While she was still in college, Hannah Chung created Jerry the Bear, an interactive and educational teddy bear to helps kids living with Type 1 Diabetes learn how to check glucose levels and give glucose shots to Jerry—the same way their parents care for them. "[These kids] were already pretend-injecting insulin and checking their toys' blood sugar, simulating what they were going through," Chung explains. "They needed an outlet, so that sparked the idea." Three years later, parents report that their kids sleep with their bear and bring it to school to explain their diagnoses to their classmates. And now, just months beyond her graduation, Chung has also created Sproutel, a parts company for Jerry and future health tools for kids.
How She Rewards Herself: Her ultimate Rolex, the Cellini Date Watch with a black leather band reflects her personal style, both sartorially and professionally. "It resonates with me," she explains. "I like minimal, more practical things, but with a hint of something that shines."
DKNY Gesso Traicetate Long Sleeve Bomber Jacket with Rib Trims and Pockets, $498, dkny.com; Equipment Cara Silk Cami, $98, bloomingdales.com; Maje Jacron Leather Wrap Skirt, $745, bloomingdales.com; Ellery Suzanna Leather Strappy Tie Boot, ellery.com; Rolex Cellini Date, $17,800, rolex.com
Tanya Menendez, Maker's Row
How She Got There: Tanya Menendez had already founded one startup, a leather goods company, when she hit an obstacle that led to her second. "We were fulfilling a big order for Nordstrom, but our factory couldn't make it happen" she remembers. "We were going literally door to door to find factories." Menendez created Maker's Row, a platform for business owners to find manufacturers that now boasts over 120,000 businesses and 11,000 factories. "It's not necessarily when you first get the idea," she says of that spark. "It's when nothing can stop you from making this happen."
How She Rewards Herself: She loves the Rolex Lady-Datejust 31 because of its versatility. "I can wear with any outfit, whether with a suit or cocktail dress, " she says. "It's just timeless. I like things that are feminine but strong."
Jil Sander Layered Scuba-Jersey and Stretch-Cotton Dress, $590, net-a-porter.com; Milly Italian Wool Gabardine Straight Tube Top, $125, shop similar at milly.com; Rolex Lady-Datejust 31, $25,050, rolex.com
Alexis Tryon, Artsicle
How She Got There: "By high school, I wanted to be the CEO of a Fortune 500 company," says Alexis Tryon. After college, she got on that path with a job at American Express, but one day, "I looked up at my boss and I didn't want that job anymore—it had lost its appeal and glamour." The former art-history major started working on what would become Artsicle, a platform that connects consumers with artists, demystifying the process of selecting fine art. "Six months in, I realized I was spending nights and weekends—every inch of brain space—thinking about Artiscle and I thought, 'I need to do this full time.'"
How She Rewards Herself: Being surrounded by art has impacted her own style: "My aesthetic for spaces and style has gotten a lot simpler and cleaner, with more emphasis on statement pieces," she says, just like the Rolex Oyster Perpetual Lady-Datejust 28. "I like the understated elegance of that watch—it reminds me of my father's watch, which was my grandfather's, but with a beautiful, feminine twist with the rose gold."
REISS Matilda Metallic-Button Blazer, $465, reiss.com; Splendid V-Neck Tee Shirt, $48, bloomingdales.com; Frame Denim Le Skinny de Jeanne Jeans, $219, bloomingdales.com; VINCE CAMUTO Balbo Loafer, $129, vincecamuto.com; Rolex Oyster Perpetual Lady-Datejust 28, $26,750, rolex.com
Celebrity news, beauty, fashion advice, and fascinating features, delivered straight to your inbox!