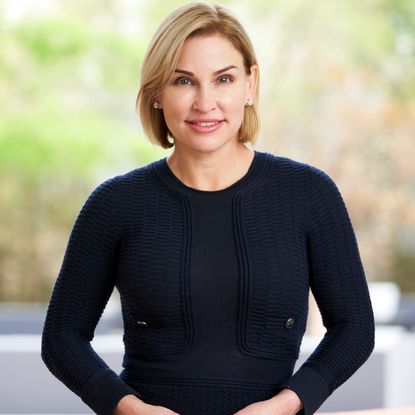 (Image credit: Sharon Miller/Bank of America)
Marie Claire Newsletter
Celebrity news, beauty, fashion advice, and fascinating features, delivered straight to your inbox!
Thank you for signing up to Marie Claire. You will receive a verification email shortly.
There was a problem. Please refresh the page and try again.
Sharon Miller, president of Small Business, head of Specialty Banking and Lending at Bank of America, integrates all aspects of wellness in her work and life.
Meditation starts her morning before she checks emails or makes calls. "It's important that you don't be so hard on yourself," she says. "Because there is really no such thing as perfect balance."
Like so many people, Miller has found these past two years more demanding but also an opportunity for her to come up with more creative ways to help entrepreneurs achieve their goals during truly challenging times. "I love helping people accomplish their dreams, and I think there's no one more resilient, passionate, or inspirational than small business owners," she says. "They have a lot of grit and determination. Working with businesses through the pandemic, we've stood beside them and helped them through the recovery. I feel very proud of that."
If the pandemic has had a single upside, it's that people have felt empowered to take charge of their professional trajectory and enter the world of entrepreneurship. The Great Reshuffle has seen millions of people looking for new career paths—with many of them starting their own ventures. "You hear about people leaving the corporate workplace: 5.4 million businesses were opened in 2021, which was a 26 percent increase over 2020. And many of those were minority- and women-owned businesses," Miller says.
"I think that people are reflecting on their life: What do they want to do? What is my passion? Entrepreneurship is the backbone of our economy, and what they do fuels our recovery. It's an important group, not just for our company, but for the entire U.S. economy."
In her work, she finds that there's a surprising connection between servicing her clients' needs and their wellness: She prioritizes the ability to help them "not just with their business, but also with their life," as she puts it. "Small business owners don't separate in general," she explains. "What I observe is that when you're the CEO of a small business, you might also be a mom, dad, aunt, sister. So I think that the focus on people's lives, and really helping them to manage both their business priorities and their life priorities, is vital."
"I do believe that we can help small businesses have a competitive advantage. We want to help them grow," she says.
For Small Business Month in May, Bank of America is celebrating other stories of how small business owners have adapted to keep their businesses moving forward in times of change.
Visit https://promotions.bankofamerica.com/smallbusiness/sbmonth for more small business inspiration, client spotlights, and helpful resources.
In the following questionnaire, Miller gets candid about the self-care techniques she uses to unplug, maintain focus during challenging times, and be mindful and present in the moment.
I unwind by scheduling personal time.
My happy place is guided by my faith and my family.
On a good day, I deal with rejection by embracing it; on a bad day, I deal with rejection by learning and pressing forward.
When I'm being pulled in many directions, I pause and prioritize.
The workout I turn to calm down is running.
I feel the most confident when I am clear on an objective, prepared to deliver, and excited to engage.
I think meditation is our ability to take a moment for ourselves and just be still.
My favorite way to re-center is spending time outdoors with the people I love.
Celebrity news, beauty, fashion advice, and fascinating features, delivered straight to your inbox!