Meet the Finance Leader Helping to Hand Out Billions in Small Business Loans
Bank of America's Sharon Miller on the state of the entrepreneurial spirit and the importance of shopping small.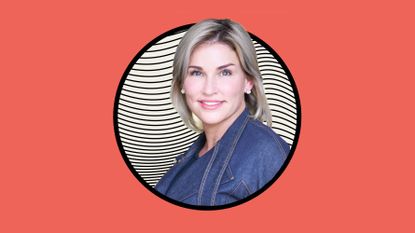 (Image credit: Future)
In a year that's been tough for independent businesses—to say the least—the importance of shopping small is rightfully being touted as more essential than ever. Marie Claire's editor-in-chief, Sally Holmes, recently sat down (virtually) with Bank of America's head of small business, Sharon Miller, to talk about the state of the entrepreneurial spirit, how to best support your local businesses, and the ways female small business owners can get a leg up in this uncertain economic climate. Read on for some of the highlights from their discussion, and head over to Marie Claire's Instagram to watch the full conversation on IGTV.
---
Sally Holmes: I have a really incredible stat in front of me, which is that Bank of America offered more than 345,000 loans worth $26 billion to small businesses affected by the pandemic. Can you walk us through how you and your team made that happen and so fast?
Sharon Miller: No one could have imagined this health crisis that we're facing today. When the stimulus plan came out, it was a bridge for small businesses to really make it through this. We were the first bank out there to offer the Paycheck Protection Program when the SBA was up and running. I remember that day, vividly! It was really all the enterprise of Bank of America coming together to say, "We are here for our business clients, we are here for our local communities, and we want to help get this."
And when you say 345,000 loans, that's an incredible amount of volume. To put it in perspective, in 45 days, we did 18 years worth of loans. We really came together and said, "We're going to do this—we're going to work around the clock 24/7 to make this happen, to make sure we support our communities and our local small businesses," and that's what we did. That's the culture that Bank of America is about.
SH: What was it like to lead a team around that time?
SM: You have a purpose, and you rally around that purpose. We're going to be there for our clients in good times and in bad, and that's what it was most about. We have a greater purpose than ourselves, and we're here for our communities, but we couldn't have done it alone. It was this entire company coming around their teammates and saying, "We're going to help, we're going to process, and we're going to get there for our clients." You hear from clients—you hear their stories—and that's what keeps you going.
SH: So another thing I know you're passionate about, and we're passionate about here at Marie Claire, is supporting women of color and small Black-owned businesses. Can you tell us a little bit about the barriers that women of color face [in the banking and finance sector], and what are the learnings that have helped you and your team invest in these businesses specifically?
SM: We survey our clients twice a year and put out a small business owner report with a focus on women and minority-owned businesses. What we hear most often from women is that there's a barrier to access to capital. I think there are many reasons for that, and we are committed at Bank of America to break down that barrier. We're saying, "Here's what you need to do to access that capital," and "This is what needs to happen to move your business forward." We've been committed throughout this crisis, but even before the pandemic. It isn't just about the health crisis we're in today—this is about sustainability over time and our commitment to women business owners. Women are opening more businesses than their male counterparts, and they continue to deliver. The entire ecosystem is so dependent on women.
With the Bank of America Institute for Women's Entrepreneurship in partnership with Cornell University, we've added 50,000 more entrepreneurs to the [free online business program], and we've increased our commitment to getting those certificates. Because it's not just about access to capital, it's about training, it's about education, it's about understanding what you need to have a sustainable business over time. We also partner with community development financial institutions across the country, so our commitment at Bank of America is strong, it's deep, and it's not just about this health crisis. It's a commitment that has been sustained over time, and that's what really makes me proud.
SH: This isn't really a trend—you've been supporting small businesses for years—and I think everyone will continue to feel good about supporting small businesses. What do you think the future of small business is?
SM: I think we'll look back and see a few things and some silver linings from this whole pandemic. One is that small business is the backbone of the U.S. economy. In our latest survey, 79% of our entrepreneurs that we surveyed said that once we're past all of this, that small business entrepreneurship is going to be back stronger than ever.
We need to be sure that we're supporting small businesses by shopping small throughout the year and not just on Small Business Saturday. We have to be there as consumers, and then as a bank by enabling small businesses digitally so that they can have a digital storefront—I think you're going to see more and more of that. We are here investing in digital capabilities, and we're seeing our small business clients are take advantage of that more than ever. We know that there are different ways to do business, and I think it's here to stay. This year will change the way we do business for a long time, and that's a good thing.
SH: What advice do you have for women making their side hustle their career or want to start their own company and think that this is the moment?
SM: I think first you have to be passionate about what you do. If you've got that commitment and if you've got that drive, then you're going to make it happen—that's the most inspiring thing about business owners and entrepreneurs. We just completed our fall survey, and even in the midst of the presidential election and in the midst of this pandemic, we still hear clients say, "Although I'm cautiously optimistic, I'm still optimistic." We do see business owners a little reserved and a little bit nervous about the future, but there's certainty optimism. That's the spirit of entrepreneurs. That's the spirit and the backbone of our economy.
SH: One thing that I've noticed is that some of my favorite restaurants and shops have really pivoted. It's amazing to see that entrepreneurial spirit and the bravery to make a shift like that.
SM: You hear in the media that all these businesses are closing, and certainly there are closures out there, but from our survey, we found that about 85% of businesses stayed open in some capacity. As you know, business is a tough thing to be in. Even in a great economy, you're still going to have business closures, and to think about that spirit, it's just very encouraging.
SH: Do you have any advice or words of wisdom for small business owners? It's probably hard to see a light at the end of the tunnel right now, so what would you say to them?
SM: It's important to be realistic. I think it's important to talk to a [financial] advisor, especially during these times, because there's so much available to help businesses get to the other side, and that's what we're here for.
This interview has been edited and condensed for clarity.
Celebrity news, beauty, fashion advice, and fascinating features, delivered straight to your inbox!