Political Scion Vanessa Kerry on Finding Her Own Way and Founding a World-Changing Organization
The doctor and CEO opens up.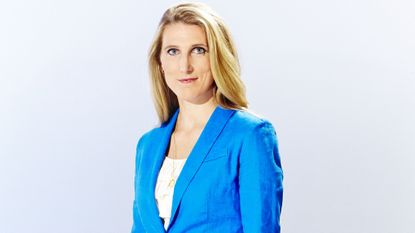 (Image credit: Jeff Brown)
Vanessa Kerry, 38, says she's always been a "science geek." But thanks to her dad, Secretary of State John Kerry, she also has a passion for public service. In 2011, Vanessa combined her medical expertise—she's a critical care physician at Massachusetts General Hospital in Boston—with her aspiration to give and launched Seed Global Health, which sends doctors and nurses to countries in need. Here, she tells MC how she harnessed her brainy know-how for global good.
MARIE CLAIRE: Why did you start Seed?
VANESSA KERRY: I've spent more than a decade in countries that cannot provide even the most basic of health services. At the same time, I've noted the exceptional interest in global health among my peers. The problem was that there were no opportunities to make a long-lasting difference. Typically, medical mission teams fly in, provide care, and leave—that doesn't really help equip local doctors. The Ebola outbreak, which would not be at its current scale if it had not been able to exploit weak health systems, underscores the need for skilled local health professionals.
MC: How does Seed help?
VK: We send doctors and nurses to serve as faculty in medical and nursing schools in Africa. Through their year of service, they mentor and train a new generation of doctors and nurses in countries where there's a dire shortage. Last year, we had 30 volunteers who trained over 2,800 people.
MC: Can you share a favorite success story?
VK: Maureen Ries, one of our obstetrician volunteers in northern Tanzania, repeatedly saw women in prolonged labor, often with ruptured uteruses. She was able to teach the health professionals there the lifesaving procedures needed to treat this serious condition. She's helped change the course for women in a country where one woman dies every hour from a complication in pregnancy or childbirth.
MC: What advice would you give women who dream of turning their passion into their profession?
VK: Know as much as possible about what has been tried before. Even the smallest lessons learned can help make an envisioned program a reality.
This article appears in the January 2015 issue of Marie Claire.
Related Links:
Melinda Gates on Philanthropy, Empowering Women, and the Ebola Epidemic
The Faces of Ebola: Meet 21 Women and Girls Affected by the Virus
Marie Claire email subscribers get intel on fashion and beauty trends, hot-off-the-press celebrity news, and more. Sign up here.
In her new book, So Here's the Thing, the former deputy chief of staff to President Obama writes candidly about the pressures women face.