Inside the Life of New White House Social Secretary Deesha Dyer
Planning events, brainstorming new ideas, and casual chats with President Obama.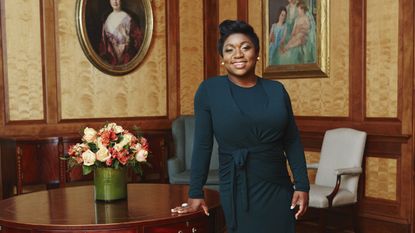 (Image credit: Winnie Au)
Marie Claire: You initially dropped out of college and returned to community college at age 29. How did you end up working at the White House?
Deesha Dyer: I went to college when I was 17, but it just wasn't the [right] time, so I left. I worked for a while in different jobs, [freelance hip-hop journalist, among them] before going back at 29. I'd been volunteering in the community, and I would get these applications for internships for the girls in the neighborhood, and I got something for a White House internship. I had been really inspired by Barack Obama during his presidential campaign and thought it would be amazing to work for him. But I was 30 and in community college—I thought [the internship] was for the girls, not me. But I checked the qualifications, and actually, I fit all of them. I'd never had an internship before, and I was like, There's no way I'm going to get this. But, lo and behold, I did.
MC: You interned in the scheduling and advance office, which handles the president's itinerary, and were ultimately offered a full-time job there—an intern's dream. Any advice for other interns?
DD: There were many long nights. I think my experience being in the workforce for so long prior to being an intern is what made me stand out. I was always open to every opportunity and accomplished each task—big or small—with a maturity that showed I could handle the work. And I never stopped moving. Even when anything got tough in my personal life, I just kept moving, no matter what.
MC: Like what—when did it get tough?
DD: I mean, I failed at college. The first time I went, it didn't work out for me. But I picked myself up and went back. And going back led to the internship. It was a catalyst for everything else.
MC: What surprised you most about working in the White House?
DD: That the people who work here are regular people. We're just like the people who come on a tour—we're all the same. Especially those with my background. When I'm taking the bus somewhere and I tell people what I do, they're like, "Oh!" and I'm like, "I'm a regular person!"
MC: In April, you were named White House Social Secretary. Were you surprised?
DD: Of course; I still say "Wow!" I would be saying that regardless of my opportunity to work here at the White House—I earned a degree when, at one point, even that seemed like just a dream. It's an emotional thing for me. I feel motivated and empowered, and I hope I can inspire that in others.
MC: Describe a day in the life of the White House Social Secretary.
DD: The day-to-day is spent thinking of creative ways to host events and then executing those events flawlessly. The hours can get crazy sometimes, particularly around visits from foreign dignitaries and the holiday season. Lunches are either at my desk, on someone off-site. It is all fun and exciting, and, yes, the BlackBerry sleeps right next to me. The cool thing about our office is that events change from
a conference call, or meeting with week to week. We have the Kids' State Dinner, which is about healthy eating and moving, and then it's the China State Dinner, which is more formal.
MC: So is it just event planning then?
DD: No. I have a team of six beneath me. They do a lot of the work on the front end—working with the residence staff, the kitchen, the electricians. When events come up, we sit down and go over ways we can do things differently or change things up. For example, the "Booksellers" [more formally known as the East Garden Room] is a huge area. All White House guests walk through it to go upstairs to the State Floor. Now we're looking at utilizing that space for different artists, like local choirs and bands. So we'll showcase talent there, as well as the history of the White House and the administration.
MC: What's your favorite part of the job?
DD: I love bringing young people in. They gawk at everything. Their eyes get real bright, and they're like, "They live here?!" Welcoming them, walking down the hallway with them, listening to the girls giggle. They see themselves in me, which is really nice because they see that they can [aspire to] be the social secretary someday.
MC: What kind of advice have you gotten from former social secretaries?
DD: A lot of [former social secretaries] say, "Make sure that you enjoy the moment. Before the guests come in, go upstairs and just reflect on the history of the house, the event that's happening. Just take a moment." The years go by so fast that sometimes you don't remember how special it is, they say. For me, though, it never gets old.
Deesha's must-haves:
1. Scented candle: "It provides a calm, peaceful atmosphere, which is important in this job."
2. Office mates: "This photo was from a brunch I hosted for the women of the first lady's office. I do these once or twice a year."
3. Drawing: "This is from my 9-year-old niece Jazzy. It lights
up my office."
4. Notebook: "I spoke at an event for girls and got this name tag. I love volunteering and mentoring."
5. Rosie the Riveter paper doll: "I hang it [in my office] as a symbol of strength."
6. Fabric swatches: "We always have swatches around the office to reference for various events."
This article appears in the August issue of Marie Claire, on newsstands now.
Celebrity news, beauty, fashion advice, and fascinating features, delivered straight to your inbox!