How Much Have Things Really Changed for Women in Technology?
According to some top female executives, not all that much.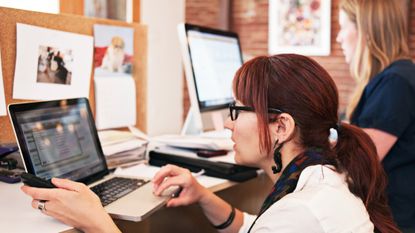 (Image credit: Getty Images)
The calls for feminist progress in the technology industry is an increasingly popular one. We talk about sexism in the workplace; we talk about the wage gap; we talk about the gender disparity; we talk about how far we've come. But how much of it is just that—talk?
The numbers paint a grim picture. Although women held 57% of professional occupations in the U.S. in 2014, they comprised just 26% of the jobs in the tech industry, according to a report earlier this year from the National Center for Women and Information Technology. Among executives, the situation is even worse: a mere 6% of chief information officers were women.
As the tech industry continues to bolster its influence and numbers—by one count, the U.S. added 129,000 computing jobs from 2013 to 2014 and is expected to continue rising—ensuring women have at least equal representation and treatment is a critical issue. But, according to several top female executives I spoke with at a recent tech conference, the fight is far from over.
"There are a lot more people acknowledging the issues now, but in terms of change, I don't see the day to day challenges being very different for women in the workplace," Elizabeth C. Mackey, a WIT attendee said while attending a Women in Technology conference at Hearst Tower. "It's still not unusual to find myself the only woman on a conference phone call or meeting. The issues that women face starting out today are very much the same ones I faced starting out 40 years ago."
Although there seems to be a consensus (even among men) that the number of women in tech needs to rise, it's hard to pinpoint precisely how to achieve those gains. Some at the conference offered practical advice, much of which boils down to the motto espoused by one of my own colleagues: When in doubt, ask yourself, "What would a mediocre man do?"
"Nothing sets you back like thinking you don't deserve what you get," Etsy vice president of engineering Mary Ferguson said in a panel discussion on the so-called Imposter Syndrome. The syndrome occurs when someone believes they don't deserve their role because they feel like they're not qualified enough, a feeling that seems limited to women.
"A little sass goes a long way," said Minerva Tantoco, New York City's current—and first—chief technology officer. Minerva, who formerly worked at Bank of America Merrill Lynch, was referring to an incident in which a man assumed she worked at some tiny bank, to which she responded, "Yeah, a little one called Merrill Lynch."
For better or worse, many of the women at the event emphasized the importance of finding what they called a "male ally" to help elevate their voices. "Oftentimes, I will say something and my male colleague will say the exact same thing and everyone will go 'Wow, what a great idea,'" said Lynne Budnovitch, vice president of operations at OrthogenRx, a startup medical device company. "And he will say 'Yeah, it is and it was when Lynn said it 10 minutes ago.'"
That type of gender bias is still very prevalent, especially when it comes to looks. Jean Hill, managing director of professional services firm Alvarez & Marsal, shared an anecdote about her daughter that emphasized the difficulty of being taken serious as a woman. At a recent tech conference, a man approached her daughter and said, "The guys are all busy so I guess I'll ask you a few questions." Later, he asked a male techie the same questions and got the exact same answers, much to his surprise. "Interesting, that's what the pretty girl said," he mused.
"We're ten times better than we ever were—we are running tech companies, leading large tech organizations," Hill told me. "Yet, there are still stereotypes about what a female technologist looks like. When I started it was a hard balance. If I was too feminine I'd be the secretary. But if I was too geeky no one would talk to me. The facade is still a hard one to strike."
To be sure—as Hill and others pointed out—women are making progress. "We've made huge strides," said Donna Burke, vice president of technology solutions at Exadel, a global software company. "I was always the only girl in a group. And we were always 'girls', not 'women'. There is now an awareness that people want diversity."
Awareness is a word that came up frequently among these women—and all of the women I spoke to were confident that while the change won't happen overnight, the fruits of their labor will manifest in future generations. After all, it's been 100 years since women earned the right to vote and only now is American on the cusp of possibility having its first female president, Burke pointed out.
"The conversation is happening, but it's just starting," Janet Kasdan, a CTO consultant, told me. "It needs to be louder and it needs to be taken seriously."
"This is the best time to be a woman in technology, because there are a lot of male CTOs on our side," she added. "So what we need to do is work together."
Follow Marie Claire on Instagram for the latest celeb news, pretty pics, funny stuff, and an insider POV.
Celebrity news, beauty, fashion advice, and fascinating features, delivered straight to your inbox!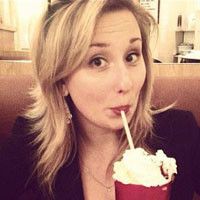 My writing has regularly appeared in The New York Times, The Paris Review, Salon, VICE, Guernica, The New York Observer, BuzzFeed, Cosmopolitan, Seventeen, Esquire, Elle, Harper's Bazaar, and many more publications.

I was previously the Senior News Editor at Best Life Online and the Viral Content Editor in the Newsroom of Hearst Digital Media. My portfolio consists of a vast and diverse body of work that includes personal essays, lifestyle articles, breaking news posts, and viral content. My areas of expertise, however, are Russia, sex and relationships, and mental wellness.