Meet Uber's Secret Weapon, Austin Geidt
Rapid growth? Global success? The app can thank this 30-something, who wrote the company's expansion playbook.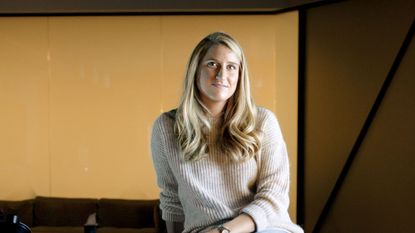 (Image credit: PETER MCCOLLOUGH)
Marie Claire Newsletter
Celebrity news, beauty, fashion advice, and fascinating features, delivered straight to your inbox!
Thank you for signing up to Marie Claire. You will receive a verification email shortly.
There was a problem. Please refresh the page and try again.
Uber's secret weapon is a woman you've probably never heard of. Officially, Austin Geidt is head of operations for the company's Advanced Technologies Group. Unofficially, she's Uber's hustler in chief and—most notably—queen of launch. She's the one largely responsible for the company's light-speed expansion around the world. The ride-hailing app's meteoric rise is all Geidt has known as a working adult; it's the only place she's held a salaried job. Geidt, now 31, was the company's fourth hire (it currently has 9,000 employees), joining long before "to Uber" became a verb. In the years since, Uber has raised a jaw-dropping $18 billion, valuing the company at an estimated $65 billion—arguably more than auto legends General Motors or Ford. "I thought it was big when we raised a million dollars," Geidt recalls. "The definition of big keeps changing." The two have matured in tandem, and Geidt's story represents not only Uber's past, but also where it's headed.
[pullquote align='C']Geidt's story represents not only Uber's past, but also where it's headed.[/pullquote]
It's tough to keep up with her whiplash-inducing trajectory. Shortly after Geidt graduated from the University of California, Berkeley, in 2010, she cold- pitched Uber's then-CEO, Ryan Graves, with a self-made video featuring a couple who each used the service to escape their awkward hookup. "This was years before the world 'got' Uber, and it was clear she did," Graves says. "How would Uber fit into a one- to two-minute-pickup-time world?" As a market- ing intern, then a marketing manager, Geidt did everything from answer customer-support calls to brainstorm with cofounder Travis Kalanick about the company's expansion strategy.
In 2011, Geidt was promoted to head of launch, tasked with bringing the orig- inal Uber black car service to new cities such as Seattle, Los Angeles, Boston, Minneapolis, and Philadelphia. It was during this period that she created the company's launch playbook. "I took notes of absolutely everything I did," Geidt says. That involved focus groups, scouring Yelp to find drivers, testing various pricing models, and more. "There was so much trial and error," she remembers. "Every day we'd find a new problem." The gig was exciting but lonely. The San Francisco–based Geidt spent three months in each city, working nonstop hours by herself. "Travis got some calls in the middle of the night for sure, with me in a bad spot," she says. To help combat the stress, Geidt bought a puppy. Dewey, a black-and- white terrier rescue, is now a frequent visitor at Uber offices across the nation.
After 11 months on the road, Geidt returned to Uber's San Francisco headquarters as the company's head of global expansion. She recruited outside talent—including many former McKinsey & Co. consultants—to jump- start Uber's presence around the world. Her playbook was the foundation of their training, and Geidt often flew to their respective cities to guide and support their efforts. All new territories, both in and outside the United States, with the exception of China, fell under Geidt's purview.
[pullquote align='C']Geidt is famous for her speed, an absolute necessity given that Uber was breaking regulations wherever it went.[/pullquote]
In total, she oversaw the start of 400 markets globally. Geidt is famous for her speed, an absolute necessity given that Uber was breaking regulations wherever it went. If it hadn't developed a big following of customers so quickly, regulators—and imitators—would have had more power to take the company down. There were several attempts: Paris fined Uber for breaking a local law requiring professional licenses for all drivers; Australia fined Uber drivers in Queensland almost $2 million collectively for operating unlicensed taxis; California fined Uber more than $7 million for not reporting data (required by law) about the rides it gave.
But Uber's growth was a barely contained missile, and one of the biggest casualties may have been safety. The company's breakneck pace resulted in driver background checks in some places that barely passed muster— as in India. Initially, the company relied on government-provided certificates that said drivers didn't have criminal records, not realizing that Indian officials were easily bribed to forge clean background checks. This oversight led to the rape of a passenger by a driver who had a prior criminal record. This past March, a BuzzFeed investigation revealed flaws in Uber's customer-support process for handling reported assaults or rapes. Complaints often were routed to remote teams, frequently based abroad in places such as the Philippines, or to Uber managers who were slow to respond. So Uber called its number-one fixer—Geidt.
She temporarily took over the process and optimization team, which, in Geidt's words, "picks up all the pieces." She interviewed staff and diagnosed that Uber needed to hire significantly more customer-support staff and expand its monitoring of social-media complaints. The company also invested in telematics, technology that tracks driving patterns like speed and route, and implemented a real-time ID check for drivers that requires them to periodically take a selfie before logging in to the Uber app. It's too soon to tell if these changes will dramatically improve safety, and Uber adds the caveat that "no means of transportation is 100 percent safe because accidents and incidents will happen," but it's a start.
Geidt sees these challenges the same way she sees other tough moments in her life—as learning experiences. When I ask about the scorpion tattoo peeking out from her sensible gray sneakers, she explains that she was a bit of a wild teenager. Geidt prefers not to get into specifics but says she battled addiction problems "in the realm" of drugs and alcohol shortly after starting at Berkeley. She spent some time in rehab, a transformative experience that laid the groundwork for her time at Uber. "As I got sober, I became acutely aware of what motivates people and how people work," Geidt says. "It's the most important thing I've ever done."
[pullquote align='C']"I've lived a thousand lives at this company. I'm a disciplined rule breaker now."[/pullquote]
Most recently, Geidt got pulled into Uber's next big project: driverless cars. She's figuring out the strategic road map that will take these high-tech vehicles national. Uber has moved shockingly fast on this front, with a small fleet of driverless cars currently operating in Pittsburgh. (The cars have human drivers at the wheel, ready to take control if needed.) Uber first showcased its vehicle prototypes during a media event last September. "It was a very cool moment to be a part of," Geidt says. "It feels like a startup again."
Geidt has become Uber's master chameleon. Her ability to shift roles and add value bodes well for the company's future—and for the next phase of her career. "It's been an interesting learning experience for me, being able to kind of take on anything and do my best to figure it out," she says. "I've lived a thousand lives at this company. I'm a disciplined rule breaker now."
This article appears in the February issue of Marie Claire, on newsstands now.
Celebrity news, beauty, fashion advice, and fascinating features, delivered straight to your inbox!