Starbucks Employees Speak Out: Why Don't Baristas Get the Same Maternity Leave as Corporate Workers?
An exclusive look at how the company's new policy affects its most visible staff.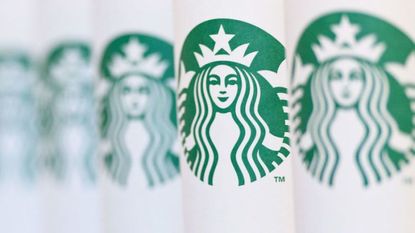 (Image credit: Archives)
Paid parental leave for Starbucks employees boils down to one question: Do you wear an apron?
That's how Jess Svabenik, a Starbucks barista in Silverdale, Washington, interprets the company's new paid parental leave policy, which provides 12 weeks of paid leave to parents—moms, dads, adoptive parents, and domestic partners—with six additional paid weeks for birth mothers. The catch? This option is only available to corporate employees, "the people who wear regular clothes," said Svabenik, an eight-year Starbucks employee. Those who wear aprons and work behind counters receive far less: six weeks of paid leave for birth mothers, and no paid leave for dads or adoptive parents.
For Svabenik, pregnant with her fourth child and due in late July, the new policy is surprising—and undermines the goodwill Starbucks had been building with its employees through innovative workplace benefits that, until now, haven't discriminated between store workers and corporate employees. "They didn't seem to understand why we would want the same the kind of benefits as corporate staff," Svabenik says of the response she got when she flagged the issue internally.
Svabenik and another barista, Kristen Picciolo, from Medina, Ohio, recently sat down with VP of benefits Ron Crawford and VP of global policy and advocacy Zulima Espinel for a private meeting to discuss their concerns. Picciolo brought her four-month-old son, Adam, along.
"They were kind of confused that we were there," Svabenik says. "That's the hardest part to process: That there are people who reap these kinds of benefits and aren't interested in passing them on to those in a lesser position."
The following day, Picciolo, who's worked at the company for a year, spoke up at the Starbucks shareholders meeting in Seattle, addressing Howard Schultz and Kevin Johnson, Starbucks' outgoing and incoming CEOs, respectively. (Johnson officially became CEO last week). Picciolo was nervous; she'd never traveled cross-country before and yet here she was, standing in a crowded auditorium in front of the two most senior executives at her company. "As a parent I know how important it is to spend those first few months with your new baby," she told them. "I just want you to maybe reconsider, and extend this crucial benefit to all employees." Johnson thanked her for her comments and said he remained open to hearing feedback from employees.
Starbucks' employee benefits are "something we take a great deal of pride in," says Reggie Borges, a spokesperson for the company. Borges says their paid parental leave policy is "far above and beyond the standard for retail" employers. That's true: Only twelve percent of U.S. private-sector workers have access to paid parental leave. Still, the separation in benefits between white- and blue-collar workers has a real impact. Compared to their salaried counterparts, hourly workers are less likely to have paid leave benefits. Without such, the economic strain of staying home with a child can be so great that nearly one in four employed American mothers return to work less than two weeks after giving birth.
RELATED STORIES
Starbucks isn't the only large employer to offer different paid leave benefits for corporate versus retail employees. Analysis by the non-profit PL+US (Paid Leave for the U.S.) found that several large American employers like Wal-mart and Yum Brands offer 12 and 16 weeks paid maternity leave for corporate workers, but zero weeks of paid leave for hourly workers. By contrast, Target, Hilton, and Nordstrom provide the same family leave benefits for staffers, regardless of level (though all provide fewer weeks off for new dads than moms).
PL+US's program director, Annie Sartor, believes Starbucks's policy discrepancy is "not a matter of cost" for the company but simply because they haven't heard enough feedback from baristas and in-store workers, something PL+US is hoping to change with online petitions before the policy takes effect in October.
For her part, Picciolo has faith that Starbucks will eventually enact an equal policy. "I love working here," she says. "But they can do much better than this."
Follow Marie Claire on Facebook for the latest celeb news, beauty tips, fascinating reads, livestream video, and more.
Celebrity news, beauty, fashion advice, and fascinating features, delivered straight to your inbox!
Rebecca Gale is an award-winning journalist covering the nexus of politics and people in Washington, D.C. She is currently a writer with the Better Life Lab at New America. Her work has appeared in The Washington Post, Roll Call, Marie Claire, Cosmopolitan, and Health Affairs, among other outlets. Follow her on Twitter @beckgale