Smoking Accessories for the Design-Minded Lady Stoner: An Interview with the Co-Founder of Tetra
Monica Khemsurov tells us about her new site, which is upgrading 420 in a serious way.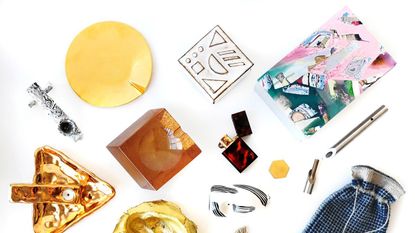 (Image credit: Courtesy of Tetra)
When I think of "smoking accessories," the first image to come to mind is the rows of brightly colored glass pipes sold by the vendors lining St. Mark's Place in the East Village. Hardly high design (har har), but that's where online brand Tetra (opens in new tab), which launched this week, comes in.
Founded by design curator and journalist Monica Khemsurov with friends Su Wu and Eviana Hartman, Tetra features beautiful products to make lighting up feel more sophisticated than it otherwise might (see: a tortoise lighter (opens in new tab), porcelain marble pipe (opens in new tab), and a 24-karat gold ashtray (opens in new tab) Miley should really consider putting on her Christmas list), as well others that could simply provide a pretty apartment addition. (I'm personally coveting this incense burner (opens in new tab).)
We got the lowdown from Khemsurov on making Tetra a reality in record time, not raising money, and whether there's a stigma against women smoking.
Marie Claire: What inspired Tetra? Are you a smoker?
Monica Khemsurov: "I'm not really a smoker, but I have a lot of friends who are, and the whole thing started because I was looking around me—I'm always looking for business ideas, everywhere. I'm a freelancer, so I can do different projects at once, and I was thinking for probably a few years about how there are all these smoking industries that are coming up, and there's such big business in this. I was always curious about how I could get into it. And I was on the beach one day with my two friends Eviana [Hartman] and Su [Wu]. They were talking about how they both needed new projects, and they're both very fashion-minded, both curators, and they're both also independent freelancers. I was like, oh my god, this is the way we can curate and build something that doesn't exist already. To my knowledge, there's nothing like this, no one place that's a benchmark for good design when it comes to these accessories. I think a lot of smoking accessories are still either really cheesy or tacky-looking. There's not a lot of aesthetic attention to this sort of sector—or if there is, it's really scattered. So we were like, we can do this! We all had the backgrounds to make it work, so that was it. It was just this idea I had on the beach, and we were all like, yes!"
MC: How long did it take for Tetra to go from idea to reality?
MK: "The beach day was in late February in L.A., and we got started right away. The first thing we did was try to commission the pieces we wanted in the shop, and that took awhile, because a lot of the designers were away for the summer. And it also took a long time to sort of come up with a new idea and execute it. The site design took about three or four months, but altogether, it's been since the end of February."
MC: So, quite quickly.
MK: "Honestly, we were so afraid someone else would do it first. We were like, this is such a good idea, how has no one done it before? We were in panic mode trying to be the first ones, which I think we succeeded in, thank god. It was definitely a rush to the finish line. I think the designers really stepped it up. They got all the stuff made and done in time, which is amazing."
MC: How do you find the designers and commission and curate the pieces?
MK: "A lot of the designers are people one of us has worked with in the past. We approached a bunch of our favorite designers and sent them a little brief about what our idea was with a little mood board. We knew we wanted a very specific vibe: very sophisticated, high design, not cheesy, nothing ironic. They submitted stuff back to us. It was a really simple thing: a lot of them are designers whose work we already love. Some people modified existing products and made them work in this world, and others were really passionate about smoking — that was the most fun part, seeing what people who haven't worked in this space before came up with."
MC: What's your business model? Are you looking to do brick-and-mortar sales at any point?
MK: "Basically, the three of us started this bare-bones. We just wanted to put it together and see what happened, because there's no tested market. You have different mainstream smoking objects, so there's a huge market out there, but we weren't sure what the market wants for these higher-end objects. It's a bit of an experiment: We decided to start small, and if it grows, we're hoping to have our own in-house line of products we'll be making ourselves.
We're not doing anything brick-and-mortar yet, but we plan to do pop-up shops in partnership with other stores. We'll probably start during the holiday season, in November, with some shops that have similar fashion and design interests. We want people to be able to see these things in person. For a lot of them, you can't fully appreciate the craftsmanship or the materiality online."
MC: The price points in your gift guide range from $20 to $2,000. Arguably there's something for everyone. Who's your target consumer? How do you find and market to her or him?
MK: "It's such a strange, veiled world I'm not exactly sure. It's this funny intersection of design, fashion, and smokers. I was talking to the other day to a well-known jewelry designer who said she has these parties where she puts out cut-off coffee cans for people to throw their used cigarettes in. She had never thought about having a really beautiful ashtray. There's a demographic of people who want to upgrade everything they own. We're starting within our own zones of influence, with our friends and from past projects we've done in our work lives. We're doing a lot of social media work and relying on the networks we've created with creative people, and we're going to do partnerships with bigger brands. The biggest things we're doing are launch parties in L.A. and New York, where we're having interesting people host us in their private spaces. I think that's so fun, to have someone be really interested in what we're doing so that they can help us by sharing it with their friends."
MC: Do you think there's a stigma against women smoking? Can brands like Tetra play a role in lessening it?
MK: "A stigma against women smoking, that's interesting. I hadn't thought of it that way. Smoking is a social activity, a ritual. It's something you do with your friends, in your downtime, to relax. To be creative, to be social. I guess I don't think there's a stigma."
MC: With your first blog Sight Unseen, this is your second brand launch. What have you learned from launching and running Sight Unseen that you'll apply to Tetra?
MK: "As someone who didn't go to business school—I studied journalism—I'm always thinking of ideas, all the time. What I learned from Sight Unseen is that I could just do something, run into it head first, figure it out, and not worry so much. The problem with some entrepreneurs, creating businesses, acting on their ideas and being successful, they say, 'I don't know how to do this, so I shouldn't do it.' Sight Unseen was totally a passion project. We didn't have a business plan. We thought that if anything happened it would be great, but if not, no worries. We grew it organically, and that's really important for me. You have to just take a step. You have to do something. If you have an idea, just take five little steps and see if you can take five more. When we started Tetra, the idea was that we didn't have to raise $20,000 or do anything one certain way. We could just put it together slowly and try it. It's better to have something realized than to always be stuck doing it perfectly from the outside. That's what I learned. You can just experiment and find things you love. Just throw yourself into them without knowing exactly everything you're supposed to do the right way. You learn as you go. I'm more confident doing that after Sight Unseen."
MC: What are you most excited for?
MK: "I'm most excited to keep commissioning new products. The more successful we are, the more we'll be able to do that. For me, that's the best part. Working with the designer to realize their idea and create this collection that has a certain feeling and a certain idea behind it. I'm excited to make more objects come into the world. I'm not a maker, I'm not a designer, but I love design, I love objects. I love watching designers work and helping them work and create things. It allows me to do more commissioning of designs, and that's what I love to do."
Follow Marie Claire on Instagram for the latest celeb news, pretty pics, funny stuff, and an insider POV.
I'm the features editorial assistant at Marie Claire. Before working at MC, I spent time in the production department at The New Republic and writing about politics for Bustle. When I'm not writing, you can find me museum-hopping, practicing mediocre yoga, and stalking pugs on Instagram.