How to Score a Job at Nasty Gal
When the hiring manager gives you advice, you listen.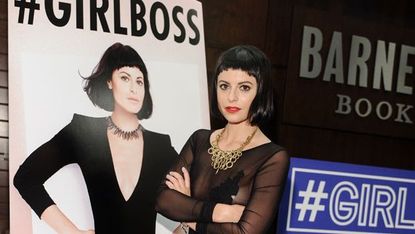 (Image credit: Getty Images)
Photo Credit: Getty Images
Nasty Gal's founder and CEO Sophia Amoruso is a #GIRLBOSS. What's a #GIRLBOSS, you ask? Clearly you haven't read Amoruso's bestseller yet! A #GIRLBOSS is "someone who's in charge of her own life." Amoruso writes. "She gets what she wants because she works for it." Now that's the kind of woman we'd want to work for and emulate.
Nasty Gal started as an eBay store back in 2006, offering highly curated vintage pieces. From there, Amoruso built it into a corporation with 300 employees, a cool, new Los Angeles office, and a cult-like following of fashion-forward shoppers looking for new and vintage clothing, shoes, and accessories. Nasty Gal continues to build its staff with innovative team players; three-quarters of them are women. There are currently openings in design and development, merchandising and buying, technical support, and production. From the looks of the brand's career instagram (@nastygalcareers), — popcorn! puppies! yoga! — it's definitely a fun place to work.
In a partnership with Jobvite, we spoke to Nasty Gal, Inc.'s Manager of Talent Acquisition Iris Hanu. Follow these five tips and Amoruso will be offering you the job in no time.
Think About Your Five-Year Plan

We don't hire anyone based solely on the fact that they can do the work, but on whether they can grow here and become an invaluable part of the team – this requires passion, initiative, and a people-friendly attitude.
Don't Be an Asshole

Seriously. Nasty Gal has a policy against it!
Know a Nasty Gal

We'll ask you to describe a Nasty Gal on the interview. Is she your favorite celebrity, your best friend, that chic girl you saw strutting through SoHo last weekend? Know what makes her represent the brand.
Be Part of the Cult

It means the world to us when a candidate shows up excited about our story and growth. Even if you didn't follow the brand since its eBay days, prove that you have a passion for Nasty Gal and let us know why you want to work here.
Care About Your Image

Look up your interviewer on social media before you come in. We do the same research on you. Everything factors into our overall impression of you in the recruiting process.
How to apply: Email careers@nastygal.com
Celebrity news, beauty, fashion advice, and fascinating features, delivered straight to your inbox!