How to Get a Job at Yelp
When the hiring manager gives you advice, you listen.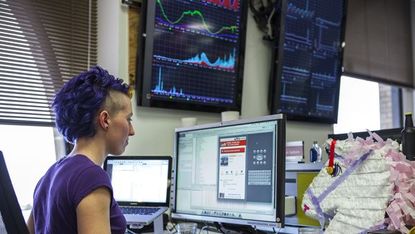 (Image credit: Courtesy of Yelp)
If you're looking for the best anything in your neighborhood, check out Yelp.com for reviews and recommendations. The site was founded in 2004 to connect consumers with great local businesses like hair salons, plumbing companies, and restaurants. Now an average of 138 million users visit the site each month and write more than 61 million local reviews.
A job at Yelp will build your skills in communication, sales, and engineering as you connect with local businesses in sales roles or code a beautiful site or app behind the scenes. Employees mix work and play in offices across the country and in Europe — the New York office has a game center with Playstation, and there's Keg Time, a hackathon creation that allows the New York team to have virtual happy hours with the offices in San Francisco and Phoenix.
Employees work hard at Yelp, too. If you do well in your department you can find yourself in the Presidents Club — a elite group of top producers within that company that are sent on a fully paid trip to Mexico.
Interested in applyingfor a job at Yelp? In partnership with Jobvite, We spoke to the Sales Recruiting Manager Roselin Romney on what she looks for in the perfect candidate:
Know the Nuts and Bolts of the Position

Whether the job they are applying for is selling online advertising or developing algorithm, the perfect candidate is bursting with enthusiasm for even the smallest part of the job. Our employees must be passionate about our mission: connecting people with great local businesses.
Think Locally

A passion for local communities and businesses is something everyone at Yelp shares. As our CEO says, if you're going to start a business, make sure it's one you won't get tired of thinking about 24 hours a day. Everyone at our company believes in our product and is excited to be able to share that with our customers.
Enjoy a Good Hackathon

The engineering team holds quarterly hackathons to stay on their toes and challenge themselves. The ideas that the engineers come up with during the hackathons help advance the functions of Yelp.
Realize Your Goals

Each member of the Yelp Sales Development Program is provided training from the top sales executive on the floor. The employees are given a clear goal they must meet in order to get the next promotion.
Be a Cheerleader

Not literally (though a former NFL cheerleader is a member of the Yelp team). The sales team celebrates each new client with a bang on a gong and a round of applause.
Related:
How to Get a Job at GILT.com

How to Get a Job at Nascar

How to Get a Job at Vevo

How to Score a Job at Nasty Gal
Celebrity news, beauty, fashion advice, and fascinating features, delivered straight to your inbox!