Home, Sweet Cubicle
It turns out that not all cubes are created equal. See how your office space stacks up.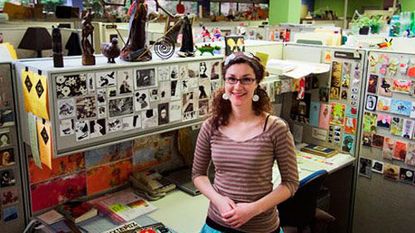 (Image credit: Claire Goodier Mojher)
Claire Goodier Mojher
Age: 24
Company: American Greetings Corporation
Location: Cleveland
Job: Designer/illustrator
At my office: I'm one of the designers who create the art you see on greeting cards, but I've also created party plates, napkins, tablecloths, and temporary tattoos for Halloween. I was surprised by the creative freedom we're allowed here. Designers are encouraged to display their artwork. It definitely makes me more inventive. Most of my inspiration comes from visual cues around me. Plus, they do a lot to accommodate social interaction and relaxation here. We have a new town-square-themed gathering area with a full-service Starbucks, and the company recently purchased property to create a landscaped green space and walking paths. I'm especially looking forward to that!
Pimping my cube: I tend to get most of my ideas looking through the enormous amount of creative material I've collected. Most of what you see on my walls are pieces by artists I've always loved, or discovered in books or on the Internet. I collect scraps of cloth, intricate wrapping paper, and unusual images I find.
Favorite accessory: A valentine that was an original concept of mine, inspired by copy from our writers. The front shows two pairs of shoes sitting at the foot of a sofa and reads, "Beside you." When you open it, it says, "The comfiest place on Earth. Happy Valentine's Day."
Company perk: The dry-cleaning drop-off and delivery service! Oh, and we have our own post office.
Want to read more?
Check out the "Home, Sweet Cubicle" story in the February 2007 issue of Marie Claire for more cube stories and pics.
Katie Dunsworth
Age: 24
Company: 1-800-GOT-JUNK?
Location: Vancouver, Canada
Job: Senior public relations manager
At my office: Our company is a national cleaning and junk-removal service. It works with thousands of nonprofit groups, recycling centers, and charities to either recycle or donate the things we remove.
Dogs welcome: Our office dog, Grizzly, is a Shiba Inu we jokingly named Director of Greetings. Grizzly is probably the funniest, most adaptable dog I've ever seen. Every morning he makes his rounds to all the people who feed him and bring him treats!
Some junk in the truck: Whether you're a vice president or entry-level employee, everyone starting with our company must spend a minimum of five days on the junk trucks. I couldn't believe how sore my muscles were after picking up junk for eight hours.
Pimping my cube: The moose statue I have on my desk is from my junk-truck days. I helped clean a basement for the nicest old man I have ever met. He really wanted me to have this weird statue — it obviously meant a lot to him to have it go to someone he "knew." So, I have it on my desk to remind me of my days on the truck — and, of course, it's good old Canadian memorabilia. Otherwise, my desk is a cross between my love affair with Audrey Hepburn (I have at least three pictures of her on my desk at all times) and funny things that make me smile. I have a cheese-head hat that I got from a junk pickup in Wisconsin, a massive old cell phone from the early '90s, and a sword from our Halloween costume day when the department dressed up like pirates.
What happens in Mexico... Last year I took three of my five weeks of vacation to get married and go on my honeymoon. We were married in Cancún in February and spent a week with family and friends before heading off to our honeymoon in Playa del Carmen. Before I left, 30 of my colleagues threw me a massive "stagette" (Canadian for bachelorette party!). They surprised me midday on a Friday...and it went all night long.
Simmerjot Khera
Age: 25
Company: Adobe
Location: Noida, India
Job: Software engineer
East meets West: I wear traditional Indian-wear for Punjabi women: a suit with salwaar, Indian-style trousers, on the bottom. Adobe has a casual dress policy, so you can wear what you want. The general trend is easy and comfortable. Unmarried women wear Western clothes, like jeans or trousers, and married women prefer traditional clothes.
Pimping my cube: I've added a few things to personalize my space. Sailboats always remind me that life is a journey. It has to be continued, no matter how rough it gets due to one's workload — or ebbs and tides in your personal life! The fish I have in the bowl is a male gold gourami. Gouramis come in lots of colors, but I like gold ones because they are vibrant. They are highly territorial and don't like to share their space with any other male. Typical behavior! Fishbowls and aquariums are considered very good stress relievers, and I, indeed, find it true.
View from my window: The window has a view of a busy street and the big city. Noida is near India's capital, New Delhi, and is famous for being a leading upcoming software hub. I have a view of the whole city, including the stadium where local kids play cricket and bands practice their sessions.
Liezel Schimper
Age: 30
Company: IQUAD Group Limited
Location: Port Elizabeth, South Africa
Job: Personal assistant to CEO
At my office: I'm at my desk most of my day. Our working hours are from 8 a.m. to 4:30 p.m., and we have teatime for 10 minutes twice a day. I work for an easygoing boss, and most of the time I am pretty organized, but it does get hectic at times. For vacation — we get 20 days a year — I go caravan camping at a place called Sundays River, about 20 kilometers outside Port Elizabeth.
Pimping my cube: We had four prints of the "big five" animals, as they're called in South Africa: African elephants, leopards, lions, buffalo, and rhinos. I chose two and got them framed: elephants because of their strength, and the cheetahs for their color scheme.
On my desk: You'll find pictures of my two stepdaughters (Chelsea, 14, and Demi, 13) and my own daughter (Emma, 3) on Santa's lap.
Celebrity news, beauty, fashion advice, and fascinating features, delivered straight to your inbox!