What It Costs to Be Me
Five women from around the world reveal how they spend their money, what they're saving for — and their most expensive shoes!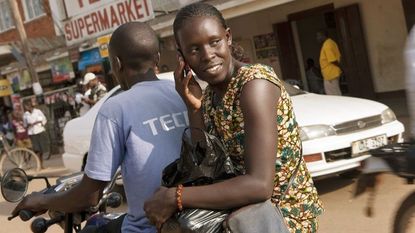 (Image credit: Jake Lyell)
Racheal Jama, 28,Soroti, Uganda
Occupation: Assistant accountant
Annual income: $7,200 (converted from Ugandan shilling)
Average income for a woman in Uganda: $1,216
Home, sweet home: "I live in a single room with a washroom. I sleep on one side and cook on the other. There's no actual kitchen, so I use a hot plate and a gas cooker. My rent is $44 a month."
Bills, bills, bills: "My utilities, which include water and electricity, cost $13 per month. Here, everyone buys a mobile-phone handset, and you pay as you go. The phone costs $22, and I spend about $9 biweekly on phone credits."
Meal plan: "I have an hour lunch break, during which time I will go to a restaurant for a typical Ugandan meal, like matoke [steamed plantains], which costs about $1.30. I eat a light dinner at home, usually milk and a piece of cake."
The weekender: "On Saturday evenings I'll go to a friend's house and watch DVDs. I don't drink — most young, single women here do not go to bars."
Only in Uganda: "At home, I boil my water and keep it in a clay pot. That's how we keep our water safe and clean."
Shoe index: "I bought a pair of black open-toe high heels for almost $9. They are only for special occasions."
The road to recovery: "We felt the recession here so much. No one went to the shops or bought anything. It's slowly getting better. I am grateful to have a job."
Checks and balances: "It is so hard to save in our culture. I have tried and failed. Still, my top priority is to buy my own home. I'm not sure how, but I will do it."
Audrey O'Connor, 31, Brussels, Belgium
Occupation: Event planner
Annual income: $60,000 (converted from euro), plus perks, including a daily meal stipend
Average income for a woman in Belgium: $20,683
Home, sweet home: "For $900 a month, I rent a spacious one-bedroom apartment in the lively African quarter. I once had a party here that was so crowded, the floorboards started to creak!"
Bills, bills, bills: "My mobile phone costs me about $50, plus I pay about $200 a month, in total, for water, gas, electricity, and Internet access. I don't own a TV, so no cable bill. Whatever I want to see I download from the Internet."
Meal plan: "I usually pack my lunch, but now and again I'll go to an all-you-can-eat Lebanese restaurant for 25 euro ($34), which is cheap. There's a very high standard for restaurants here. We don't go to buffets to stuff ourselves."
The weekender: "Salsa dancing is huge. My friends and I dance at the clubs till 6 in the morning. I'll spend about $85, which includes the cover charge, champagne, and the 50-cent fee to use the public bathrooms."
Only in Belgium: "Most companies provide employees with food checks for about $10 per working day. You can use them in restaurants or at supermarkets. I use mine for groceries."
Shoe index: "I bought $220 sandals in Ireland. They have bright-pink-and-purple straps and a gold wedge heel. They go with everything."
The road to recovery: "Belgians are very conservative when it comes to money. Our recession was nothing like in the U.S. I never really knew what all the fuss was about."
Checks and balances: "All my savings goes toward traveling. And when I go, I do it well. I don't travel on a shoestring anymore!"
Anna Desmarais, 33, Seoul, South Korea
Occupation: Voice-over actress and gym owner
Annual income: $75,000 (converted from Korean won)
Average income for a woman in South Korea: $16,931
Home, sweet home: "I rent a two-bedroom town house for $900 per month. The big selling point was the garden in front. South Korea is so overpopulated that it's rare to find any green space."
Bills, bills, bills: "My cell phone is about $88 per month; utilities are another $100. Taxis are also a major expense for me — $350 a month. I take them often for work."
Meal plan: "I don't cook — ever. I don't enjoy it anyway. I'll rarely spend more than $5 for lunch, unless it's for Western food, which can cost twice as much as Korean."
The weekender: "Going out is an eight-to-10-hour ordeal. You'll start with dinner or drinks, then hit a couple more places before ending up at a 'singing room' or going out to eat again. You'll always be sharing two meals together in the course of an evening. Big Saturday nights run me more than $200."
Only in South Korea: "The pace of life is extremely fast and can be stressful. So people are really into wellness, yoga, and detoxing. Last year I did the Master Cleanse for 13 days. It was hard-core."
Shoe index: "The most I've ever spent was $300 on a pair of Nine West boots. They wouldn't have been expensive at all in the States, but import tariffs here are really, really high."
The road to recovery: "I can honestly say the recession didn't affect me much. I still enjoyed the same lifestyle."
Checks and balances: "I definitely live a comfortable lifestyle and still manage to save. I have about $40,000 in cash, and the rest is tied up in my business. I never worry about money — there are so many business opportunities here."
Asli Tolon, 31, Istanbul, Turkey
Occupation: Cofounder of a Web-based medical tourism company
Annual income: $57,000 (converted from Turkish lira)
Average income for a woman in Turkey: $5,352
Home, sweet home: "Last year I bought a two-bedroom apartment in central Istanbul for $210,000. I renovated it for another $21,000. Now I have no money for anything else."
Bills, bills, bills: "My utilities are very expensive. The water bill is about $70 per month, and electricity is another $85. I pay $145 per month for my BlackBerry and $55 for cable. Since I have two dogs, I also have a cleaning lady who comes three times a week — I pay her $530 per month."
Meal plan: "I work from home, so I usually make a sandwich for lunch. If I feel like something special, I'll get sushi. But one roll costs $14, so I don't do it very often."
The weekender: "I have two dogs — a lab mix and a golden retriever. I'll go jogging with them to Bebek, a popular district in Istanbul right next to the Marmara Sea. On Saturday nights, the young crowd will hang out in the hip nightclubs along the water."
Only in Turkey: "I own a Honda station wagon, but I avoid driving at all costs. Gas prices are high — it would cost $135 a week to fill up the tank. Everybody owns a car here, even people who can't afford to."
Shoe index: "The most expensive pair of shoes I own are $220 Stuart Weitzmans — nude with a tie over the ankle. My dogs have chewed up some expensive pairs — devastating!"
The road to recovery: "Economically, last year was terrible. But now things are picking up. I can tell because a lot of my friends are getting interviews and job offers."
Checks and balances: "My savings are gone. That's not a good place to be — 31 with nothing in the bank. But at least I own a home and a business. I invested $10,000 of my own money in my company. I may enroll in an MBA program, which would cost about $25,000. It's my backup plan if this start-up fails. Or marry a rich guy. You have to have a plan B, right?"
Heidi Dickson, 26, San Francisco, California
Occupation: Project manager for a health-care company
Annual income: $102,000
Average income for a woman in the U.S: $36,278
Home, sweet home: "I live in a 900-square-foot two-bedroom in Russian Hill with high ceilings, big windows, wood floors. We even have a washer/dryer in the bathroom, which is rare. The rent is $2,800 per month, which I split with my roommate."
Bills, bills, bills: "Though I have a BlackBerry for work, I also own an iPhone — can't live in San Francisco without one — which costs me $95 per month. Pacific Gas & Electric is $75 per month, as is cable. My student loans are $150 a month, but I'm paying $200 so they get paid off quicker."
Meal plan: "For lunch, I grab a salad from a café, which costs between $9 and $14. After work, I'll head to happy hour, have a few drinks, maybe buy a round for friends, then go out to a restaurant. I'll take a cab there and back. A night out like that costs me between $75 and $100."
The weekender: "Last week I went on an art crawl. On Saturday night I hit the bars. Last call is at 2, and then we'll grab a bite to eat. If I go over $150, that's a bad night."
Only in the U.S.: "I grew up on a farm in North Dakota. When I first got to college and saw that you could order pizza without driving 30 miles to get it, I went crazy. We used to have family dinners at home; my mom would cook them, and they were great. But now I'm all about going out."
Shoe index: "I own a pair of cute leather Hispanitas boots that were originally $300, which I got for half that because a friend of mine worked in the store. I do not spend a lot of money on shoes. The only thing I'll spend real money on is jeans. The perfect pair makes you feel amazing."
The road to recovery: "The recession hasn't affected me at all. Same for my friends. Restaurants are still open, people are still going out. Have I changed my behavior? Nope."
Checks and balances: "When I first joined the working world, I got into $4,000 worth of debt. Paying it off was horrible and took the fun and joy out of my new job. I promised myself I would never do that again. Now I rarely ever have more than a $100 balance on my card."