The Risk Taker: Rachel Weiss
Rachel Weiss went from stand-up comedian to early Internet innovator. Now she's vice president of digital innovation, content, and new business ventures at L'Oréal USA, heading up the beauty giant's online efforts—and still every bit the iconoclast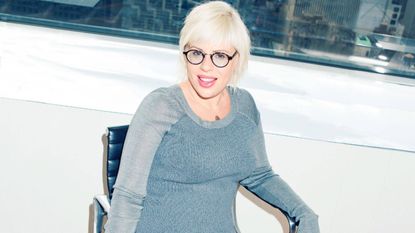 (Image credit: Charlie Engman)
MARIE CLAIRE: You have had an unconventional career path, having started out as a stand-up comic. How did that happen?

RACHEL WEISS: I always loved comedy, and when I was 25, I got a marketing job at Broadway Video, which produces Saturday Night Live. I was working with comedians who kept telling me, "You should try comedy!" I take a lot of risks, and I was like, "All right, I'll try it!" I did very well early on, but after five or six years, I asked myself, Is this what I really want to be doing? I'd created a website to promote my shows—this was the mid-'90s and no one was really doing that. I used those skills to get a job at a startup called Novix Media. It wasn't anything I ever intended, but I liked doing digital media more than being onstage.
MC: How does digital marketing satisfy your creative spirit?

RW: It's intuitive to me. As a kid, I used to make audiotapes and fake radio shows and distribute them to my friends. When I wrote my first blog post, I remember looking at the counter at the bottom that tells you how many people have read it—it was amazing watching it go up right before my eyes. I was also involved in all these AOL beauty message boards, and I still have my own podcast ["Beware of the Babylon"]. I've always loved making things, and technology helps facilitate that.
MC: How has digital marketing changed since you started out?

RW: When I worked at [publisher] John Wiley & Sons [from 2002 to 2005] running digital marketing for CliffsNotes and Frommer's, blogs were brand-new and there were no big social platforms—conversations happened on our own message boards. Six years ago, when I started at Redken, a L'Oréal brand, we launched our first L'Oréal Facebook brand page. That's standard now. We also did one of the first branded beauty series on YouTube, called "The Hair Files." Now everyone talks about beauty content on YouTube.
MC: What's the next big thing in digital media?

RW: It sounds really geeky, but everyone is talking about big data. As customers interact with social networks and use their mobile devices, you get all this information, like how they prefer to shop and what their favorite colors are. The question for us is, How do we leverage that data to make the shopping experience more personalized? The more content we can personalize, the less work we have to do capturing customers' attention.
MC: L'Oréal has a Women in Digital initiative. What is it and why is it important?

RW: It honors and recruits women in digital marketing, technology, and IT. I go to a lot of male-dominated conferences, and I'm in a lot of meetings with outside startups and investors, and it's like, "Where are the women in the room?" L'Oréal is about empowering women, but it's also a company that markets to women. If we're not encouraging women to go into careers in science, technology, engineering, and math, who's going to innovate for our industry?
MC: What are your favorite apps?

RW: I hate to say it, but I'm really into Snapchat. There's an element of, "You need to see this now!" I like Vine, Path, and SongPop, too. I tend to gravitate toward what's really new.
MC: On a recent podcast, you recount a story about a wicked hangover you had as a teen. Women especially have been cautioned about the hazards—professional and otherwise—of over-sharing. Do you ever worry about that?

RW: To be frank, that's an area that I've struggled with. I have cut back on my self-promotion and how I play on the Internet. But I'm candid on Facebook—I accept friend requests from everyone. My LinkedIn profile is also untraditional—I note that I shared an office with Billy Baldwin. But I do believe I'm successful because people know who I am when I walk in the door. I learned in comedy that you have to be authentic. I take that philosophy very seriously.
MC: You've said that you spend most of your off-hours online—which pretty much means you're always working, no?

RW: My job is my life and I choose that. All my friends have similar careers and objectives, so we go to the same parties, we talk to the same people. I work till I go to bed. And while that seems like fun, it's still work. But I have a job where I figure out how technology can solve new business challenges, working for a company that helps women feel beautiful and confident. I think that's pretty exciting.