How to Score a Job at Rue La La
When the hiring manager is giving you advice, you listen.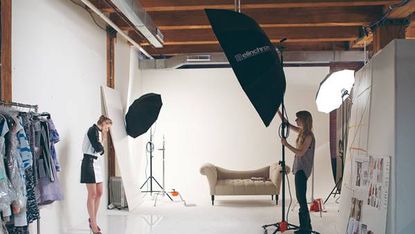 (Image credit: Courtesy of Rue La La)
We're always looking for the best splurges to fill our closets. So it's unsurprising that we love sites like Rue La La, the members-only shopping site that sends fashion alerts, sale announcements, and the latest trends straight to our inboxes every day. But even more exciting than scoring a pair of highly discounted Fendi pumps is perhaps the prospect of working at a company where a passion for fashion and obsession with technology intersect.
Rue La La is a company filled with collaborative creative thinkers—CEO Steve Davis even sits among his colleagues in the open office. The market editors at the retail site curate specialty boutiques including handbags, shoes, and home furnishings, while a team of engineers, software developers, and programmers bring the sales to life.
The e-commerce site is currently looking to hire infrastructure architects, software engineers, and technology project managers as well as fashion buyers, designers, and editors. Besides the insider knowledge of sample sales, employees have access to benefits including tuition reimbursement, 401K matching options, summer flex hours, and bagel Fridays. In partnership with social recruiting firm Jobvite, we spoke to Rue La La Recruiting Director Jennifer Russell on how to land your dream gig. Here are her five tips:
1. If you're a woman in tech, we want to know about you. There's no doubt that Rue La La looks to hire fashion and market editors, but the company is placing specific focus on finding female techies who want to make waves in the industry. Chief Technology Officer Susan Standiford makes a point of attracting and developing female talent in areas such as engineering, software development, and technology operations.
2. Keep your finger on the pop culture pulse. Every day at 11 a.m. EST our members check in to see what amazing sales we'll have that day. We want them to feel excited and inspired when the curtain goes up. We build pop culture partnerships like our recent movie-inspired style roundup in collaboration with Fox's release of The Other Woman, or a partnership we had with FX's American Horror Story. We look to provide a unique shopping experience with context, inspiration, and storytelling behind our sales.
3. Attend Rue La La's shopping events. Four or five times a year we co-host events at our offices in New York City, Boston, and Shepherdsville, KY. These events are often in partnerships with other organizations. We've hired many people we've met at these events. Our team members are also always out at industry events in Boston and New York with an eye toward networking and seeking out top talent. Introduce yourself. Attending these events illustrates that you are going above and beyond to develop your skills outside of on-the-job training.
4. Design a mock trend board or boutique as your portfolio. Fashion and tech are both individually fast paced, and when you combine the two, it gets even faster. We are always staying on top of the hottest trends, brands, and tech developments, but it's important we stay true to the identity of Rue La La. Before jumping on a new trend, we always make sure that it's right for our members and for our company. We are impressed if a candidate can talk about and relate to the items in a boutique. This way we know they live the brand and can properly represent Rue La La.
5. Understand Rue La La's DNA. The company is defined by six core values: innovation, passion, collaboration, tenacity, decisiveness, and kindness. We're looking for candidates who can integrate these values into everything they do. Our Boston headquarters houses our working studio. Employees go downstairs and meet with models, photographers, and stylists who work hard to make each boutique and sale come to live. These interactions help facilitate great exchanges of ideas.
Celebrity news, beauty, fashion advice, and fascinating features, delivered straight to your inbox!