Living Color
In a world of predominantly blonde fairy-tale heroines, one writer reflects on Brandy's Cinderella—and the next Little Orphan Annie.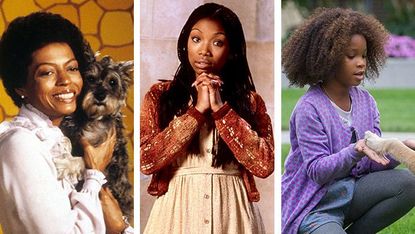 (Image credit: Archive)
MOVIES HAVE ALWAYS been spaces of refuge for me. For a few harmonious hours, I could escape my reality of being a girl living on the margins. With a sprinkle of Hollywood pixie dust, I was transported from my poverty-stricken neighborhood in the low-income town of Kalihi, on Oahu, to a land of possibility, where I could surrender to dreams.
One musical that deeply influenced me—and continues to do so—is the 1997 ABC TV movie of Rodgers and Hammerstein's Cinderella, starring Brandy, with Whitney Houston as the Fairy Godmother and Whoopi Goldberg as the prince's mom. Brandy's fairy-tale, glass-slipper princess leaped over racial hurdles: Cinderella was usually portrayed by Disney as blonde, with twinkling blue eyes and a fair complexion. With her braids and brown skin, Brandy was the furthest from classic Disney fantasies—but closest to my reality.
Growing up in front of the television and being bombarded by images of girls who didn't look like me, I was changed by the sight of this racially diverse cast. (Brandy's prince was even Filipino!) Seeing oneself is an affirming moment, but for girls of color, this mirror image is as rare as Cinderella's glass slipper actually fitting. We all crave representation and deserve access to reflections of ourselves, and that is why I'm excited by the remake of Annie (opening Christmas Day), starring 11-year-old Academy Award nominee Quvenzhané Wallis as the spunkily optimistic, curly-haired orphan.
This updated Annie feels like a gift to girls today. Like Brandy, and Diana Ross, who eased on down the road as Dorothy in 1978's The Wiz, Wallis shows all marginalized girls that everything is possible because she is seen front and center. This is vital for these often forgotten and discarded girls. It's equally vital that we see and know them. Some of them are in classrooms, like the thousands of African-American girls in schools across our nation more likely to be punished owing to gender and racial stereotypes. Some are in detention, like "Jane Doe," a 16-year-old transgender girl who has sparked demonstrations in Connecticut for being wrongfully held in an adult prison without charges. And some are in captivity, like the 200-plus girls abducted by rebels in Nigeria (a handful of whom managed to escape).
Popular culture is most powerful when it offers us a vision of how our society should look—or at least reproduces our reality. The reframing of Annie as a black orphan not only more accurately embodies the reality of the foster care system (which is disproportionately filled with children of color), but it foretells our country's rapidly shifting demographics (Census Bureau data reveal that children of color make up nearly the majority of new births in America). Casting Wallis as Annie is powerful not only for viewers of color, but for all of us, enabling us to see beyond the dominant images of white protagonists in childhood stories.
Author Zadie Smith has spoken about the idea of racial neutrality when it comes to characters in literature—the notion that because literary characters have been overwhelmingly white, readers of all colors have been trained to see white people as the standard, the norm, making whiteness more central, humane, and full than characters of color, who are largely read with an "other" or "niche" focus.
That is why it is revolutionary that fairy tales (no matter their flaws when looked at through a feminist lens) represent girls of all colors. It is why Shonda Rhimes taking over ABC's Thursday-night lineup matters. It is why Mindy Kaling running her own show matters. It is why Mara Brock Akil's budding TV legacy, from Girlfriends to Being Mary Jane, matters.
One of my most cherished pop culture moments will always be when Brandy's Cinderella reluctantly accepts her lot in life after readying her horrible stepsisters for the ball. And then, in her "own little corner" in her "own little chair," she escapes to her imaginings of the ball and makes a wish for more than mere reveries—a wish her glittery and gold Fairy Godmother fulfills.
As Brandy sings about fantastical possibilities coming true, we, the girls viewing this post-racial fairy tale, realize that we can become our wishes and hopes, and that we're worthy of being seen at that ball—and beyond.
Glass slippers may be clear, but we dream in vivid color.

Images via Everett Digital; Annie image courtesy of Sony Pictures




FROM LEFT: Diana Ross in The Wiz (1978);Brandyas Cinderella in 1997; Quvenzhané Wallis films Annie on location in Harlem in 2013.



This article appeared in the December 2014 issue of Marie Claire.
Marie Claire email subscribers get intel on fashion and beauty trends, hot-off-the-press celebrity news, and more. Sign up here.