Instagram COO Marne Levine and Emily Ratajkowski on How the Platform Is Combatting Sexual Harassment
"It makes visible whats was invisible to many. It is no longer okay to ignore what is going on."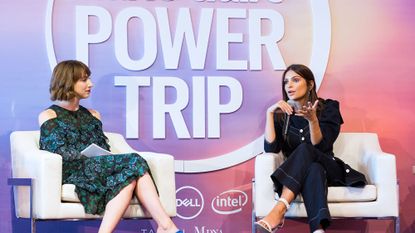 (Image credit: Kathryn Wirsing)
The exposure of Harvey Weinstein's decades of sexual harassment has caused a (much needed) battle cry. Thousands of women are coming forward online with #MeToo to share their stories of sexual assault, and actress and model Emily Ratajkowski and Marne Levine, COO of Instagram, are encouraging others to use the platform to continue the fight.
At the 2017 Marie Claire #PowerTrip Conference in San Francisco, the two women—one, an Instagram exec and the other, with 15.2 million followers, an Instagram powerhouse, explain how Instagram is acting as a movement of change and a voice for women worldwide.
"I think no one is surprised," Ratajkowski says of the sexual assault allegations of Weinstein and the movement it has started online. "I posted #MeToo and have been so amazed to see how much this has taken off."
Levine adds that the platform lets women share their voice and stories about sexual assault without fear.

"Women are awesome storytellers," she says. "It's absolutely heartbreaking to read these stories about sexual assault and harassment, and even the microaggressions that occur in our society day after day. What we've seen that millions of people have come to Instagram and Facebook to share these stories, and that's incredibly powerful. It makes visible whats was invisible to many. It is no longer okay to ignore what is going on."
It's with this intention that Instagram and other social media outlets can become a force to be reckoned with, building an army of women that are done with the bullshit and are not going to take it any longer.
After these women share their stories, it's up to other users (ahem, men), to cease the victim-blaming. Ratajkowski adds that while bringing women's stories of sexual harassment to light is incredibly important, social media efforts can't stop at just a post.
"The victim blaming that going on is very subtle. It's driving me crazy," she says. Her #MeToo post was to remind women that "you don't need to feel responsible at any point." She argues that the comments section allows to continue to conversation.
"The internet is an incredible voting booth," Ratajkowski says. "The more that we vote and actively participate, the more we can come together."
For more from this year's Power Trip, click here.
Celebrity news, beauty, fashion advice, and fascinating features, delivered straight to your inbox!
Megan DiTrolio is the editor of features and special projects at Marie Claire, where she oversees all career coverage and writes and edits stories on women's issues, politics, cultural trends, and more. In addition to editing feature stories, she programs Marie Claire's annual Power Trip conference and Marie Claire's Getting Down To Business Instagram Live franchise.