Exclusive: Belle and Sebastian Share Their Favorite EPs of All Time
Can you call in sick to listen to music, y/n?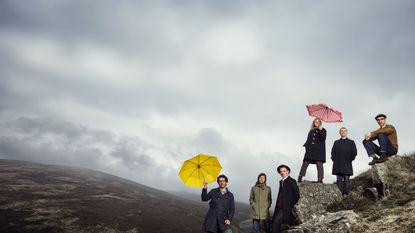 (Image credit: Søren Solkær)
I first started listening to Belle and Sebastian in high school. It was years after the release of their most iconic album If You're Feeling Sinister, but such is the lasting pervasiveness of their music. Belle and Sebastian are a band that gets what it means to have a thousand feelings that you don't know what to do with, what it means to be in love, what it means to be confused—they just get it. Their music is timeless and yet catapults you back to the exact feeling you had when you first listened to it. Now, the band is releasing a trilogy of EPs titled How To Solve Our Human Problems? and in celebration lead singer Stuart Murdoch is exclusively sharing his favorite EPs of all time with MarieClaire.com.
Tiny Dynamine by Cocteau Twins, 1985
The good thing about this EP, in my opinion, was that sometimes it sounded like the band wasn't trying very hard, therefore they were relaxed, therefore the results were often sublime.
Listen to the full EP here.
Ballad Of The Band by Felt, 1986
The best EP often contains a great pop single (such as "Ballad of the Band"), and then gives a chance for other band members to come to the forefront with beautiful solo efforts (such as "Candles in a Church" and "Ferdinand Magellan").
Listen to more from Felt here.
You Made Me Realise by My Bloody Valentine, 1988
An example that the extended play could be a game changer, a gauntlet thrown down by a band who was ready to change the world, but wanted to show you they were about more than just the crazy A-side.
Listen to more from My Bloody Valentine here.
Voodoo Ray by A Guy Called Gerald, 1988
A classic of early house music in the UK, released as an esoteric and varied EP.
Listen to the full EP here.
Super-Electric by Stereolab, 1991
Most of my picks are from the '80s, but just sneaking in (from 1991) is this masterful 4-tracker from ace beat group Stereolab.
Listen to more from Stereolab here.
William, It Was Really Nothing by The Smiths, 1984
Throughout their short but brilliant career, The Smiths chucked out non album singles for fun—and the extra tracks were always ESSENTIAL listening.
Listen to more from The Smiths here.
Final Day by Young Marble Giants, 1980
When I stumbled on this EP it felt like it came from outer space, so out of step it was with much of the music of the time. But it has proved itself to be timeless.
Listen to more from Young Marble Giants here.
A Million Tears by The Pastels, 1984
An influential Glasgow group, tearing it up on the Creation label when the Gallaghers were still in short trousers.
Listen to more from The Pastels here.
A Bout De Souffle by Martial Solal, 1966
In the early 90s when I was digging all things Godard/Truffaut, the existence of this soundtrack EP was more myth than certainty—but it does live, and breathe!
Listen to more from Martial Solal here.
Special Mention
For my last pick I'll give honorable mention to four fabulous records that have been called EPs, but I think of them more as mini LPs for some reason. It's a fine line.
Fugazi by Fugazi
Superfuzz Bigmuff by Mudhoney
Metal Circus by Hüsker Dü
Come On Pilgrim by The Pixies
Belle and Sebastian's How To Solve Our Human Problems? EPs come out December 8, January 19, and February 16 from Matador Records. Stream or purchase their music here.
RELATED STORY
Celebrity news, beauty, fashion advice, and fascinating features, delivered straight to your inbox!