This is What Happened When a 7-Year-Old Transgender Girl Met Laverne Cox
It will warm your heart.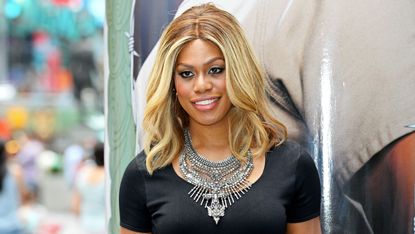 (Image credit: Getty)
Laverne Cox is used to fans approaching her, but this one caught her off guard in the most heartwarming way.
Marlo Mack writes about the encounter between her daughter "M." (both names are pseudonyms) and the Orange Is the New Black star on her blog,Gendermom. M., who came out to her motheras transgender at 3, is a big fan of Cox. Mack admits that the Netflix show isn't necessarily appropriate for kids, but she used Cox's TIME cover story to help educate her daughter about being transgender. So when the star was coming to their hometown for an event, the pair excitedly attended.
A friend was able to sneak the mother and daughter into the smaller reception following the event, and M. decided to stake out the back doors in hopes of catching Cox before she hit the crowd.
When Cox entered, M. was the first person to greet her. Here is the conversation that transpired:
Cox: Well, hello.
M.: I'm M.
Cox: Hello, M.
M.: And I'm trans.
Cox was surprised by her little greeter, writes Mack, and asked, "Is anyone with her?" Mack stepped up to identify herself, but admits that she was starstruck and an awkward moment ensued.
Her daughter "knew what to do." M. hugged Cox. Cox then bent down to the child's eye level and said something little M. is sure to never forget: "Remember, honey, transgender is beautiful."
My daughter, Caitlyn Jenner, and Laverne Cox https://t.co/do26hqrkfg pic.twitter.com/InanCqT9bdJune 2, 2015
See more
Celebrity news, beauty, fashion advice, and fascinating features, delivered straight to your inbox!