Standing Up for Herself and Starting Over: Sienna Miller Enters a Whole New Phase
Our October 2015 cover star is ready for what's next—buzzy projects, abandoning vanity, and fighting for what she believes in.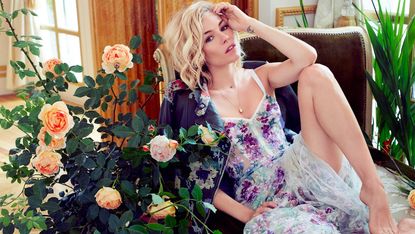 (Image credit: Txema Yeste)
Marie Claire Newsletter
Celebrity news, beauty, fashion advice, and fascinating features, delivered straight to your inbox!
Thank you for signing up to Marie Claire. You will receive a verification email shortly.
There was a problem. Please refresh the page and try again.
"What I've realized is you have to let go of looking beautiful, have no vanity," says Sienna Miller. "I'm focusing on not having to be glamorous now."
The 33-year-old actress is sitting at Electric House in London's Notting Hill, wearing black skinny jeans and cinnamon suede sandals with a crimson pedicure peeking through and no makeup. "You're always replaceable, and in your 20s, they want you to look a certain way," she continues, "but once I turned 30, there was a career shift. In my 20s, I was [playing] the Girlfriend, but now I want to focus on characters, on being a real person."
Which is precisely what London-based Miller has done in two upcoming movies: dramedy Mississippi Grind with Ryan Reynolds (out September 25) and chef comedic drama Burnt (out October 23), in which "I wore no makeup, [shaved] half my head, and gave myself a Little Lord Fauntleroy fringe, tattoos, and piercings. I was meant to be quite tough, a female chef in a man's world," she explains.
Living out your 20s under the scrutiny of the media is a tough act, and not a role Miller could prepare for. Things went crazy when she auditioned for director Charles Shyer for the 2004 remake of Alfie, starring Jude Law. After the audition in New York, Miller was told to head to L.A. to meet and screen-test with Law. The producers wanted a name, but Shyer was holding out for her to play the part. "I paid for my ticket," Miller recalls. "It's very complicated to break in at that level—the studios are powerful—and it takes a lot for a director to stand out like Charles did for me."
To read the rest of Miller's candid cover interview, pick up the October issue of Marie Claire on newsstands September 22. Here, a few highlights:
On her second project with Bradley Cooper, Burnt: "Best friends—we laugh a lot; he is loyal and kind and has no concept of his own brilliance."
On being followed by paparazzi and getting an injunction against Big Pictures: "The paparazzi sat outside my home in London, and everywhere I went, I was followed by 12 cars. It wasn't even safe to take my sister Savannah's kids out. My whole life was documented and manipulated. I thought, I've got to put a law in place to make it illegal for people to sit outside my home. I sought an injunction. Filming them secretly for a year with a camera the size of a cigarette lighter and then going to court in 2008 with the evidence."
On pulling out of a play because of pay inequality: "The producer wouldn't pay equally. He wouldn't pay me within a million miles of what the male actor was being paid. And women always have to do more publicity than the men. The only way is to make a stand. We are going to have to make sacrifices to make change. I want to turn up and feel dignified."
On working with Clint Eastwood for American Sniper: "He made us feel we were a little family; he shot the movie in 40 days, with no rehearsal. He knows what he wants—I learned to be a bit more prepared and that I had to bring it in one or two takes. Before one scene, he whispered that day's death toll in Iraq to me. He understood that I get neurotic, I overthink, that sometimes I'm in my head and not in the moment, which sounds very pretentious, but he dissipated the tension."
On being a mother: "[It is] the most profoundly, deeply affecting thing. I didn't feel I had proper roots till I had her; I was whimsical and spontaneous. I feel anchored in the way I was looking for, and our life is beautiful and simple. We go to the park; I take her to school; we go to the country and she gets muddy and rides ponies. You try to re-create the magic you remember."
Read the full interview and see all the photos in the October issue of Marie Claire, on newsstands September 22. And for a little behind-the-scenes action to hold you over, see Miller at her cover shoot here:
Follow Marie Claire on Instagram for the latest celeb news, pretty pics, funny stuff, and an insider POV.
Celebrity news, beauty, fashion advice, and fascinating features, delivered straight to your inbox!