Kim Kardashian Told Us What a Day in Her Life Is Like and It's Actually Insane
In an exclusive interview, the reality star spoke to MarieClaire.com at Create & Cultivate about the epic work that goes into being an entrepreneur.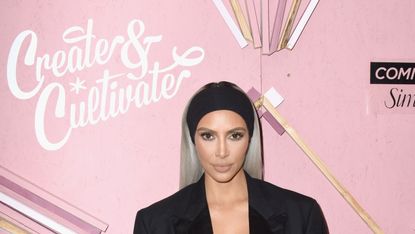 (Image credit: Getty Images)
Marie Claire Newsletter
Celebrity news, beauty, fashion advice, and fascinating features, delivered straight to your inbox!
Thank you for signing up to Marie Claire. You will receive a verification email shortly.
There was a problem. Please refresh the page and try again.
Kim Kardashian West may have begun her career as "famous for being famous," but no one could ever accuse the reality star-turned-mogul of that today. In addition to Keeping Up with the Kardashians (which shows no signs of slowing down), Kim is an author, a producer, and an entrepreneur with successful beauty and fragrance lines under her belt.
Kim recently took the stage at Create & Cultivate's Los Angeles Conference to deliver a keynote with her real-life best friend and fellow entrepreneur Allison Statter (co-founder of Blended Strategy Group), and MarieClaire.com spoke to the pair about their work—and learned alllll of Kim's entrepreneurial secrets while we were at it. (Okay, well not all of them, but what we did learn has us working on our vision boards starting now).
On Taking Her Power as an Influencer and Leveraging It into a New Business
Kim Kardashian West: "It happened really organically. I knew social media was going to be a big tool, and I started it off as like a free focus group—just knowing that so many different demographics and people all around the world were paying attention. I love my relationship with my fans. The whole way here, I was tweeting back and forth with a ton of fans; I really value their opinion. So, I think if you're really in it, and you're really focused on it, and people actually do it themselves—I know some people have others kind of do social media for them, and I don't really think that works—you can really see the power of it."
On Why Her Instagram Grid Has Such a Specific Aesthetic
Kim Kardashian West: "My Instagram started to get really messy. So I have the help of someone, a friend of mine who helps me filter everything and pick the colors, but it really is a full time job."
Allison Statter: "It all generates from her though. She's not giving herself enough credit. While she has someone to help her, she really is deciding on the aesthetic of everything."
Kim Kardashian West: "I obviously provide all the images, but together we'll be like, 'Okay, I think we want to go into a pink theme or a red theme.' Or, depending on what projects I have coming out, we know the color tones of everything, so we map it out. Sometimes I feel like posting something day of and we filter it just to make sure everything is kind of all the same."

Allison Statter: "Everyone is different. I think some influencers have a cohesive aesthetic and it works incredibly well for them, and their brands are drawn to that. And then I think other influencers don't do that, and that's their voice, that's their look, that's how they communicate with their audience. But as long as there's authenticity there, I think that's the most important thing."
The Crazy Story Behind Kim's Valentine's Day Packaging
Kim Kardashian West: "Well, fragrance is really a difficult market to sell digitally because no one's smelled the fragrance, so you really do have to have a good presentation. That Valentine's packaging came together so last minute. I wasn't even going to do a photo shoot for it—and then four days before, I decided to do it. We were able to figure out how to make those giant hearts and get it together in four days.
The chocolate hearts just came to me seven days before launch and I thought, 'I have to figure this out.' I called the guy Chris from Butter Love and Hard Work and he said, 'I can definitely do it.' And then the next day, he sent me a heart that he had the mold for already and I said, 'No this won't work. I need it like four times the size. I want the edges square.' Like, I was so particular and said that I wanted his hammers to say KKW instead of his company logo. So he figured it out. I think he was in Africa, and he flew back and made a new mold the next day.
The night before—as they were packaging—we ordered candy hearts from a different company. The blue color was 'bae,' and I looked as everyone was packaging them up, and instead the blue said 'BFF.' I was like, 'You guys, this says BFF.' So someone in Miami opened up the candy hearts factory, made the new candies, sent someone on a plane with them, and we packaged them.
It was all such a rush and all so crazy, and if people only knew all the things that can go wrong that happened to go really, magically right. I was so grateful to everyone that put the hard work in, because I think the thing is you always need a team. But the ideas come from me, and then it trickles down on how to execute it. I was just so grateful that we figured that one out because it was a crazy launch. But yeah, visually, on social media, you need beautiful packaging, you need something fun."
On How Kim Manages Her Insanely Busy Day
Kim Kardashian West: "My team is about three people, so we do everything on the beauty side and the fragrance side 24/7. That's coming up with bottle design, packaging design, the press packages, the campaign images—every last thing is me. There's a lot of pressure and it takes a lot of time so you just have to really prioritize—especially with three kids. Three kids is a game-changer. My day is so micromanaged. I now wake up at five, get a little bit of work done, work out at six, home by 7:15, wake up my son for fifteen minutes, wake up my daughter, breakfast for the next thirty—it's like literally if anything throws me off, I'm f*cked.
I definitely had to step back some of the projects I was working on and be like, okay, I need to focus on beauty and fragrance because that's what takes up so much of my time if I want to have a life with my husband and be a good mom. So you really do have to step back and think, 'Even if you're really passionate about something, you just really have to manage it all and just make sure that you really, really want to be spending your time doing this.'"
Allison Statter: "I think you just need to have friends that get it, who aren't going to be like, 'Ugh, I haven't heard from her for three weeks or two weeks.' It's not personal, it's just that everyone is doing their best. Everyone is trying to just balance it all and be good at what they're doing, whether that's having a career and being an entrepreneur or having a career and being a mom or being a wife."
Kim Kardashian West: "And I think people can see authenticity, so if you're running a brand, you have to be so involved. Everything has to be from you if it's your business in order to make it really successful."
On Working with Create & Cultivate
Kim Kardashian West: "Any time there's a space where women can just talk about the things that empower them, I love to be a part of it. A lot of my friends were going to be here—Allison, of course—and we've never done an interview together, so I thought people would like to get a glimpse and probably see a little bit more of an intimate side of my business life through her."
On Creating Their Keynote Speech
Allison Statter: "That was all me."
Kim Kardashian West: "Yeah that was all her. She actually sent me the questions and I did not read them. I don't like to know. I just like to have it be super organic, so I just left that up to her."
Allison Statter: "The goal is to have this be fun and light, and I want everyone to know the side of Kim that I know, which is really an awesome person, an awesome mom, and an incredible friend. I want everyone to see that about her."
This interview has been edited and condensed.
RELATED STORY
Celebrity news, beauty, fashion advice, and fascinating features, delivered straight to your inbox!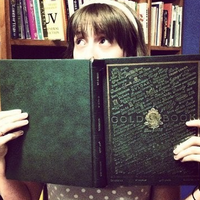 Kayleigh Roberts is a freelance writer and editor with more than 10 years of professional experience. Her byline has appeared in Marie Claire, Cosmopolitan, ELLE, Harper's Bazaar, The Atlantic, Allure, Entertainment Weekly, MTV, Bustle, Refinery29, Girls' Life Magazine, Just Jared, and Tiger Beat, among other publications. She's a graduate of the Medill School of Journalism at Northwestern University.