Molly Ringwald, Teen Movie Queen and 'Riverdale' Star, on What Makes Her Tick
Molly Ringwald, best known for movies like 'Pretty in Pink' and 'Sixteen Candles' in the '80s, now stars on the CW drama, 'Riverdale.' Here, she shares her best love advice and career advice.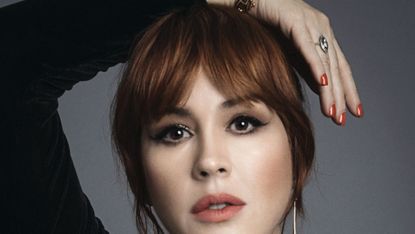 (Image credit: Photo courtesy of subject)
Marie Claire Newsletter
Celebrity news, beauty, fashion advice, and fascinating features, delivered straight to your inbox!
Thank you for signing up to Marie Claire. You will receive a verification email shortly.
There was a problem. Please refresh the page and try again.
The Riverdale actress extols the virtues of RBG, cereal, and relocating to the mythical world of Game of Thrones.
1. If I weren't a/an (actress) I'd be: An international spy.
2. Best career advice I've gotten: Polly Platt: "Just don't ever give up."
3. Most gracious response to rejection/career setback: Recommending a friend for a part.
4. Least gracious response to rejection/career setback: I'm very petty and refuse to see a movie I was up for but didn't get.
5. The three qualities that got me where I am today: Curiosity. Resilience. Luck.
6. Moment I felt I made it: I don't know if I ever will feel like I've "made it" entirely, because every time I set a goal and achieve it, I just make up another one. I can't imagine that will ever stop. That said, being published in The New Yorker was especially meaningful to me as a writer.
7. Most agonizing career decision I've ever made: I tend not to agonize a lot in general.
8. Easiest career decision I've ever made: Working with John Hughes.
9. Kind of work I'd do for free: Panda-cub caretaker.
10. Favorite perk of the job: Getting a nice table in a restaurant.
11. Worst pitfall of the job: Getting a good job for the same time I planned a big family vacation.
12. Change you'd like to see in your industry? I would like to see women given the same opportunity to tell their stories as men.
13. How did you make your first dollar? Babysitting.
14. Who do you admire and why? Ruth Bader Ginsburg because she uses her intelligence and tenacity to fight for what she believes in and has forever changed our world for the better.
15. Last thing you binge-watched? A French television show about the DGSE (French counter-intelligence agency). I disappeared for two days and binge-watched three seasons and then was frustrated that I couldn't talk about it with anyone because no one I know here watched it!
16. Book that left a lasting impression on you? Light Years by James Salter.
17. Song that always makes you cry? "I'll Be Seeing You" because I had the opportunity to record and perform it with my father.
18. Movie with the greatest ending? Breathless: "Qu'est-ce que c'est, degueulasse?"
19. Song you would want played at your funeral? "Sexy Motherf*cker" by Prince.
20. First album you bought? Probably Adam and the Ants Kings of the Wild Frontier.

21. On your bucket list? Going to Japan when the cherry trees are in bloom.
22: Food I'm not ashamed to admit I love: Frosted Mini Wheats.
23: Cocktail of choice: Aperol Spritz.
24. If you could live in a foreign country, where would it be? Westeros.
25. What should every woman try once in her lifetime? Change a tire.
26. How would your perfect day begin? With caffeine.
27. How would your perfect day end? On the beach in summer sitting next to a campfire in a big chunky sweater with family and friends watching kids running around doing cartwheels.
28. One thing I'm exceptionally good at: Asking questions.
29. One thing I'm epically bad at: Spelling.
30. Superhero power I'd want to have: Mind-reading.
31. Something better in theory than in practice: Mind-reading.
32. Store I can't leave without buying something: I can't walk out of a bookstore empty-handed, but for me books are "guilt-free" shopping.
33. How do you clear your mind after a crappy day? Dance party with my kids in the living room.
34. Something nice I did for myself recently, because hey, why not: Bought BOSE wireless neckband headphones. (They make me look like a cyborg but, hey, no wires!)
35. If I could compete in an Olympic sport, I'd like it to be: Relay napping.
36. The last time I felt beautiful was: When my 14-year-old daughter looked at me with no makeup and told me I looked pretty.
37. The beauty essential you have to pry out of my cold, dead hands: AlKIMme rose oil.
38. My first kiss: The actor Sam Robards. We were acting in a film [Tempest] together and I was 13 years old. My first kiss in real life was captured on film!
39. The three qualities I thought I wanted in a partner: Honesty, integrity, and a good sense of humor.
40. The three qualities I know now matter: Honesty, integrity, and a good sense of humor.
41. Relationship advice to my younger self: Don't press "send."
42 Moment I knew I was in love: When my husband broke up with me after six months of dating and I thought my life was going to end.
43. Advice to a woman with a broken heart: Don't worry, your life will not end.
44. The craziest thing I did for love: "Reader, I married him."
Follow Molly on Twitter (@MollyRingwald) and Instagram (@MollyRingwald).
A version of this interview originally appeared in the August issue of Marie Claire, on newsstands now.
Celebrity news, beauty, fashion advice, and fascinating features, delivered straight to your inbox!