Sandra Oh Didn't Win An Emmy in 2018, But She Still Won The Emmys
She may not have won Best Actress, but she won our hearts.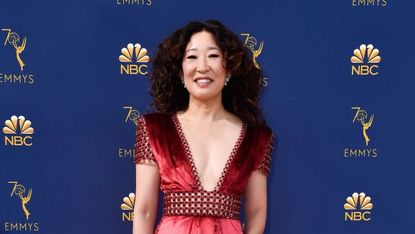 (Image credit: Getty Images)
Sandra Oh didn't win the Emmy for Best Actress tonight. I mean, I'm not completely devastated, only around 75 percent devastated, the other 25 percent is thrilled for Claire Foy, who wound up taking home the trophy for her performance on The Crown. I'm fine, I promise. And you will be too, because Sandra Oh is not bothered.
I mean, if I was the first woman of Asian descent to be nominated for outstanding lead actress in a drama, I would be flexin' in these streets, too. This is the rare occasion where being nominated is just as good as winning, because this is a historic moment for women from underrepresented communities everywhere.
Talking to Entertainment Weekly, Oh was visibly emotional as she talked about the impact and significange her nomination would have to inspire young girls like her: "I remember being that girl. I remember absolutely being 10, about the time when I started acting, not knowing why I needed to do what I needed to do, and there just wasn't really anything out there," she said. "The disconnect I remember feeling at that age, or the feeling of not belonging, if there's a way of changing that, if there's a way of saying a possibility to a young girl, 'You can do this, you can be a part of culture in this way,' I hope to be a part of that."
I don't even need her to give a speech, I'm crying from this quote alone. I would say I want to be her when I grow up, but Oh made a point to say that's not a goal she wants: "You be your own girl, and you be brilliant."
We do not deserve Sandra Oh.

Not only that, her parents were her dates on this evening's red carpet, because Sandra Oh knows that iconic legends even have parents. Look how cute Mr. and Mrs Oh are, my goodness.
Sandra Oh's parents, Mr. and Mrs. Oh, share how proud they are of their daughter #Emmys https://t.co/QILf2nBd4b pic.twitter.com/9vZcPWxK9lSeptember 17, 2018
See more
Give this woman an Emmy for Best Daughter and her parents an Emmy for Best Parents, but also, watch Killing Eve so we can get more Sandra Oh greatness next year, too. If she looks this great just presenting an award, imagine what it'll be like when she wins!
RELATED STORY
Celebrity news, beauty, fashion advice, and fascinating features, delivered straight to your inbox!
Amanda Mitchell is a writer and podcaster with bylines at Marie Claire, OprahMag, Allure, Byrdie, Stylecaster, Bon Appetit, and more. Her work exists at the apex of beauty, pop culture, and absurdity. A human Funfetti cake, she watches too much television, and her favorite season is awards season. You can read more of her work at amandaelizabethmitchell.com or follow her on Instagram and Twitter @lochnessmanda.