Chrissy Teigen and John Legend Just Recreated That Iconic Upside-Down 'Spider-Man' Kiss
Just more proof that they're the cutest couple ever.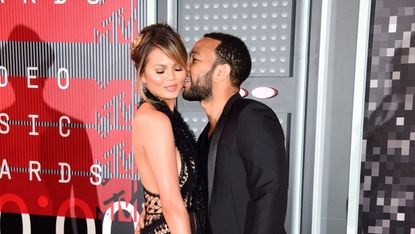 (Image credit: Getty)
Step aside, Peter Parker.
In celebration of the Spider-Man showdown on Lip Sync Battle this Sunday, host Chrissy Teigen decided to join in on the fun by dressing up as her favorite superhero and acting out that iconic upside-down kiss. Suspended in mid-air above the stage, the model took a second to get her bearings before co-host LL Cool J helped her remove her mask.
"I just wanted to see if it's possible that I live out one of my biggest fantasies," she said.
Of course, Chrissy's husband was more than happy to comply and quickly rushed out to give her a steamy kiss.
Pretty sure this should be a contender for next year's Best Kiss at the MTV Movie and TV Awards.
Related Story
This Text Sums Up Chrissy and John\'s Relationship
Follow Marie Claire on Facebook for the latest celeb news, beauty tips, fascinating reads, livestream video, and more.
Gina Mei is a writer and editor based out of Los Angeles. When she isn't writing, reading, and lost in an Internet vortex, she can usually be found petting the nearest dog.