The Age-Old Allure of Quiet Luxury
Why quality closet classics always have—and always will—endure.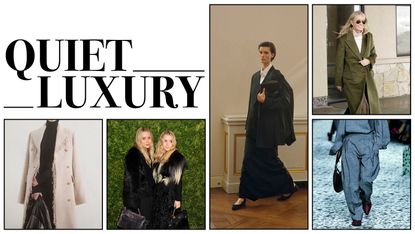 (Image credit: Future)
Marie Claire Newsletter
Celebrity news, beauty, fashion advice, and fascinating features, delivered straight to your inbox!
Thank you for signing up to Marie Claire. You will receive a verification email shortly.
There was a problem. Please refresh the page and try again.
Similar to the fate of "chic," "luxury" has become so hackneyed in fashion's lexicon that it's somewhat lost its meaning. In the not-too-distant past, some may have argued that the epitome of luxury was a hyped-up collaboration between two fashion houses or an A-lister decked out in a recognizable, fresh-off-the-runway look. But in 2023, luxury's lens has narrowed; today's luxury is subtle and discreet, embodied by quality and lack of logos. It's not flashy or in your face, but coasting just under the radar. Luxury whispers.
While reckoning with an unknown global financial forecast, post-pandemic bruises, and precarious geopolitics, the fashion industry is paring down. "There is an air of conservatism, restraint, and anti-show-off style spearheaded by brands like The Row, Chloé, Khaite, Ferragamo, Fendi, Chanel, and Saint Laurent—all presenting a much more laissez-faire, classical mien," says fashion journalist Harriet Quick . The contributing British Vogue editor cites the "beiges and greys, acres of cashmere knits, and soft-power silhouettes" of the Fall/Winter 2023 runways—all part of what the internet has coined "quiet luxury," "stealth wealth" style, and "IYKYK" dressing.
This transition to unassuming opulence has permeated pop culture. Fashion journalist Amy Odell points to the costuming on Succession's fourth and final season as perfectly encapsulating the phrase. "Not outré, bright, colorful, or easily identifiable, but still very refined, luxurious, and overall minimalist," says Odell, who breaks down the show's fashion every Sunday night in her newsletter, Back Row. Think: Kendall Roy casually sporting a $525 Loro Piana cashmere baseball cap or Shiv Roy oscillating between immaculately-tailored workwear in shades of oatmeal and slate gray. Just as the season was premiering, Gwyneth Paltrow's ski crash trial took over the news cycle, her courtroom wardrobe generating as much buzz as her cross-examination: $1,200 Celine hiking boots, a now-sold-out $5,445 coat from The Row, and a $1,690 cream turtleneck also from Mary-Kate and Ashley Olsen's luxe label, among the pieces she donned.
But those who really know, know that a low-key luxury aesthetic is nothing new. In fact, the wealthy have long had a habit of swapping outward opulence for more understated garments—dating back to 18th-century French aristocracy doing so to distance themselves from the monarchy. It tends to pop up during economic uncertainty. The Great Recession of 2008, for instance, spawned a chapter of pared-back minimalism and "normcore" that brought the bedazzled Hot Aughts to a close.
"The economic fallout back then coincided with a fierce reckoning with the years of bling and excess that preceded it: staggering high heels, crystal-emblazoned everything, and a flash-your-cash attitude pervaded, ultimately turning into a revolt," explains Quick. In fall 2009 came a "return to quality, quiet classics" as seen with Yves Saint Laurent, Prada, and Dries Van Noten's seasonal edits but largely "championed by Phoebe Philo at Céline. She was and is an excellent seer at spotting the zeitgeist's need for a palette cleanser," explains the fashion journalist.
As Odell acknowledges, too, the late-aughts was a period when every put-together woman you knew curated her outfits from a concise edit of classics—a capsule wardrobe: "At the time, a capsule wardrobe felt like a totally new idea. Because millennials, in particular, were raised on the idea of more is more; we were sort of trained to have the most money, the most Birkins, the most Louboutins." Rejecting all that flash for neutrality and simplicity felt, in a way, subversive. But even then, the concept of a capsule wardrobe wasn't novel: In the '70s, Susie Faux, the owner of a London boutique called Wardrobe, encouraged her customers to buy long-lasting and highly-functional essentials, a philosophy that later inspired Donna Karan's 1985 "Seven Easy Pieces" collection, which brought the concept even more into the mainstream.
Now, in 2023, we find ourselves experiencing a moment of fashion déjà vu. We're editing our closets down, swapping our flash-in-the-pan styles for more everlasting hero pieces. And after the past few seasons of dopamine dressing and Instagram-driven logomania, the return to regular-looking luxury does feel refreshing—especially to those unfamiliar with Philo's Midas touch. After all, the eldest of Zoomers were only 11 years old when she debuted at Céline.
Juiced up on paychecks from their first official Jobs with a capital J, Zoomers see quiet luxury as a grown-up fashion phenomenon they can buy into: According to a survey conducted by the shopping destination Rakuten and Vogue Business, "spending from younger luxury buyers is growing three times faster than other generations," with "60 percent of Gen Z respondents [making] luxury purchases in the last 12 months." It's "a paradigm shift in what looks attractive and aspirational to both Millennials and Gen Z," explains retail expert and president of Rakuten Rewards Kristen Gall.
Admittedly, it's an interesting development from the "Eat the Rich!" generations; a sharp pivot from critiquing capitalist structures to replicating the sartorial codes of the uber-wealthy (especially when the sum of an outfit like Paltrow's costs more than six months' rent in some American cities). But it also signals that the younger generations are thinking about where their dollars go and how their closets can best serve them in the future. "Gen Z is very conscious of how they're spending their money," says Gall. "When they spend on luxury items, they see them as investment pieces—something to last for years, potentially generations, to come." It's likely that part of the reason the quiet luxury "craze" resonates so strongly with younger consumers—why TikTok hashtags like #OldMoneyAesthetic have racked up more than 2.4 billion views—is that many of them are discovering the satisfaction that comes with curating a capsule wardrobe for the very first time.
Because when you boil it down to just the clothes, the quiet luxury 'trend' isn't really a trend at all. The pieces that make up the effortlessly elegant look—a crisp white button-down shirt, an unadorned leather shoulder bag, or a pair of lived-in trousers—are timeless. "Those pieces haven't ever gone anywhere," says Odell, nor will they. The topic of quiet luxury is undeniably trendy, but its praxis is a constant. After all, "quiet also equals confident and assured—no one wants to look like they tried too, too hard," says Quick.
What's at the core of our fascination with quiet luxury, stealth wealth, and the "low-key rich bitch wardrobe" is a craving for easy sophistication. We all want to stock our closets with "pieces that multi-function and help define your place in the world but are not too noisy or tricky—the equivalent of a Tesla car humming along a highway," says Quick. "This shift plays into wardrobe-ing what real working women want or aspire to wear: Fashion that does not get in your way but glides with and through your life and [makes] women feel their best selves."
Ahead, we pay our respects to the 11 timeless pieces that, yes, fall under the aesthetic umbrella of quiet luxury, but are actually the foundational building blocks of any capsule wardrobe. Scroll on to shop our edit of the classic, holy grail pieces you'll continue to reach for well after the hubbub surrounding "stealth wealth" falls silent.
A white button-down shirt is the epitome of effortless polish. The hard-working prepster staple is endlessly versatile, too: a crisp and starched shirt is suitable for work outfits, off-duty weekend looks, and anything in between.
A logo-less handbag is crucial to mastering under-the-radar refinement. As Rakuten's Gall explains, younger shoppers are bypassing flashier accessories for those with more anonymity. "Brands like Khaite, Toteme, and The Row have been stealing shares from the likes of Gucci and Louis Vuitton over the last few years. If a new generation rejects logos and turns towards a quieter version of luxury long-term, we may see a seismic shift in what brands shoppers view as the top of the luxury pyramid going forward."
A masterfully tailored trouser, one that's loose but not exaggerated, is another essential that will remain in your rotation for years to come. Its relaxed fit perfectly encapsulates the vibe of an insouciant go-getter.
Ballet flats may feel like a trend, either because you're seeing them everywhere at the moment or you remember the twee pairs that were prolific in the 2010s. But a classic easy-going, slip-on-and-go shoe is an immortal style.
Emilia de Poret, Klarna's Fashion Director, invites you to achieve the look that's become synonymous with quiet luxury by calling on "timeless wardrobe pieces, a subtle color palette, high-quality fabrics, and perfectly tailored silhouettes." For the latter, start with a slightly-cinched, feminine-feeling blazer.
Replicate the clean minimalism of '90s fashion by wearing a neutral crewneck underneath your top layer, paying careful attention so that the neck peeks through. Thoughtful styling moments like a peeping barely-there layer are instrumental in curating an intentional yet effortless look.
Shroud yourself from the worries of life with a cocooning coat. Try a wool-blend maxi duster or a beige trench coat, which Klarna shares are up "140 percent in sales over the year" as more and more shoppers seek out the classic outerwear.
Klarna's de Poret says that "shoes are without logos" in 2023, particularly point to a spike in interest for classic leather loafers. And in addition to a logo-free look, consider forgoing chunky platforms or a grunge-y creeper sole—instead, try a timeless penny loafer.
A no-fuss, no-frills streamlined skirt is a must-have component in all closets. Either a midi or maxi, the straight silhouette signals assured confidence.
Cashmere is a no-brainer. And according to Klarna, the soft-to-the-touch wool is experiencing a serious uptick in sales across the market: In the past year, "cashmere tops are up 148 percent; cashmere sweaters are up by 28 percent; cashmere shawls are up by 47 percent; and cashmere hats are up by 17 percent."
Take a style cue from the queens of understated, care-free luxury—Mary-Kate and Ashley Olsen—and slip on a pair of dark and slightly oversized sunglasses. It's a simple statement, but it's a profound one.
Celebrity news, beauty, fashion advice, and fascinating features, delivered straight to your inbox!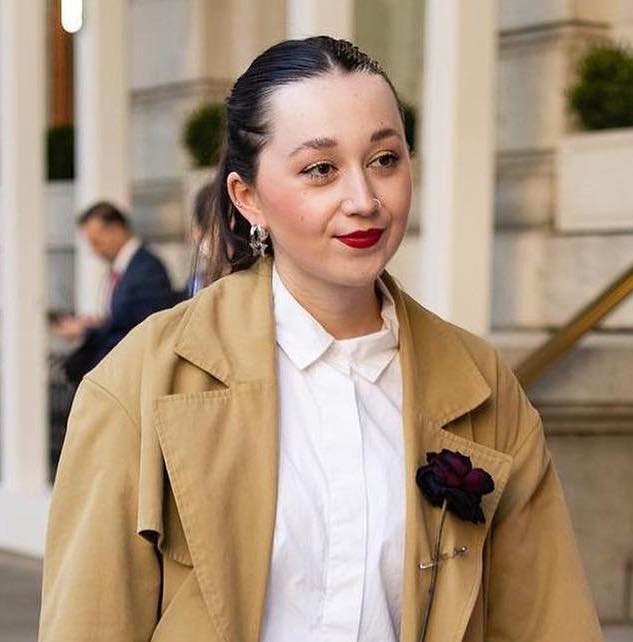 Emma Childs is the Style Editor at Marie Claire, where she researches up-and-coming trends, curates shopping guides, and gushes about the must-buy items she can't stop thinking about. She previously wrote for TZR, Editorialist, Elite Daily, and Mission Magazine and studied Fashion Studies and New Media at Fordham University. When she's not writing up fashion deep-dives or finding the season's best pieces, you'll find her fiddling around in Photoshop and perusing HBO Max for the next show to base her personality on (currently, it's "Succession").