Gina Rodriguez on Being a Triple Threat, Latinx Representation, and Someone Great
Gina Rodriguez stars in Netflix's new rom-com, 'Someone Great.' The actress spoke to MarieClaire.com about how her CW hit 'Jane the Virgin' forced her to grow up, wedding planning, her role in the 'Jane the Virgin' spinoff and more.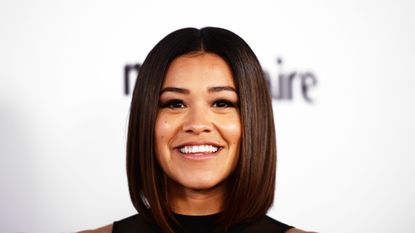 (Image credit: Amanda Edwards)
For those of us who fell in love with Gina Rodriguez after, like, one episode of the hit CW show Jane the Virgin—on which the 34-year-old actress has starred since 2014 and which is currently in its final season—it's natural to be a little sad that she won't be on our TVs every week anymore. But not too sad: Rodriguez has been handily taking over everything else in entertaining. Not only does she act, but she also directs and produces. Basically, you'll be seeing her around.
Starting this week, actually. Rodriguez stars in Someone Great alongside DeWanda Wise, Brittany Snow, and Lakeith Stanfield. It's the latest entry into Netflix's reigning rom-com renaissance, and hits the streaming site on April 19.
In anticipation of the hilarious new film—which you can watch an exclusive clip of below—Rodriguez spoke with MarieClaire.com about leaving Jane behind, how she's handling wedding planning (she's engaged to fellow actor Joe LoCicero), and her big plans for behind the camera.
She fell in love with the script for Someone Great early on.
"The script came to me right when my representation [transitioned], and I was in love with it so much that I hung on to it. I turned to my producing partner and I was like, 'I love this movie. We're doing this movie. I don't know who I'm getting [or] who my reps are going to be, but we're taking this movie to them and we're saying that this is what I'm doing next. Um, thank you and you're welcome.'
Kidding! I'm not that badass. It was more like, 'I really want to do this movie. It's so good!'"
"I have never been asked to be the lead in a rom-com outside of Jane (Jane is like an ongoing television rom-com) so, for me, it was really awesome. You know, as a Latina who seldom gets to just have a love story and be a normal girl, it was really exciting to me. I love romantic comedies. This one had a spin—the romance was between the girls, [between] her and her friends."
RELATED STORY
"She chooses herself, and I specifically did the exact same thing when I moved out to Los Angeles. I chose myself, I chose my career, I chose my dreams and it was a big transition for me. So I vibed with [Jenny]."

"I should have left this person back in New York, but I didn't. I led them to L.A. and then I left them, so you can just say I'm awful... No, no, no, no. I mean it was his choice also, but it was very important to me that he came on his own because I knew I was coming for me. What I love about Jenny in Someone Great is that she makes that decision before she leaves—she's a little smarter than I was."

"You know, in our 30s it's, like, that's the real transitional years. That's when you're like, 'Oh shit, I gotta adult. I'm adulting! Okay!'
I think that was one of my draws to [Someone Great], because we don't ever show that side. We don't ever show that transition and the fears in those transitions and, like, being able to have your shit together but [also] be a mess at times. They're not mutually exclusive. It's wonderful to see and play somebody that makes silly, stupid decisions, but at the same time is a very on-track human being, career-wise, because we do that—I still do that."
"I booked Jane when I was 29 and I turned 30, like, the second day of shooting our second episode. So, it was a crazy transition because I was finally seeing my dreams come true—something I had been working towards for 10 years...I feel like [adulthood] was forced on me because of Jane. That first season, I was averaging 16 hours a day [on-set], easy.
So it went from like, 'Oh, you've been a struggling actor,' to, 'Oh, you're going to work every day for the next eight months, for 16 hours a day—you better get your shit together. You better stay alive. So don't do anything stupid because you've got work to do and they'll sue you if you don't show up the next day.' So, it was a very forced transition, but I was ready for it. I was ready for that. It was time."
[pullquote align='left']Getting married is a huge adulting move, which I'm about to do...eventually.[/pullquote]
"I feel like I'm currently going through [even more] transitions. Getting married is a huge adulting move, which I'm about to do...eventually. I have no idea what I'm getting myself into."
"[The spinoff is] Jane's stories, that Jane writes. And they're juicy and it's going to have the same heart and the same roller-coasters and cliffhangers and it's just delicious. And now everybody knows the Telanovela tropes because of Jane, so [fans] get to live in that world with the spinoff very knowledgeable about it. It's like, 'This is how we see these kinds of stories now.'"
"I wasn't nervous [until you asked]! No, I'm kidding—I'm joking! I'm super nervous. He is the bomb. There is no comparison. I can't be compared to Anthony Mendez because he is outstanding, and a professional voiceover actor.
But that said, [the narration is] different. It's definitely different than you're used to hearing with Jane. At least I'm going to say...yeah...my voice is different for the spinoff a little bit. Yeah. It's not the Jane people are used to hearing."
"Absolutely not. Girl, I don't know how to write at all, but I definitely know character and storyline and I definitely know how to tell a story from a director's perspective. I will be directing for sure some of the spinoff. When it comes to story, I let Jennie [Snyder Urman, the series' creator] and Valentina [Garza, the series' writer] really crack the big cases. I'm working with talented writers, so I happily read the scripts and send [the writers] congratulations on how smart and brilliant they are—always are. Because I'm playing with giants here. There's no need to even touch anything Jennie or Valentina writes. They're so smart."
[pullquote align='left']Instead of sitting back and complaining there aren't enough opportunities, I'm just creating them.[/pullquote]
"It is the reason why I got into the entertainment industry—to help create other stars, other artists, to help make dreams come true. It's like my love language. It really brings a lot of joy to be able to put people in positions of power and give them opportunity, create opportunity. That's definitely what I want to do in life—period.
It's finally happening and I could not be more thrilled and I just don't want it to end. I want to continue to spread more stories and put new people on, in front of, and behind the camera and create more opportunities. Instead of sitting back and complaining that there aren't enough, I'm just creating them. And then there's never anything to complain about, but always something to make and always something to create."
"With my career, everyone was like, 'Oh my God, look at her. She just blew up.' And it's like, no, I had been acting for 10 years—or trying to and struggling. And it's the same with my producing.
Ten years ago, I told my best friend and producing partner that she would be running my company [I Can and I Will Productions] one day, and she was like, 'Alright, bench!' And I was like, 'No, I'm serious dude. One day.'
And then I made her an offer she couldn't refuse three years ago, and she came out to L.A. and she came and helped me create this, this Little Latino Engine That Could. It's very cool."
Someone Great premieres on Netflix April 19. Jane the Virgin's final season is airing now, Wednesday nights at 9 p.m. on The CW.
For more stories like this, including celebrity news, beauty and fashion advice, savvy political commentary, and fascinating features, sign up for the Marie Claire newsletter.
RELATED STORY
Celebrity news, beauty, fashion advice, and fascinating features, delivered straight to your inbox!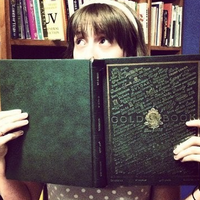 Kayleigh Roberts is a freelance writer and editor with more than 10 years of professional experience. Her byline has appeared in Marie Claire, Cosmopolitan, ELLE, Harper's Bazaar, The Atlantic, Allure, Entertainment Weekly, MTV, Bustle, Refinery29, Girls' Life Magazine, Just Jared, and Tiger Beat, among other publications. She's a graduate of the Medill School of Journalism at Northwestern University.