MC's Crush of the Month: Paul Dano
We sat down with Dano to find out whether our newest matinee crush would make good boyfriend material in real life.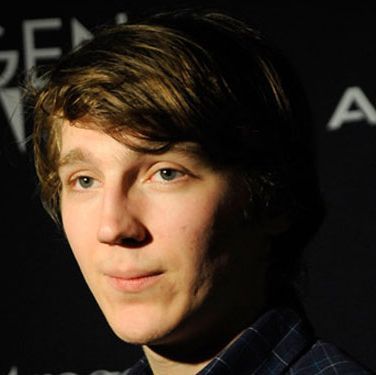 (Image credit: G. Gershoff)
We first became smitten with Paul Dano in Little Miss Sunshine—as the brooding mute brother, he barely spoke a word, and yet, there we were, riveted. He turned up the volume in There Will Be Blood, playing a double-talking rural preacher, and managed to steal the screen from Oscar winner and batshit-crazy milkshake drinker Daniel Day Lewis. But it's his latest role, in the new indie romance Gigantic, that's really got us buzzing. Dano, 24, plays Brian Weathersby, a 28-year-old mattress salesman who's desperate to adopt a baby from China. Yeah, it sounded weird to us at first, too. The upside: we finally get to see Dano play an average, everyday guy struggling to figure things out—basically, our dream date.
We sat down with Dano to find out whether our newest matinee crush would make good boyfriend material in real life.
Marie Claire: After the super-violent There Will Be Blood, why'd you do a romantic indie like Gigantic?
Paul Dano: I like change. I also immediately liked the script. I remember closing it and saying, 'Oh shit. I like that.' That's always an exciting feeling. But it's also one of dread because you know if you do it, you have to work hard and put yourself on the line. I really liked the Brian character. I found him heroic in a small way.
MC: He has a pretty quirky job as a salesman in a Swedish mattress store. Did you have any odd jobs growing up?
PD: I started acting pretty young, so I haven't had too many odd jobs. But I used to sell candy out of my locker in middle school. I think I thought I was sort of a baller. In retrospect it was pretty dorky.
MC: What was it like working with your co-star Zooey Deschanel?
PD: Zooey made my life easy. She's super charming, very pretty. She's got a really wonderful vibe as a human being. She wasn't worried about glamorous things.
MC: What are you working on now?
PD: Filming The Extra Man with Katie Holmes, John C. Reilly and Kevin Kline. The paparazzi, who are there for Katie, are something I haven't dealt with before. It's really intrusive and unpleasant, but I guess it comes with the territory for some people.
MC: Aren't you also involved with the new Where The Wild Things Are movie directed by Spike Jonze?
PD: Yeah, I play Alexander [a Wild Thing who resembles an oversized lion]. My part of it was very simple and intimate. We filmed for a month on a sound stage, acting out the Wild Things while recoding the voices. Spike Jonze is the perfect guy for that movie because he's got a really childlike imagination.
MC: I remember I got Where the Wild Things Are for Christmas one year. Random question—do remember what you wanted for Christmas when you were a kid?
PD: I really wanted to be in the NBA, so maybe some nice basketball sneakers.