Olivia Rodrigo Is Asian American—and We Should Be Celebrating It
If someone can ignore the fact that Rodrigo is half-Filipina, then they probably already have the privilege of seeing themselves successfully in the media.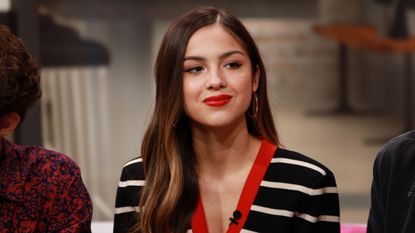 (Image credit: Jason Mendez)
Marie Claire Newsletter
Celebrity news, beauty, fashion advice, and fascinating features, delivered straight to your inbox!
Thank you for signing up to Marie Claire. You will receive a verification email shortly.
There was a problem. Please refresh the page and try again.
Like everyone else, I have been blasting Olivia Rodrigo's "Drivers License," "Déjà Vu," and "Good 4 U'' on repeat for the last few months, witnessing viral TikTok trends and reliving my teenage years. As of the time of this writing, Rodrigo has more than 16 million followers on Instagram and 10 million fans on TikTok. Her album, SOUR, debuted at number-one on Billboard charts while her debut single, "Drivers License" spent eight weeks at the top and recently reached one billion streams on Spotify. She's nominated in five different categories for the upcoming MTV Video Music Awards. Even Saturday Night Live used Rodrigo's debut single in a hilarious skit parodying the lack of vulnerability among men.
Yet many of her fans may not know that Rodrigo is Asian American.
When I told my best friend, she responded, "Wow! I literally had no idea!" In fact, it is most of my white peers who say that they weren't aware. But as an Asian American myself, I took this information to heart the moment I first saw Olivia Rodrigo on Disney Channel years ago.
Rodrigo is half-Filipina. She can be considered white passing, her appearance ethnically ambiguous—if you're not searching for it. The daughter of a mother who is a teacher and of a father who is a family therapist, Rodrigo is technically a fourth generation Filipina American, whose great-grandfather arrived in this country on a boat when he was just a teenager. Asian Americans are not a monolith, and with the dynamics of new and old migration, everyone identifies with their heritage to different degrees. However, as Rodrigo's presence in the music industry grows both in the United States and abroad, more and more children of color will look up to her as a source of representation.
It's not as though Rodrigo isn't open about her heritage and what it means to her. Three years ago, during her time acting on Bizaardvark, Rodrigo participated in a Disney Channel Asian Pacific American Heritage month television campaign. She speaks about her great-grandfather immigrating from the Philippines and her family preserving traditions, such as eating her grandmother's lumpias, declaring to the camera, "I am an Asian Pacific Islander."

Knowledge of the drama surrounding Rodrigo's High School Musical: The Musical: The Series co-star Joshua Bassett is widespread, but few viewers have paid attention to the fact that her character on the show, Nini Salazar-Roberts, is the daughter of an interracial queer couple. Her character's song "Out of the Old" on the Disney+ series is directly inspired by a Thanksgiving day conversation Nini has with her lola—her Filipina grandmother—about her experiences starting over after immigrating to the United States.
Many pop stars are compelled to own their identity—forced by their outward appearance into representing all Black people or all plus-size women. Rodrigo is intentional about highlighting her background and yet most fans simply ignore that aspect of who she is. An easy thing for them to do because her Asianness is less obvious. But that's our fault; not Rodrigo's.
Those who say that Olivia's ethnic background does not matter fail to recognize how much representation means to those who have long felt excluded. We project ourselves onto people like Rodrigo because we have not felt seen and we want to feel seen. Representation is, at times, an effective marketing tool. It can also be a force that is out of the star's control; it is in the eyes of the beholder and that can become a burden. While others might crumble under pressure, Rodrigo has stepped into this new spotlight with aplomb. Not striving towards perfection, but admitting when she simply does not know an answer. When asked by an Asian American radio host for more details about the nuances of Tagalog words like tita and the use of it to pay respects to older women, Rodrigo frankly says, "I'm not sure. I'd have to ask somebody else in my family." That is authentic to her experience and to many other Asian Americans who have slowly adapted and perhaps changed their relationship with their heritage over generations.
As more of the world discovers her, Rodrigo has embraced this new responsibility. In a recent V Magazine interview with SNL's Bowen Yang, Rodrigo talks about how emotional it can be to represent Asian women: "I sometimes get DMs from little girls being like, 'I've never seen someone who looked like me in your position.' And I'm literally going to cry, like, just thinking about it. I feel like I grew up never seeing that. Also it was always like, 'Pop star,' that's a white girl."
So many of her song lyrics resonate for me as a second generation Asian American. "Jealousy, jealousy" reminds me of the times that my mother or teachers would compare me to the singular other Asian kid in my grade level, and how I tried my best to combat my scarcity mentality. When I heard the lyrics, "You're probably with that blonde girl, who always made me doubt," I felt seen as someone who grew up attending a predominantly white school. Songwriting that discusses typically stigmatized emotions just might inspire more Asian Americans—the least likely racial group in the United States to seek mental health treatment—to express their feelings and go to therapy. Her vulnerability becomes a form of activism.

Whether you see yourself within Olivia Rodrigo or not, the reality is that she will likely be on the music and Hollywood scene for many years to come. Each time she speaks, she will command attention. If her identity as a Filipina-American is something she continues to embrace, and if people continue to see themselves in her, this can be incredibly impactful. She's spoken candidly about her self-education on the "Model Minority Myth" that affects Asians and solidarity with other people of color and the Black Lives Matter movement. Her outspokenness about going to the polls just might spike the civic engagement of her followers (Asian Americans and people between the ages of 18–25 have the lowest voter turnout rates). Heck, her recent visit to the White House and talks with President Biden and Dr. Fauci about vaccines reminds us just how much she understands that she is the moment and that means she can do something with it.
Sometimes, I look at photos of her and suddenly see the more "Asian" side of her. I get excited whenever she posts about her best friends, co-star and "soulmate" Madison Hu and musical artist Conan Gray (who is half-Japanese), because I know that they are Asian American too. I am a Han-Chinese American; I'm not even Filipina. Sometimes, I feel that I am projecting too much onto Olivia Rodrigo. I know that we, as humans, can't just put all of our faith into one artist or songwriter to represent us, just like how we cannot put all of our faith into a single politician to become our savior.
Perhaps my obsession with Rodrigo is just a phase, but that does not negate what is an underlying truth: If someone can ignore the fact that Olivia Rodrigo is an Asian American, then they probably already have the privilege of seeing themselves successfully in the media. They do not have to reach nor grab for representation. Her identity should not matter, but it does. And that reveals how much farther we have to go.
Celebrity news, beauty, fashion advice, and fascinating features, delivered straight to your inbox!
Helen Li is a storyteller whose podcast work and writing focus on youth civic engagement, labor, technology, and identity. You can follow her @helenliwrites.