Taylor Swift's Rise to America's Sweetheart
The country singer — who has quickly become a household name (thanks, Kanye!) — opens up about the drive that got her to the top. PLUS: GO BEHIND THE SCENES OF TAYLOR SWIFT'S PHOTO SHOOT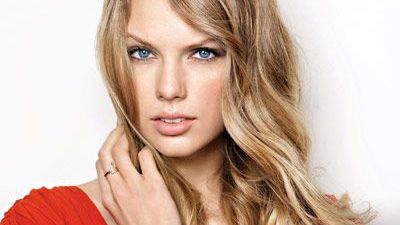 (Image credit: Mark Abrahams)
Taylor Swift loves a lot of things, but maybe nothing quite so much at this moment as her new Prevost tour bus. "It's amazing!" she says, bounding through the backstage labyrinth of the Save Mart Center in Fresno, California, where she'll be performing tonight — long Goldilocks curls bouncing behind her as she goes. "My mom and I just redid the whole thing. Come see!"
Inside, the bus is a lush girly fantasy in chocolate brown and peacock blue, complete with a tufted brown velvet couch and pearly blonde laminated wood paneling, an electric fireplace ("Because I'm always freezing!"), a big champagne marble bathroom, and a Star Trac treadmill that folds up like a Murphy bed. "We bought the old bus from Cher," explains Swift's mom, Andrea, who goes on every tour, watching from the sidelines, keen-eyed and silent as an eagle. "So it was all black and gothic." For the new bus, she says, "We wanted to brighten things up."
Story continued below.
In Swift's bedroom, a big turquoise satin jewelry box has the word Barbie written across it in rhinestones, and Swift's first two multiplatinum albums shine above her silky, pillow-piled turquoise-and-brown bed like twin full moons. A sign over the door reads Never, Never, Never Give Up in curling bronze script.
"Did you have that made?" I ask her.
"No. I got it from T.J. Maxx," chirps Swift, who may be the world's least snobbish pop princess. In Taylor Swift's world (or "Taylor Nation," as fans call it), Urban Outfitters T-shirts and $900 Christian Louboutin stilettos are embraced with equal fervor. All the crew members are presented with cakes on their birthdays and serenaded by Swift herself. And everyone — literally everyone — is greeted with a hug and an enormous smile. It's kind of like meeting Mickey at Disney World. The weeping 8-year-old fan in a pink cowboy hat gets a hug. The mayor of Fresno gets a hug. Even the sweaty, walrus-shaped teenage boy with the slightly crazed glint in his eye gets a hug — though when he starts pawing Swift and kissing her all over her face, two beefy security guys step in and carry him off. "It scares the daylights out of me when she goes around hugging everybody," says Scott Borchetta, who signed Swift to his then-newborn record label, Big Machine, in 2005. "I have to turn my head when she does it during the concerts. But you couldn't stop her if you tried; she's just a born hugger."
Swift's gasping love for most things she sets eyes on (Starbucks coffee, low-fat strawberry Pop-Tarts, and members of the band Def Leppard included) might get old quickly if it weren't accompanied by a big winking dose of sass that gives her a Tinker Bell-ish quality. At 20, she is tall and skinny as a string bean, with long, gangly white arms and a plump, angelic face. Her eyes are blue as forget-me-nots, with a slightly Asian tilt and thick curling lashes that she flirts with expertly and shamelessly, like Scarlett O'Hara.
Though Swift was born in Wyomissing, Pennsylvania, and lived there until she was 14, there is a specifically Southern flavor to much of her appeal. She loves flouncy miniskirts and candy-colored strapless dresses and halo-style headbands with silk flowers sewn on. She says "Y'all" and "Thay-nk ewe!" She prays. She bakes. (When she's home in Nashville, she regularly delivers homemade pumpkin-spice cookies with cream cheese frosting to the construction guys working on her new condo.) But there's a clear-eyed, laser-focus quality to Swift's attention, too — you sense there's a mighty brain ticking beneath all those blonde curls. "I love having a goal, feeling like I'm on a mission," says Swift. "I love trying to beat what I've done so far."
At the moment, that's a tall order. Swift's second album, Fearless, was the best-selling album of any genre in 2009. An addictive confection of country/pop love songs, Fearless stole the hearts of little girls and not-so-little girls all over America, sitting at number one on the Billboard Top 200 for 11 weeks, which is longer than any other album in the last decade. Come awards time, Swift took home four Grammys (including Best Album of the Year) and the MTV Moonman for Best Female Video (aka The Kanye Incident) — along with a truckload of other trophies, including the CMA award for Entertainer of the Year in 2009. Tickets for Swift's recent concert at L.A.'s Staples Center sold out in two minutes. Last year, she earned $18 million from albums and touring alone.
Suddenly, Taylor Swift is an enormous star. Like, the kind of star people have started comparing to Michael Jackson and Madonna. The kind of star who tours with nine buses and several purple trucks that have her face plastered on the side. The kind of star about whom Borchetta says, "Look, if she can produce a superior third album, one that's as big as the last two ... well, when's the last time somebody did that?"
Fresno is an interesting place to see Swift perform. Basically, the whole town has gone bananas over her — including the mayor, who has officially proclaimed today "Taylor Swift Day." (In part, this may be an attempt to distract residents from the fact that Fresno was recently rated the number one Drunkest City in America by Men's Health magazine, but still ...) A dusty farm town in the middle of California, Fresno is the land of monster trucks and short-haired, churchgoing ladies in ruffled homemade aprons and Easy Spirit shoes who sell their crafts at the Big Hat Days festival in neighboring Clovis. Swift, who does not drink or swear or flash cleavage, is huge here.
Outside the Save Mart Center, near the herd of Taylor Swift tour buses, a local radio station has set up its own bus and is broadcasting live all afternoon from a big loudspeaker. What seems like thousands of little girls and teenage girls and middle-aged girls are milling about in the parking lot — some dressed in homemade versions of the oversize "Junior Jewels" T-shirt and black nerd glasses that Swift wears in her "You Belong With Me" video — carrying huge "Taylor" signs and screaming "Taylor!" from time to time.
"I like her because she's young and pretty and she writes stuff we can relate to," says pretty, freckle-faced Caroline Meyers, whose mother has driven her and her best friend, Lexi Kraft, here 240 miles from Colusa, California. Both girls are 17. Both are wearing T-shirts that say "I drive by my ex-boyfriend's house too!" — something Swift admitted to doing in a CMT interview. "She's a good role model," adds Kraft. "Also, she's really pretty."
Swift has performed in Fresno before — but never like this. The first time she played here, in 2006, it was at Cali's Frozen Custard Creamery out on Blackstone Avenue. Swift, then 16, was in town for a promotional radio tour. She and her band stopped off for frozen yogurt and ended up playing an impromptu concert. The second time was two years ago, when she opened for Rascal Flatts. So when Swift appears later in the afternoon for a meet-and-greet backstage with the various radio people of Fresno and says, "I can't tell y'all how long I have been waiting for this night!", you actually believe her.
NEXT PAGE: SWIFT FOLLOWS HER DREAMS TO NASHVILLE
For Swift, performing seems not so much a profession as a calling. Like being a nun or a Jedi Knight. It's the only thing she's ever wanted to do, at all. Ever. "I have been singing randomly, obsessively, obnoxiously for as long as I can remember," says Swift, who grew up on an idyllic Christmas-tree farm in rural Pennsylvania with her own pony. The oldest child of well-to-do parents (her father, Scott, is a stockbroker; her mother, Andrea, quit her job as a mutual fund marketing executive to raise Swift and Swift's little brother, Austin), Swift insists that although her parents believed in her completely, the burning need to sing in public was entirely her own. "My parents have videos of me on the beach at, like, 3," she continues, "going up to people and singing Lion King songs for them. I was literally going from towel to towel, saying, 'Hi, I'm Taylor. I'm going to sing I Just Can't Wait to Be King for you now.'"
We're sitting on the couch in her backstage dressing room, which she shares with her brunette backup singer, Liz Huett, and her redheaded fiddle player, Caitlin Evanson, who are also two of her best friends. They both feature prominently in the homemade videos that Swift posts regularly for fans on taylorswift.com and Facebook, and they flank Swift like handmaidens. A big rack of bright, silky dresses stands against one wall; a forest of Louboutins is spread out over the floor. A giant soda from In-n-Out Burger sits melting on the coffee table.
"It's very Taylor to want to share her dressing room," Swift's publicist, Paula Erickson, said earlier. "She just likes having her friends around." And while that's true, it's worth noting that toward the end of every concert, Evanson and Swift have a spectacular, hair-thrashing drumming battle on two big steel garbage cans during the song "Should've Said No." (Swift always wins.)
It's about 5:30 in the afternoon, and Swift has just finished her preconcert rehearsal. She does not seem nervous at all. In fact, she seems downright relaxed. Dressed in a loose gray miniskirt and black Rag & Bone dance shoes with patent leather tips, she has been trying to explain to me what it's like to be born with such an intense sense of destiny, and how completely it has defined and driven her life so far. "It's literally all I've ever dreamed of," she says.
By the time she was 10, the details of Swift's future had begun to fall into place. She knew she wanted to be a country singer. She knew she needed to go to Nashville to make it happen. She'd discovered karaoke and was teaching herself to sing like Faith Hill and the Dixie Chicks and Shania Twain. She had taken to performing at any event she could find, including garden clubs and Boy Scout meetings, which made her seriously unpopular at school. Swift didn't care. She was on a mission. "I knew that everything I wanted to happen could happen in Nashville," she says. "So it became my number one goal to get there somehow."
Read the rest of our exclusive interview with Taylor Swift in our July 2010 issue, on newsstands June 8.
Celebrity news, beauty, fashion advice, and fascinating features, delivered straight to your inbox!