Michelle Williams Laughs, Cries and Talks
With Oscar buzz building around Blue Valentine, the actress says hard work has helped her move beyond the tragedy of Heath Ledger's death. Plus: check out the photos from her cover shoot.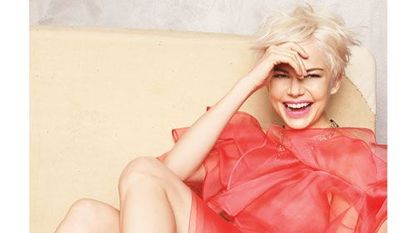 (Image credit: Tesh)
Wide-eyed and wary, she sits poised on the edge of her chair in a state of high alert, nervous as a rabbit whose frozen stillness conceals a wildly beating heart as it assesses the nearness of danger. Michelle Williams may be an experienced actress, but if she has to talk about her own life, the strain soon shatters her posture of calm.
When that happens, she buries her face in her hands, which are as small and unadorned as the rest of her, and there is a long silence while she fights to regain control. No matter that the questions are benign as "How are you doing?"—their toll is all too visible.
"An interview is like a minefield," Williams says, rubbing her eyes wearily. "These are all the questions I'm asking myself, and some things are just too personal. It's funny how little lines get drawn and something just rubs a little too raw. I find it hard to know exactly what to say; I've gotten a pretty secure footing, but I feel like I don't have all the answers yet."
As the three-year anniversary of Heath Ledger's death approaches, Williams is still struggling with the loss of her former fiancé, who died from an accidental drug overdose in January 2008, five months after they had separated. Their daughter, Matilda Rose, was 2 years old. "My heart is broken," Williams said at the time.
Story continued below.
Since then, she has had other relationships, including one with film director Spike Jonze, but she hasn't yet found a new partner, let alone a substitute father for her child. "Very obviously, for me and for her, there's a hole in our life," Williams says. "Of course the natural inclination is to want to fill it and make it disappear, but what I've come to recently is that it's impossible. Nothing will fit in that hole because what we want back we can't get, which is this one person. I'm not going to rush anything and scamper around like a mad person and make myself crazy. I'm trying to be respectful of the absence. I'm not trying to fill it up. It is what it is."
Williams' latest movie is Blue Valentine, which costars Ryan Gosling as her husband and generated gossip that they were involved off-screen as well. With a rueful smile, Williams shakes her head. "My poor mom really wants me to meet someone. I think she wanted to believe the Ryan Gosling rumor more than anybody," she says.
But the truth is that Williams isn't even sure what she's looking for now. "I don't know what my version of a relationship or marriage is yet, because the typical model seems a little broken to me," she admits. "At the same time, I was raised on all those princess fairy tales and I'm a romantic; I want to be a one-man girl. I took Matilda to Disney World recently and we saw all the princesses, and then she turned around and said, 'OK, now I'd like to see where all the princes are.' The Disney person said, 'Nobody has ever asked me that before. There aren't any princes here, honey.'"
Williams sighs. "The idea that you can get everything you want in one person is destructive, and maybe when you accept that the number is closer to 50 or 60 or 70 percent, that's when you can start to make some progress in choosing the right person. I don't want to make a mistake that big, and that saddens me, because it's harder to let yourself go. I can inflict any kind of injury on myself, but with my daughter, that's not an option."
If Williams' personal life is incomplete, her career is flourishing. She first read Blue Valentine when she was 21, and the movie didn't get made until she was 28—a long time for any actress to stick with a tenuous indie project. But Williams, who is now 30, was deeply moved by its exploration of a young couple's failing marriage. "I'm a child of divorced parents, and it's a film about what it's like to grow up in that kind of atmosphere of tension and decay," she says, adding, "'Being forever in the pre-trembling of a house that falls.'"
That quote, which is from a Galway Kinnell poem, is the second half of a line that begins, "And yet perhaps this is the reason you cry, this the nightmare you wake screaming from ..." Called Little Sleep's-Head Sprouting Hair in the Moonlight, the poem concludes: "The wages of dying is love."
For Williams, the film evoked both the deterioration of her relationship with Ledger and the scars of her own childhood. "I think of Blue Valentine as a cautionary tale—what happens when you stop paying attention to the reasons you loved each other in the first place, when you let the devil that's in the details eat away at the love," she says. "I was already out of the house when my parents got divorced, but you knew that the structure was going to collapse. That's what I mean by 'pre-trembling.' I think every kid in that situation can sense the whispers from behind closed doors."
Her willingness to take on such material seems a victory in and of itself. When Ledger died, the tragedy instantly sidelined Williams' red-hot career. They had met while filming Brokeback Mountain, in which she played the wife of his tormented gay cowboy; his performance earned an Academy Award nomination for Best Actor, and hers received one for Best Supporting Actress.
But after his death, she says, "I didn't work for a year. I needed to gather myself and put my life back together. I had to be dragged back to work, basically, because I finally had my life in some kind of order, and I didn't know what would happen if I introduced work into it. I had forgotten that it was worth it."
That discovery has been crucial. "With the last three movies I've made, I've had the feeling of working at the edge of my abilities," Williams says. "That's an exhilarating and terrifying place to live, and I don't go there easily. It has its rewards, but it's not a dinner party. I'm constantly pushed up against the wall of what I'm capable of doing, and that can be an excruciating place to confront yourself. But I don't want to lose sight of the fact that work gives you a good feeling about yourself. My work has seen me through a lot of situations, and if not for work, I would have stayed stuck in the experience. I've had something outside of myself to attend to, and it's carried me through. It's been invaluable, and I want to pass on that lesson to my daughter."
Read the rest of Marie Claire's exclusive interview with the star in our February 2011 issue, on newsstands January 18.