Anne Hathaway Shows Us Her Wild Side
You won't catch her falling out of a limo sans undies — but she'll gladly go topless if the role calls for it. Mold-breaking ANNE HATHAWAY does Hollywood her way.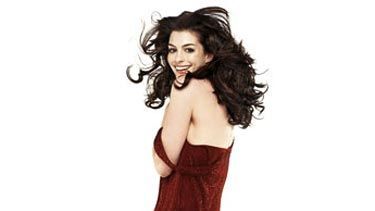 (Image credit: James White)
Marie Claire Newsletter
Celebrity news, beauty, fashion advice, and fascinating features, delivered straight to your inbox!
Thank you for signing up to Marie Claire. You will receive a verification email shortly.
There was a problem. Please refresh the page and try again.
It's a steep, winding climb through the Hollywood Hills to the horseshoe-shaped ranch house where Anne Hathaway is staying. Neat shrubbery frames the front door; there's a black Range Rover out front. It's on Blue Jay Way, the namesake of the song George Harrison wrote in 1967 when he was staying in this very house. I press the buzzer, and an affable guy in a red hoodie answers the door. This is Hathaway's big brother, Michael, who's staying with her — same lush features, less contrast (lighter hair, darker skin).
Inside, the place has a clinical spareness to it, a West Elm vibe typical of rentals. It's been Hathaway's home base while she makes the movie version of the campy Cold War spy series Get Smart with Steve Carell. And as I gaze upon a carefully prepared spread — guacamole, chips, cucumber slices with Brie on top, a pitcher of water — laid out at one end of a massive, medieval-looking table, I hear the pitter-patter of bare feet rushing up behind me on the hardwood floor. "Hi, I'm Annie," Hathaway says, sticking her hand out for a shake.
Hathaway is quick to flash that enveloping smile — at 24, she's too young to be jaded about having to do interviews. She's opted for a strategically casual outfit: oversize, black V-neck sweater with a black tank underneath and skinny jeans that aren't intensely skinny — an American Eagle girl passing as American Apparel. All in all, she's squarely on trend, save for the coral-pink polish on her fingers and toes — no doubt chosen for her role as the midcentury knockout Agent 99.
Hathaway gives me a tour of the place, pointing out the giant cross that doubles as the living room's ceiling light. When she flips a switch, it glows neon yellow and pink. "Isn't that freaky?" she says, sounding delighted — apparently the owner of the house has a thing for religio-kitsch. Later, she'll show me a Virgin Mary lawn ornament and a 7-foot cross that she stashed in the garage. "The first thing I did when I moved in," she says, swinging the door shut dramatically.
"The place is kind of strange, but it's a great party house," Hathaway tells me, adding that she and her brother are hosting a Moroccan-themed bash next week. When we reach the master bathroom, she points out an errant nunchuck lying on the ledge of the tub. "I was trying to impress my friend the other night with my nunchuck aim," she says, laughing. "I was a little tipsy."
Tipsy? What a welcome whiff of mischief. After all, it isn't so easy picturing Hathaway flinging weapons under the influence, given how indelibly . . . princessy she is. She got her start at 17 as an awkward high schooler who became a princess alongside Julie Andrews in Disney's surprise hit The Princess Diaries ("If you don't like Julie Andrews, there's something wrong with you," she says), which she followed up with two more tiara flicks: Ella Enchanted and The Princess Diaries 2. Spot-on casting: Her looks were perfect for the ugly-duckling-turned-swan journey — wide eyes and inflated lips she hadn't quite grown into yet that could easily morph from goofy to regal over the course of a movie. Staying on theme in last summer's The Devil Wears Prada, she made the transition from dumpy plaid skirts to sleek Chanel seem entirely plausible.
Even though Hathaway with her royal résumé and good-girl reputation (her godmother calls when she curses in print) — is the anti-Lohan, she wants you to know she's no prude. "I love Peaches," she says. Yes, the girl who rode a Razor scooter to high school in her first film admires an artist with a CD titled Fatherfucker "When people are all, 'Do you think you have a squeaky-clean image?' I'm like, 'Could a squeaky-clean girl know all the lyrics to 'Teaches of Peaches'? I mean, my favorite song is called 'Fuck the Pain Away.'" Her Prada costar Emily Blunt tells a story about trying to shoot a scene with Stanley Tucci when Hathaway actually mooned her off-camera. "We really had a blast," Blunt says. "I have never laughed so hard on a set."
Hathaway has no problem going topless on-camera, either, which she did in both Havoc and Brokeback Mountain. "I don't actively search for [movies] that I can get naked in," Hathaway says, perched on the mossy-hued, L-shaped couch in her living room (and I mean perched: She has excellent posture; her spine never comes in contact with the back of the couch). "It's not the most fun requirement of the job, but nor is it something that I would ever not do a job because of. It is what it is. Some people choose not to do it on moral grounds; I think that's a shoddy argument." Of course, there are limits. "I turned down another movie because it was going to show a vagina — not mine, but somebody else's. And I didn't believe that it was actually necessary to the story."
Suffice it to say, any glimpse we get of Hathaway's naughty bits will be on her own terms, not while falling out of a limo and caught on a camera phone. She's one of the few stars of her generation who managed to come out of adolescence unscathed and fully formed while the whole world watched. Blogs have never been consumed by the state of her virginity; there is nothing in the tabs about flings with ex-boy band members, tattoos, meltdowns, trips to rehab.
"Don't get me wrong," she says, gathering her shiny, thick hair in one hand and dropping it over her left shoulder. "I love to cut loose with my friends, but I don't do it to get attention. I can feel really satisfied by it without anyone watching."
Hathaway seems cool with her place in the fame firmament — young she may be, but she knows where she stands. "I'm not a walking one-woman drama show," she says. "I'm pretty bad entertainment — I'm not particularly well dressed, and I haven't graduated from college. I think you should like Natalie Portman a lot more," she says, letting loose a rich, musical laugh.
Hathaway's favorte adjective is "brilliant." During our conversation, she uses it no fewer than 23 times to describe phenomena like Hillary Clinton, Margaret Cho, half-corsets, "poets who also happen to be musicians," No Doubt, Stewie on Family Guy . . . (Steve Carell, however, she calls "wonderful": "I wanted to clone him and send him on a goodwill tour throughout the world, saying, 'This is what America can produce.'")
She's got that polished, older-than-her-years, Northeastern aura, having spent her childhood in Brooklyn before her attorney father and actor mother moved the family to suburban New Jersey. Acting wasn't a big stretch, considering her mother went on national tour with Les Misérables when Hathaway was 7. And though she wanted to audition for a role in the show, too, her parents wouldn't let her. The worry? That she'd "drink the monster juice," as they put it, and turn into a precocious brat. "They said, 'Look, if you really want to do this, you have to train, you have to go to classes.' My parents wanted to make sure I had a love of theater, and that was invaluable. Obviously I have to give myself credit, too — I was very driven."
At 13, she joined a local theater group, got an agent, and started doing commercials. During her senior year, she won a role on the short-lived TV series Get Real and moved to L.A. "I got to come home for the final two months of senior year when everybody was slacking off, and we got to do stupid things like, you know, steal people's lawn ornaments and redistribute them around the neighborhood," she laughs. Even Hathaway-the-Degenerate has a certain wholesomeness about her.
She went to Vassar for three semesters, then transferred to NYU. Following Ella and Havoc (her one straight-to-DVD flop), the chance to work with director Ang Lee beckoned — and suddenly the latte-sipping life of an undergrad lost all its luster. (Even now she gushes, "I told him if he ever needs an assistant, I will drop whatever project I am working on just to make him coffee.") After she had auditioned, Lee gave her the role of Jake Gyllenhaal's cowgirl wife in 2005's Brokeback Mountain.
"I had such a cool experience," she says. "I was like, Hells to the yeah. If this is possible once, it is worth striving for the rest of my life — to be a part of something that is so beautiful and smart, that is the best this medium can be."
That said, the first time she saw the film, at the Venice Film Festival, alongside Lee and costars Gyllenhaal and Heath Ledger, she almost didn't make it through. "I'm not in the movie until, like, 45 minutes into it, and I start to get sick to my stomach that I'm gonna be the one to fuck it up. So right before I come on-screen, I run outside, because I can't handle it."
Eventually, she calmed down, came back in, and watched without incident — until the last scene, when she burst into tears. "Didn't stop for an hour," she laughs. "And Kirsten Dunst, who was going out with Jake, was like two rows behind me, and [Jake's sister] Maggie Gyllenhaal was right behind me, and we were all crying so hard; my boyfriend offered Maggie his handkerchief, and she was sharing it with Kirsten. And I'm thinking, That's my boyfriend's — can I have my Kleenex that you bitches are using?" she says, her voice breaking into high-pitched hysterics.
To read more of Anne Hathaway's cover story, check out the August 2007 issue, on newsstands now.
Celebrity news, beauty, fashion advice, and fascinating features, delivered straight to your inbox!