The Miracle Workers: Hollywood's Top Assistants
What's it take to succeed as a Hollywood assistant? Resourcefulness, pluck, and a commitment to acing even the most outrageous requests. (A private meeting with the president? On it!) Meet six of the top assistants in the business. Remember their faces—it's only up from here.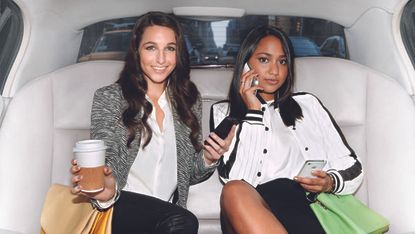 (Image credit: Archives)
ALYSSA BRICKLIN, 25 (left)
Olivia Wilde's assistant
PROUDEST MOMENT: "Borrowing a boom truck from a lumber company to hoist my boss's big new couch up through her window."
BEST ADVICE: "Asking for help isn't failing."
OLIVIA'S DRINK OF CHOICE: "Small almond latte."
ANJANA JAIN, 24 (right)
Republic Records chairman & CEO Monte Lipman's assistant
PROUDEST MOMENT: "I had 10 minutes to organize a 20-person dinner at Buddakan for a multiplatinum recording artist—the same night as NYU's graduation. I made it happen."
BEST ADVICE: "It's not a job. It's a lifestyle."
MONTE'S DRINK OF CHOICE: "Decaf green tea on the hour, every hour."
ABBY CHAMBERS, 24 (far left)
Shonda Rhimes' assistant
PROUDEST MOMENT: "Subbing in for uncast roles at table reads for Scandal or Grey's Anatomy."
BEST ADVICE: "Be tenacious and always look for ways to be helpful."
SHONDA'S DRINKOF CHOICE: "Starbucks Iced Green Tea."
SONIA KHARKAR, 28 (left)
Mindy Kaling's assistant
PROUDEST MOMENT: "My first big assignment was to organize The Mindy Project writer's retreat in Las Vegas. Every five minutes, I'd ask, 'Is everyone having the most fun they've ever had?' like Blair Waldorf hosting a sleepover."
BEST ADVICE: "Never complain, never explain."
MINDY'S DRINK OF CHOICE: "The orange juice she gets with the #1 at McDonald's."
JAYDI SAMUELS, 29 (right)
Seth MacFarlane's assistant
PROUDEST MOMENT: "I wasn't one of the candidates originally considered for the job, so I handed Seth a letter explaining why I'd make the perfect assistant. He appreciated the initiative."
BEST ADVICE: "Even if I'm not required to be accessible after hours, I always am."
SETH'S DRINKOF CHOICE: "He doesn't drink much coffee anymore, but he used to make himself Green Mountain Coffee Nantucket Blend."
SARA STELWAGEN, 34 (far right)
Ryan Murphy's assistant
PROUDEST MOMENT: "On one of my days off, I forwarded a call from Stevie Nicks while I was soaking in a tub enjoying a glass of cabernet."
BEST ADVICE: "You're never really off duty. But I wouldn't have it any other way."
RYAN'S DRINK OF CHOICE: "Dark-roast coffee, black."
Images by Emman Montalvan
Celebrity news, beauty, fashion advice, and fascinating features, delivered straight to your inbox!