Angelina Jolie Took These Women Out of the Shadows
Handpicked for the roles of a lifetime, the Balkan actresses of In the Land of Blood and Honey drew on powerful material: their own life stories.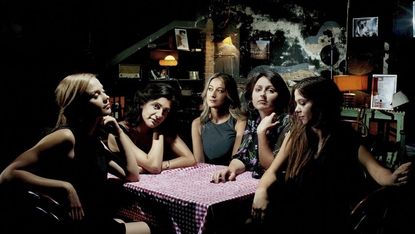 (Image credit: Archives)
Marie Claire Newsletter
Celebrity news, beauty, fashion advice, and fascinating features, delivered straight to your inbox!
Thank you for signing up to Marie Claire. You will receive a verification email shortly.
There was a problem. Please refresh the page and try again.
The casting session appeared mundane: Along with about 100 other hopefuls, Dzana Pinjo, a 29-year-old Bosnian actress, read from a script about the Bosnian war. Then things got personal. Pinjo was interviewed privately about her own experiences during the conflict, which began when she was 10, in 1992. Forced to leave school, she hid in her family's apartment building for weeks at a time over the next four years. The questions "felt intimate," she says. "I was a bit uncomfortable." But her openness paid off.
She landed the role — a Bosnian woman in a brutal war camp. And she learned the film was Angelina Jolie's directorial debut.
"It was a shock. I thought, She's coming here? Angelina? Come on!" Pinjo says.
Zana Marjanovic, the film's lead, fled Sarajevo when the war started. Now 28, she assumed the vivid script, which Jolie wrote, was by a Bosnian. When Jolie called her personally, Marjanovic felt a rush of adrenaline. But there was no room to be starstruck on set. Jolie met with everyone, even the actresses with minor roles; they were all soon calling her "Angie."
In preparation for a horrible rape scene, Jelena Jovanova, 27, and Jolie had a heart-to-heart over breakfast. "She said, 'It's going to be tough,'" recalls Jovanova. After several takes, Jolie invited Jovanova to see her performance on a monitor. Other actors gathered around, moved to tears.
Nervous before her first meeting with Jolie, Vanesa Glodjo, 37, wrote up a list of questions. But Jolie asked about Glodjo's own experiences — like dodging Serbian sniper fire as a 17-year-old. "There's a special state of mind in wartime," Glodjo says. "She wanted to capture that."
Jolie gave Alma Terzic, 24, a DVD of video testimonials from women who had lived through the conflict. The stories brought Terzic back to her childhood, when her family spent two years unsure whether or not her soldier father was alive.
For Pinjo, working with Jolie was a lesson both in craft and self-empowerment. "She said, 'This is the story of your people. I trust you,'" recalls the actress. "It's something I will remember all my life."
Celebrity news, beauty, fashion advice, and fascinating features, delivered straight to your inbox!