Olivia Wilde: Wilde's Streak
With her magician comedy The Incredible Burt Wonderstone and the improv Drinking Buddies, Olivia Wilde is proving to be one of Hollywood's hardest-working actresses. Now she prepares for her latest role: newlywed.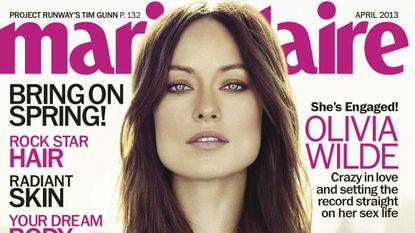 (Image credit: marie claire )
It's raining in Rome, but Olivia Wilde is fired up by the thought of finding the grave of English poet John Keats in the Protestant Cemetery on the outskirts of the city. Snuggled into a nubby dove-gray tweed peacoat, the 29-year-old actress has the day off from shooting Paul Haggis' Third Person with on-screen love interest Liam Neeson, whom she bonded with over their mutual Irish roots. Believing he would be forgotten, Keats had insisted his nameless epitaph read: "Here lies one/whose name was writ in water."
"Only the really young are fearless, have the optimism, the romanticism to take unimaginable risks," Wilde says. She is referring not just to Keats but to her impetuous first marriage to Italian prince Tao Ruspoli, whom she met through the journalist Duncan Campbell, a year after she moved from Washington, D.C., to Los Angeles at 18 to try to become an actress. I ask Wilde about the reactions of her parents, Andrew and Leslie Cockburn, journalists who often reported from war zones. "I grew up being told by my parents each time they went off to war that they may explode, so I needed to know how things like the gadgets in the kitchen worked," Wilde says. "When we got married, Iraq had just been invaded. My parents said marrying was an optimistic thing to do in pessimistic times."
That battlefront mentality bears more than passing resemblance to Wilde's tackling of Hollywood (she deferred Bard College to do so). "It was helpful to have the confidence of youth that came from a lack of desperation. I thought, If I don't succeed I'll go back to school and study." Taken on by casting director Mali Finn, Wilde sorted headshots and made coffee until Finn eventually suggested — "probably just as a favor to me" — that Wilde, a veteran of theater camps and school plays, audition for her. Early on, Wilde played a pornographer's daughter in a short-lived Romeo and Juliet-like television drama called Skin. "It was the worst thing you've ever seen in your life," Wilde says vehemently. "I learned on the job, which was a gift. All actors should experience public failure."
By now we are sitting in La Campana, which bills itself as Rome's oldest restaurant, surrounded by Italians rather than tourists and being served by a waiter who appears disdainful of our dining choices, second glasses of Prosecco, and shaky Italian. Attacking a plate of pasta with artichokes, Wilde continues, "It took me back to square one. I was only 19, but I never took the bullshit that surrounds the business seriously again. I'll never believe in it. It was false love, fickle, I will never fall prey to it."
Best friend and actress Megalyn Echikunwoke, who met Wilde in those early days in L.A., says she always admired that Wilde "has always known who she is and what she wants, which anyone who meets her gets right away... She's a really keen judge of character and has only ever surrounded herself with worthwhile people."
I ask Wilde whom she was influenced by back then. "Catherine Keener," she answers without hesitation. "And Julie Christie — she has no arrogance, zero sense of importance, she is so practical. Her attitude is, 'Just do it; you're not a magician.'" A family friend (and matchmaker Campbell's wife), Christie encouraged Wilde, so off she roared to begin learning her trade, cast in The O.C. in 2004, landing small film parts, winning the role of bisexual diagnostician Thirteen in House in 2007, then landing big film parts opposite major leading men including Daniel Craig (in Cowboys & Aliens) and Ryan Reynolds (in The Change-Up).
Wilde's practicality and drive were inculcated in her as a child spending summers and holidays in Ireland with her grandparents, radical journalist and broadcaster Claud Cockburn and his wife, Patricia. At a local riding stable, Wilde was told that she needed to fall off a horse at least 100 times and get right back on to be a good rider, and it was at the culinary school in Ballymaloe that she learned to cook. ("I was happy making quiche with all these older people," she says.)
Though Wilde confesses to holding on with the same tenacity she learned in the saddle, her marriage ran out seven years in and she filed for divorce in 2011. "I had grown up with Tao; we had just drifted. I felt I had something to prove. If you fall off a horse, you get back up. I am not a quitter. I hung on for as long as possible, until it was more hurtful to stay." She adds, with a piercing degree of maturity, "I'm so grateful for the pain and the heartbreak. It gave me the courage to leave and brought me to the great love of my life." (Wilde confesses she fell in love again — not in her first relationship after her divorce — but "immediately, too soon. It was a love flambé, it was too quick, but it got me to the right place.")
That great love of her life is actor and comedian Jason Sudeikis, 37, whom she met at the finale of Saturday Night Live in 2011. "I was just learning to be by myself; I'd been divorced nine months," she recalls. "We were both seeing people but were single. He seemed to really see me, see through the bullshit. He said very few words and couldn't keep eye contact. He was so handsome, and he could dance." The moment Wilde starts talking about Sudeikis, her features soften, her beauty illuminated from within, radiant with love. She shows me the 1920s Parisian engagement ring — a circle of emeralds edging a diamond — that he presented her, which he'd kept for a month until one morning in the New Year when he proposed.
It had taken him six months after their first meeting to ask her out. "I thought, He won't be interested in me; I'm not a contender. He was so cool, so funny — I was such a fan of his and had always fancied his speed and his intelligence. He's a brilliant actor with a brain like lightning." Even before they started dating, Echikunwoke had told her, "'You're going to end up marrying him.' She knew long before I knew. It was just timing." That Sudeikis was in no hurry was part of the attraction. "I felt like fresh meat at the market ... I thought, I'm not beautiful enough or his type. I couldn't wait to sit down and hear him talk. On our first date, in New York City, we closed the restaurant down at 2 a.m.! He didn't kiss me, and I was madly in love. I was overwhelmed."
What attracted her to Sudeikis the most? "He was never overly flirtatious. He had patience and sincerity and kindness. No presumptuousness. He didn't ever exhibit any signs of shittiness; he was always considerate."
As far as remarrying so young, Wilde says, "I think Mark Twain put it that a second marriage was the triumph of hope over experience." (A few days later, Wilde texted me, thrilled that Oscar Wilde, whose name she'd adopted for the stage, was the one who wrote, "Marriage is the triumph of imagination over intelligence. Second marriage is the triumph of hope over experience." She added: "Fantastic, no?")
The thing she values most highly in a relationship: "It is so clichéd, but communication, that both of us should never stop talking. Trust. Jason has a very trusting way. There is no other way to go through life. I trust work, directors — I don't live in fear. All good experiences have come from trusting the universe. There is no other way to live or love. Otherwise, you create your own prison."
I wonder whether the couple has discussed children. "We've discussed all our ideals and hopes. I can't wait for children. I'm open-minded about how many, but three, which I love, is like a little party. I am not trying to have kids now — there's no strict plan for anything in my life. What happens, happens. He's so good with kids." For a minute, Wilde's smile turns secret, then she voices what seems like more of a private musing, "I've never before experienced looking at someone and thinking, That's who I want to raise a child with."
Wilde is one of three; her elder sister, Chloe, is a civil rights lawyer; her younger brother, Charles, is at Oxford studying history. Sudeikis' two sisters are "incredible." "I met his parents at one of his sister's dance performances in Brooklyn after a month, and he met mine, who were thrilled," she says. "They thought Jason was intelligent yet charming. My parents were unbored!" Wedding details are premature. "I don't know when we're going to get married, but it doesn't matter because we're going to be together forever. My dream is to have it close to New York [where they live]. I love dressing up, and I want to design my own dress. I want to get friends involved because they have all protected and encouraged us."
Protection and privacy have become all the more important since an infamous incident last fall. Wilde delivered a monologue in which the media reported she said "I felt like my vagina died" to describe her sexless marriage, and that she and Sudeikis "have sex like Kenyan marathon runners." Except that she was doing nothing of the kind. She would never discuss her intimate life, she says, and the monologue, which was told in the third person and named no names, was a fantasy piece exploring the idea of keeping passion alive in a long-term relationship. (Wilde noted the press changed "f—k" to "have sex.") The sensationalized stories that ricocheted online made her angry, as much, I wager, because the daughter of two generations of serious journalists found herself in the situation in the first place. Now she says simply, "Here's to love and protecting the sacred and rare private parts of love when we can."
Wilde is more open about her passion for activism, especially her work in Haiti, where she cofounded the free high school Academy for Peace and Justice in Port-au-Prince, and on the PBS documentary Half the Sky, based on the book about global women's oppression by Nicholas Kristof ("one of my heroes") and Sheryl WuDunn (Wilde eagerly signed on as a producer for the next installment). "I'm also really excited to be working with Jeffrey Sachs on his community health workers program, which aims to train a million workers to serve the most rural parts of Africa, and to be launching a company called Conscious Commerce that will encourage companies to incorporate a socially conscious element to their business plans. I'm at my happiest when working on this stuff."
For the full article, pick up the April issue of Marie Claire when it hits newsstands on March 19.
Celebrity news, beauty, fashion advice, and fascinating features, delivered straight to your inbox!