What's On: Olivia Munn
The costar of HBO's hit The Newsroom holds nothing back, revealing why she always over-orders Thai food, skips out on long post office lines, and keeps a stun gun on her nightstand.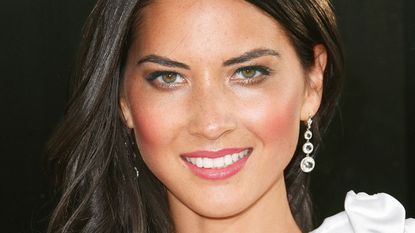 (Image credit: )
Marie Claire Newsletter
Celebrity news, beauty, fashion advice, and fascinating features, delivered straight to your inbox!
Thank you for signing up to Marie Claire. You will receive a verification email shortly.
There was a problem. Please refresh the page and try again.
WHAT'S ON YOUR...
Perennial To-Do List: Hang up my clothes— my room gets so messy so fast. And pick up packages at the post office. There's always a massive line and one window open, so I end up walking in, then turning right around.
Mind: Trying to overcome my social anxiety. It's manifested in trichotillomania, a disorder that gives me the urge to pull out my eyelashes.
Bucket List: Learning Mandarin and Spanish.
Kitchen Counter: A SodaStream, a straw dispenser, a Yoda sculpture.
Regrets List: Not doing CPR on my grandmother. She died because of lack of oxygen to her brain.
Last Credit Card Statement: Groceries from Trader Joe's, plane tickets for my mom and niece to visit me in California, and gifts from John Varvatos.
Shit List: Junk mail, yoga, people who start small talk with you in lines.
Playlist: Kendrick Lamar, Sam Cooke, BJ the Chicago Kid, A$AP Rocky, Tim McGraw, Reba McEntire, Michael Jackson.
Qualities-in-a-Friend List: Loyalty, honesty, and understanding.
Favorite-Gadget List: A Roomba. My Moroccan rug sheds, and the only thing that keeps it clean is a robot.
Bed: A Lady Americana California King mattress and Restoration Hardware duvet.
Go-To Menu: Thai delivery. I over-order so I can have leftovers for two days.
Workout Regimen: I struggle with wanting to work out. I hike, surf, and dance, but I think I'm going to start doing Pilates—though I'm not happy about it.
List of Charities You Support: PETA, Regional Food Bank of Oklahoma, Wounded Warrior Project.
Liquor Shelf: Wine and whiskey.
Sirius XM Dial: Howard 100 and 101, Prime Country, '40s on 40, '80s on 80, Backspin.
Must-See-TV List: The Daily Show.
Nightstand: Melatonin; The Singularity Is Near by Ray Kurzweil; strawberry lip balm; a 980,000-volt stun gun for protection; Olay Regenerist Night Recovery Cream.
Quote-to-Live-by List: "With the story of your life, you don't get to write the whole book, just your character." —Me
Celebrity news, beauty, fashion advice, and fascinating features, delivered straight to your inbox!