Time-Out With Minka Kelly
Actress Minka Kelly talks spirals, game-day rituals, and her return to TV.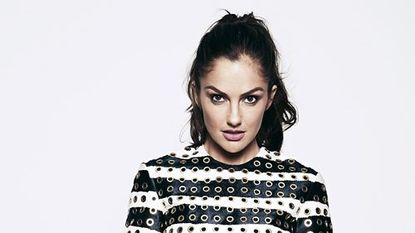 (Image credit: Dan Monick)
Marie Claire: How did you get into football?
Minka Kelly: I played a cheerleader on Friday Night Lights, which was a TV series all about high school football in Texas. It was my first exposure to the sport.
MC: Did any FNL castmates help teach you the game?
MK: Scott Porter, who played Jason Street, explained a lot of the rules to me. My favorite phrase became, "That'll move the chains!" The refs use the chains to measure a first down.
MC: Have you ever suited up for a football game?
MK: I played in a girls' powder-puff game during the FNL days. I was the quarterback. The ball was snapped to me, and I jammed my finger! I think I'm a pretty tough girl—I like to get down and dirty. But I was like, "Man, I jammed my finger just catching the ball?" I didn't tell anyone and played through it.
MC: How's your spiral?
MK: It isn't perfect. At times it still looks like a watermelon floating through the air.
MC: What NFL team do you cheer for?
MK: I'm a New England Patriots fan even though I'm from L.A.
MC: Favorite player?
MK: Tom Brady. He's a great team leader.
MC: Best play to watch?
MK: I like when the quarterback calls an audible, which changes a play at the line of scrimmage. And I love watching the triple option [a running play]. But they only happen in college, because in the pros the defense is too fast.
MC: What do you usually do on game day?
MK: I have a group of friends who always get together at each other's houses on Sundays during football season. We cook, hang out, and watch the game. It's a fun time of year.
MC: Best football foods?
MK: Ribs and wings.
MC: What do you wear to a sporting event?
MK: Jeans, a T-shirt, and sneakers. If you wear heels to a game, I envy you, because I don't have that stamina.
MC: You played an iconic cheerleader, and now you're playing an iconic first lady in your next film role. How was it being Jackie Kennedy?
MK: Scary, intimidating, humbling! It was an honor.
MC: You're also starring in Fox's crime drama Almost Human this season. Are you happy to be back on TV?
MK: Yeah, I am. This show is different from anything I've done. J.J. Abrams created such a neat futuristic world. I'm filming in Vancouver, which is more of a hockey town than a football one!
Celebrity news, beauty, fashion advice, and fascinating features, delivered straight to your inbox!