Katy Conquers All
After her marriage flamed out, Katy Perry thought her new album would be dark and brooding. Instead, she turned personal pain into professional triumph, and now prepares to tour with a message of rising from the ashes. Behind the Cover: Fashion | Behind the Cover: Beauty| Behind the Cover: Video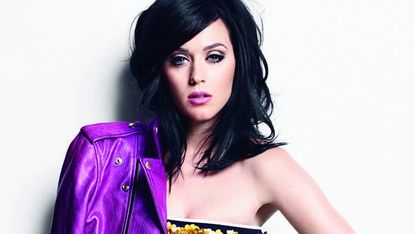 (Image credit: Regan Cameron)
KATY PERRY HAS HAD A HELL OF A COUPLE OF YEARS. In case you missed it: Amid a best-selling tour for a multiplatinum album, there was a divorce, a walk on the dark side, then a new relationship, a breakup, a make-up, and a return to a lighter side—all of which led to the release last October of her third album, Prism, that has since produced the chart-toppers "Roar" and "Unconditionally" and debuted at No. 1 with the biggest sales week of her career. Got all that?
Being Perry is a vigorous effort, even as she shoots whipped cream out of her bra and sings about kissing girls and teenage dreams to hordes of "KatyCat" fans. Her last album, Teenage Dream, tied with Michael Jackson's Bad for the most No. 1 hits (five) off of a single record, and her multimillion-dollar empire includes partnership deals with CoverGirl, Eylure eyelashes, and Popchips; three best-selling fragrances (Purr, Meow!, and Killer Queen); and voicing Smurfette in The Smurfs movies. And she's not about to slow down now. "I'm never going to be lazy, because there are 500 other people waiting in line for this position," she says.
Today, the 29-year-old singer-songwriter is in rehearsals at the CenterStaging studios in Burbank, California, for her tour that kicks off in May and will travel all over the globe through fall 2015. In a faded zip-up Aviator Nation sweatshirt borrowed from boyfriend John Mayer and leopard-print sweatpants, Perry looks more like a track athlete at an away game than pop's reigning Teen Dream Pop Queen. Around her, dancers and backup vocalists warm up, and band members rehearse "Roar," which Perry will perform later in the week on Saturday Night Live. Her assistant lugs four large black bags, explaining that these are Perry's closet giveaways; crew members draw a number and take turns going through the mountains of clothing that Perry is off-loading. (She is generous with concert tickets, too. On tour, she bikes around in a baseball cap and sweats with 10 tickets in her pocket to give to unsuspecting kids.)
If you wonder how Perry has time for a personal life with all this empire-building, often that is part of the enterprise, too. "I feel like my secret magic trick that separates me from a lot of my peers is the bravery to be vulnerable and truthful and honest. I think you become more relatable when you're vulnerable. When you try to market yourself like some supernatural figurine who can't be fucked with, I always resort back to Scripture: Pride comes before a fall."
Perry has put a lot of thought into how to be relatable—she famously started out as Katheryn Hudson, a pastor's kid with a gospel contract whose parents wanted to keep her away from all things secular and sinful. After getting her GED, Perry reinvented herself, moving to Los Angeles at 17 to pursue a career like that of Fiona Apple, one of her musical influences. By the time she was 23, three record labels had dropped her and two cars had been repossessed. "It built a lot of character, having to earn all of it over and over. Once you have it, you're so appreciative."
Sitting down at a picnic table, she slides on her black Ray-Bans and casts a weary look toward the parking lot where photographers may be lying in wait. "Pooparoozoo," she says playfully. These days, she can appreciate the place she's in, far from the emotional anguish she experienced after her British actor and comedian husband Russell Brand ended their marriage via text message on New Year's Eve 2011. From the outside, the couple's failed romance seemed familiar—yet another breathless, whirlwind celebrity relationship that flamed out after 14 months. For Perry, it led to some of her darkest hours. "There were two weeks of my life after I found out the truth of my marriage where I was like, 'OK. All right. I can't feel this. This is too intense right now,'" Perry says, pushing her sunglasses tight against her face. "I was, like, just eating Flamin' Hot Cheetos and drinking, and that's it."
Perry's longtime producing partner Greg Wells says that Perry was able to translate that pain into one of Prism's best songs, "By the Grace of God," which Perry has said was inspired by the moment when she considered ending it all. "I think she felt so kicked in the head and so publicly embarrassed at being divorced by a text message," says Wells. "She was at a huge low and was thinking about not leaving the bathroom forever." Initially, Perry had a different album in mind. "I thought it was going to be a lot darker—acoustic or Fiona Apple-y. You know, a 'hell hath no fury like a woman scorned' vibe." But after recording "By the Grace of God," she felt like she was ready to start a new chapter. "There are two ways you can go: You can either nurture yourself or go destructive. I have gone down the destructive path before, and that didn't work for me," she says. "You dig deep beyond those scars and find that soft tissue again, and you massage and nurture it and bring it to life, little by little, through serving yourself well. I did it through hikes and vitamins and therapy and prayer and good friends." She put up her musical team, including hit-makers Max Martin and Dr. Luke, at her favorite hotel, San Ysidro Ranch, a bucolic luxury resort outside her Santa Barbara, California, hometown, and got to work.
SANTA BARBARA is the place Perry gets to be Katheryn Hudson, "which is really important because Katheryn Hudson is the one who wanted to be a musician. I get to be centered again, to really breathe." Her evangelical parents, Keith Hudson and Mary Perry Hudson, and siblings, Angela Hudson and David Hudson, have all moved away and remain an integral part of her life. (Angela, a yoga instructor, accompanies her on tour and lives next door in L.A.) As Perry tells it, her parents met when Mary, "a pot-smoking debutante" and freelance journalist, was covering a tent revival in Las Vegas, which Keith, an acid-dropping hippie turned preacher, was attending. "People don't understand that I have a great relationship with my parents—like, how that can exist," she says. "There isn't any judgment. They don't necessarily agree with everything I do, but I don't necessarily agree with everything they do. They're at peace with—they pray for me is what they do. They're fascinated with the idea that they created someone who has this much attention on her. My parents are Republicans, and I'm not. They didn't vote for Obama, but when I was asked to sing at the inauguration, they were like, 'We can come.' And I was like, 'No, you can't. I love you so much, but that—on principle.' They understood, but I was like, 'How dare you?' in a way."
Perry has left behind her born-again past and finds spirituality through the writing of Eckhart Tolle (The Power of Now influenced the song "This Moment"); practicing Transcendental Meditation ("the best thing I got out of my previous relationship, because it was introduced to me via my ex-husband"); and therapy. "I don't believe in a heaven or a hell or an old man sitting on a throne. I believe in a higher power bigger than me because that keeps me accountable. Accountability is rare to find, especially with people like myself, because nobody wants to tell you something you don't want to hear. I actually don't trust people who start to turn on me because they get scared of telling me the truth. I'm not Buddhist, I'm not Hindu, I'm not Christian, but I still feel like I have a deep connection with God. I pray all the time—for self-control, for humility. There's a lot of gratitude in it. Just saying 'thank you' sometimes is better than asking for things."
DRESS, PRICE UPON REQUEST, RODARTE; NECKLACE, PRICE UPON REQUEST, ANA KHOURI; RING, $1,000, ROBERTO COIN.
Optimism is the through thread of Perry's new album, filled with danceable hits and airy love songs instead of post-divorce anthems. In fact, the new Perry is still romantic ("I don't want to live a life without love"), and her songs are focused on her on-off-back-on relationship with Mayer. "I took a break from my boyfriend, not one that I wanted. It was like a splash of cold water to search inward on what was going on with me. That is what led me to this new awakening, this realizing, If I don't do some self-love, I'm not going to be able to keep the love that I want. I still needed to deal with all of my ex-husband stuff. I hadn't." Perry never mentions Brand by name: "It's almost like if I kept on talking about it, it would seem like I actually cared about it. I don't." She has said she wants children, but "I'm definitely not there yet, and I can't plan that far in advance. When I decide to have a family, I'll just want to be Mom for a little bit … [Brand] really wanted me to have children, and I knew I wasn't ready—I think it was a way of control. I think it was part of, If I have a kid, then I would have to sacrifice—I'd have to be at home more. I really wanted to, but I knew I wasn't ready for it. It wasn't like, 'Hey, let's have a kid because we're in love.'"
The song "Love Me" is about that acceptance she says was nonexistent for a while. "If you put your self-love in someone else's hands, then you can't control it when it breaks or when they toss it out. I wrote something down after a session with my therapist: 'I don't want to lose myself in fear of losing him.'" Reuniting with Mayer was less the goal than a happy by-product of learning to love herself. "He's just a fantastic partner," she says. "I've been a fan of his for such a long time. He's got a brilliant, brilliant mind … It's a rad, mature relationship."
Perry calls over her assistant, who delivers part of her breakfast, a large ziplock bag filled with pills, a photo of which Perry has tweeted to her more than 47 million followers—at press time, the most of anyone in the world. "I went to see a Chinese medicine doctor who curated vitamins and supplements for my blood. It's a rich-bitch-type thing, but when I first did it, I felt like my mind was firing off like I was 17. It really changed my life. It made my mind so fast, my body feels great—and my skin!"
The health regimen was part of a transition period "where you really walk through the door of growing up. It's like you realize, What was cool for me at 26 is just not cool for me anymore." All that transformation made good songwriting fodder for Perry—enough for a double album she thought she'd do. Instead, she finished early, roaring out of the gate. "I've learned so many incredibly valuable lessons, and being given these gifts of songs from these experiences that people take on as their own messages and that inspire them or get them through things—it's a blessing in disguise … Sometimes I feel I'm the positive girl among my pop peers, but I'm OK with that. I'm happy I'm the light."
On Lips: CoveGirls Lipslicks Smoochies Lip Balm in Smooch.
WHAT'S ON HER BUCKET LIST
Visit Machu Picchu; go inside the pyramids in Egypt and down the Nile; learn Spanish; learn to crochet ("It looks so therapeutic—give me some needles now!"); work on her garden ("I just got three beds with herbs and vegetables"); cash in a ticket to outer space; "connect an Eddie Bauer Airstream to my boyfriend's Ford Raptor and camp at Yellowstone."
WHAT SHE SPLURGES ON:
"Chanel and good vacations."
ON CONFIDENCE:
"I'm confident because of my music. When you're confident, you don't feel like you have to seek outside approval all the time."
NEVER LEAVES HOME WITHOUT:
"Fragrance-free baby wipes and By Terry lip balm. I'm kind of like Howard Hughes-y in that I'm not a fan of germs. Getting sick is a bummer because I bum so many people out if I have to cancel a show … I might as well just throw hundreds of thousands of dollars off a cliff."
EXCLUSIVE EXTRAS
Around the World with Katy Perry
Wherever she is on tour—what she calls "one big road trip"—Katy Perry makes sure to pencil in play with her entourage of 115. "Anytime there is something fun to do, we take full advantage of it," she says. "We probably have the best time of all tours—I challenge anyone else's tour. Overall, I think we supersede." She's also invited along talents like Robyn, Marina and the Diamonds, Janelle Monáe, Ellie Goulding, Oh Land, and Natalia Kills. Stuff they've done across the globe that might inspire your fantasy bucket list:
Argentina: "We saw an authentic tango show and sipped Malbec."
Bali: "We had 10 days between Singapore and Hong Kong, and rather than flying everyone back to L.A., I took everyone to the Amanresorts. We went white-water rafting and had bonfires by our private pool."
Brazil: "We did Rock in Rio, and I rented a yacht because we wanted to have an after-party, but Rock in Rio goes until 3 a.m., so our party started at, like, 3 or 4. We were all jet-lagged, so we had no context anyway."
Canada: "We went to the Calgary Stampede, where we all dressed up like cowboys and cowgirls."
Dubai: "There was a skydiving competition—like the Olympics of skydiving [World Parachuting Championships]—and everybody was jumping out of planes every day."
Mexico: "We meditated inside the Teohuitacán pyramid-temples."
New Zealand: "We bungee jumped and went to the Glowworm Caves. You rappeldeep into the heart of a mountain, and things that look like constellations above you are actually made up of little worms."
Texas: "We rented out Schlitterbahn, considered the world's best water park."
JACKET, $3,568, ANTONIO BERARDI; JUMPSUIT, $4,290, VALENTINO; RING, PRICE UPON REQUEST, BORGIONI; SHOES, $625, CHRISTIAN LOUBOUTIN.
Celebrity news, beauty, fashion advice, and fascinating features, delivered straight to your inbox!