We Interviewed the Real Master of Sex, Lizzy Caplan
It's Showtime's shockingly smart—and just plain shocking—Master's of Sex, returning this month, actress Lizzy Caplan graduates from funny-girl sidekick to serious, seductive main attraction.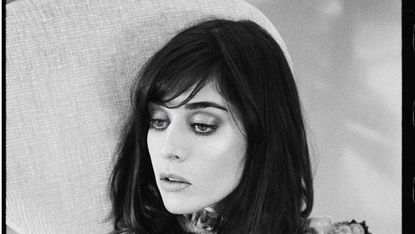 (Image credit: David Schulze)
I had to take a bath yesterday, and Yen, my dresser on set, had to strategically place bubbles over my naked body," says Lizzy Caplan. "I may be naked on camera, but Yen's job is to place bubbles over my boobs. So who had a more ridiculous day?"


Photo Credit: David Schulze; Valentino Dress, Price Upon Request; Bulgari Necklace, $3,100
Making light of public nudity has been a job requirement ever since the 32-year-old actress signed on to Showtime's Masters of Sex, which returns for its second season on July 13. If you haven't seen the show (and you should fix that), Caplan plays the real-life Virginia Johnson, a twice-divorced, sexually enlightened nightclub singer in late-1950s St. Louis who becomes secretary to the prominent, married gynecologist William Masters (Michael Sheen) and collaborates with him on a series of groundbreaking studies of human sexuality. Their methodology? Record hundreds of subjects in the act—and eventually participate themselves.
Taking on the decidedly un-acerbic Johnson is a departure for Caplan, who made her name playing prickly snark queens like Casey Klein, the disgruntled cater-waiter on Party Down; Gena, the coked-up bridesmaid in Bachelorette; and, most iconically, crazy-haired Janis Ian, the scene-stealing outcast in Mean Girls. Growing up in Los Angeles, the daughter of a lawyer father and a political-aide mother, Caplan honed her withering wit the old-fashioned way: scouring newspaper comics and reading joke books from the library cover to cover ("I took being funny sort of seriously"). Though, like Janis, Caplan wore her hair black and her thrift-store clothes baggy, her performing arts high school was nothing like the one in Mean Girls. "It was kind of the weirder you were and the gayer you were, the more interesting you were." She began acting at 15 and turned down NYU to keep at it, making her the black sheep in her "tremendously academic" family. ("But," she points out, "the black sheep with no student loans. How you like dem apples?")


Photo Credit: David Schulze; Dior Navy Dress, $2,350; Dior Pink Dress, Price Upon Request; Ariel Gordon Necklace, $795; Bebe Ring, $29 for Set of Four
These days, she plays an actual adult on-screen, and in her own life she's getting there, too. Where she once shared an apartment with a rotating cast of platonic male roommates, now she's "obsessed" with renovating and decorating the midcentury-modern house in L.A. she bought earlier this year—which she shares only with her cat, Stephen Colbert. "It was very fun coming home to a house full of rowdy dudes, but I don't miss having to make small talk with all the random girls who passed through our door," Caplan says. "Perhaps it's a sign of some newfound maturity, but I finally see the value in having a sanctuary." Come Saturday night, you'll find her cooking for friends at the "very long, very raucous" dinner parties she throws. After dinner? Perhaps a game or two of Scattergories, though she notes, "My friends usually won't play with me. Apparently, being aggressively competitive and in everybody's face isn't as adorable as I think it is."
While comfort still reigns supreme in Caplan's world, she admits, "I now understand the power of being a better-dressed woman, as opposed to a strange little street urchin." So she may rock Wes Gordon and Timo Weiland on the red carpet, but in her off-hours she relies on a uniform of jeans and a gray T-shirt. And though her style acumen is growing, she's also happy to skewer the aesthetics-obsessed. Case in point: "Fashion Film," a web short Caplan starred in last year for Viva Vena! (Vena Cava's diffusion line), in which she floats around in a wispy dress and a flower crown, breathily describing her many creative endeavors ("I like to collect things. I'm good at it. I just make my art")—until a friend shows up and informs her she's in a commercial. "That supercharged hipster shit is definitely not me," Caplan says, laughing. "There's a part of me that's actually jealous; if I could derive that much pleasure from a flower or a raindrop, my therapy bills would be way, way, way lower."


Photo Credit: David Schulz; Miu Miu Dress, Price Upon Request; Roger Vivier Shoes $875
Never has she appreciated the worth of clothing more than in playing Johnson, a character with extremely modern views on female sexuality—if you ask Caplan, Virginia's still ahead of the curve—and an extremely retro wardrobe. "The first thing I do in the morning is put on a girdle, garters with stockings, and a long-line bra," says Caplan. "Just doing that starts to make me feel like I'm in her skin. The simple act of clipping stockings to garters—there's an elegance to it. It's so sexy."