The 8 Most Outrageous Royal In-Laws
These are the 8 most controversial people married into the royal family.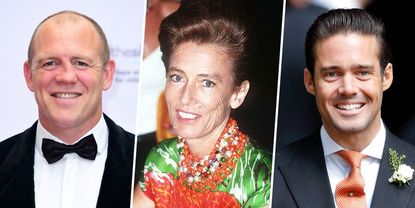 (Image credit: Getty Images)
If we've learned anything from The Crown, it's that the British royal family is a bit of a motley crew—and the show hasn't even gotten around to covering Prince Charles' tampon banter (the horror) or Duchess Fergie's toe-sucking scandal. Long story short: All the crowns and castles in the world can't save you from that one relative (or, in Queen Elizabeth II's case, a dozen or so) who just makes life a bit messy.
The black sheep du jour is Meghan Markle's half-sister Samantha Grant—largely thanks to her non-stop Twitter rants and a forthcoming tell-all book. It can't be easy to plan a high-profile wedding while being called out by your own flesh and blood, but Meghan's far from being the first royal-adjacent figure with a problematic family member.
1. Gary Goldsmith
"Black sheep." "Nasty drunk." Kate Middleton's Uncle Gary is a total liability, though he still managed to swing an invite to the 2011 royal wedding. In 2009, a News of the World sting caught Carole Middleton's younger brother plying a reporter with drugs and promises of prostitutes at his lavish Ibiza pad, charmingly named Le Maison de Bang Bang. It didn't help matters when he later gushed about Kate and Prince William's visits to Chez Bang Bang. His latest offense, however, is the most heinous. Last fall he was arrested for assaulting his wife, and was sentenced to a 12-month community order, rehab, and a fine.
2. Gary Smith
Princess Anne's son Peter Phillips dared to fall in love with Autumn Kelly, a Canadian (still the Commonwealth) whose uncle-by-marriage once owned a strip club which reportedly advertised a "one-armed" pregnant dancer as a star attraction (whoops). The Platinum Dolls Show Palace was eventually transformed into a gay bar, but Smith dissolved the business in January 2008, and just in time, too: Kelly and Phillips were married that May.
3. Susan Wright Ferguson Barrantes
Want to know how Sarah "Duchess of York" Ferguson's mother earned her nickname "The Bolter?" It's not because she knew her way around a hardware store. Prince Andrew's former mother-in-law ditched her husband and two daughters in 1972 to run off with an Argentinian polo player named Hector Barrantes, whom she ended up marrying a few years later. She met a tragic end in 1998, being decapitated and killed after her car collided with a truck in Argentina.
4. Mike Tindall
The former England rugby star seems to have mellowed out—in fact he and wife Zara (the daughter of Princess Anne) recently announced that they're expecting their second child. But a decade ago, it was a different story. A 2008 arrest for drunk driving resulted in Tindall having a three-year driving ban, and he was hit with charges of misconduct during the 2011 Rugby World Cup—which took place just weeks after his wedding. Tindall was fined and temporarily suspended from his team after visiting a (wait for it) dwarf-tossing club in New Zealand, and sorry, but he's not sorry.
"Do I have any regrets about the evening? No, because I had a good time with a lot of the players that I enjoyed playing with, with a lot of fans who I enjoy spending time with," he said in a 2015 interview. "It was nothing we didn't do in 2003. Not one player threw a dwarf."
5. ​Spencer Matthews
Before his older brother James married Pippa Middleton last May, Matthews was best known for his playboy antics on the British scripted reality show Made in Chelsea (like The Hills, but with polo and posh accents). Matthews left the show in 2016 following a drugs scandal, and has since appeared other reality shows, including The Jump and the U.K. version of The Bachelor.
6. Captain Mark Phillips
In what's sure to be an upcoming storyline on The Crown one day, Princess Anne's first husband managed to father a child with another woman during their marriage. The child, a daughter named Felicity, was born in 1985—but Phillips' paternity wasn't confirmed by a DNA test until 1991. So very Maury.
7. Lord Snowdon
Speaking of The Crown, if you're a fan you probably know a lot about Lord Snowdon's extracurricular activities. He reportedly had numerous extramarital affairs with both men and women, one of which resulted in an illegitimate daughter named Polly Fry. DNA testing confirmed his paternity in 2004. Lord Snowdon, who died last year, also fathered an illegitimate son during his second marriage, which broke up soon after the affair was revealed.
8. Princess Michael of Kent
Where to begin? The wife of Queen Elizabeth II's cousin Prince Michael has been accused of racism on multiple occasions, most recently for wearing a blackamoor brooch to a gathering with Meghan Markle. In 2004 she was accused of telling a group of black diners at a New York City to "go back to the colonies," an allegation she denied. She's also spoken of trying to pass for black during her travels in Africa, badmouthed other members of the royal family, and got away with paying about $100 a week to live in Kensington Palace for years until the Queen put her foot down following public outcry. To top it off, her German father was a member of the Nazi Party.
Celebrity news, beauty, fashion advice, and fascinating features, delivered straight to your inbox!