10 Reasons Why It's Okay to Be Over 18 and Love One Direction
Leave your shame at the door.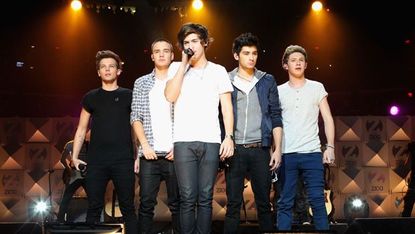 (Image credit: Archive)
1. There's five of them. It sounds obvious, but this generation is seriously lacking the boy bands many of us grew up with in the '90s. This revival is much needed and allows for us to meticulously discuss who is our favorite and why. Do I love Harry because he has a gorgeous head of hair? Or do I love Niall because he's so sweet and playful? The struggle is real.
2. Their backstory is touching. In 2010, Niall Horan, Zayn Malik, Liam Payne, Harry Styles, and Louis Tomlinson auditioned as solo artists for the UK's X Factor. They didn't advance in the "Boys" category, but then Simon Cowell decided to put them together as a five-piece boy band to compete in the "Groups" category. They went on to place third in the competition and wildly grow in popularity over the next four years. They started as strangers, and now they're brothers — it's a beautiful thing.
3. Their music is catchy. Perhaps the most blatant reason to love this boy band is that their songs are good, and their music videos are even better. The upbeat jam "Best Song Ever" truly is the best song ever, while "Story of My Life" will evoke emotions you didn't even know you had.
4. They're not too young for you. Because you are just listening to their music, not actually dating them. So who cares about age? Most pop stars at this time are in their 20s, and let's not forget another popular British band, The Beatles, which introduced the world to four twentysomethings in the 1960s.
5. They're REALLY CUTE. As a follow up to number 4, it's just undeniable how adorable they are. A true fan will see the beauty in each and every one of them, but if you just have your eye on one or two of them, that's fine as well. We are empowered women, able to admire the pleasing aesthetics of men without feeling a little creepy. It's fine. Just think of them as puppies.
6. They're British. That accent just makes any person instantly ten times hotter, and we're of course extra interested in anything European... Anything to feel more connected to the royal family.
7. They love their fans. There's nothing better than obsessing over pop stars and knowing they care about you as well. Too many celebs don't thank their fans for their success, but 1D always does. Every concert, every award show — they have their producers, managers, and stylists, but in the end it's the Directioners who made this band what they are.
8. They're really good friends. You can just tell the friendship is real, and it's so heartwarming to see a musical act that doesn't have drama. That just makes any person feel good. Keep it up, boys.
9. They have good style. Who doesn't appreciate a man who can dress well? They're not your typical boy band with matching outfits and choregraphed moves at their shows, but when it's time to get fancy, these young men impress.
10. Their concerts are a spiritual experience. You may be surrounded by hoards of screaming teenage girls and will probably get stuck getting in and out of the venue for an hour, but their shows pretty much have everything you would need in a performance.
They sing the classics:
There's powerful ballads:
And there are theatrics:
Related:
13 of Our Favorite Celebrity Photobombs
30 No-Makeup Celebrity Selfies That Are Totally Gorgeous
This is What the Game of Thrones Cast Has Been Up to Over the Summer
10 Times We Couldn't Believe Our Eyes During Beyoncé and Jay Z's On the Run Tour
Photo Credit: Getty Images, GIFS via Giphy
Marie Claire email subscribers get intel on fashion and beauty trends, hot-off-the-press celebrity news, and more. Sign up here.