The 10 Most Inappropriate Relationships of Pretty Little Liars
Whether they're flirting, hooking up, or dating, these pairings just might be creepier than A.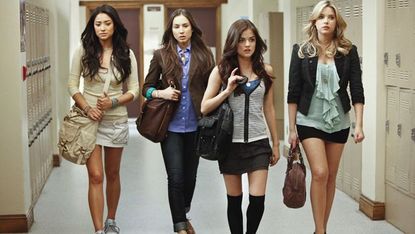 (Image credit: Archvies)
Marie Claire Newsletter
Celebrity news, beauty, fashion advice, and fascinating features, delivered straight to your inbox!
Thank you for signing up to Marie Claire. You will receive a verification email shortly.
There was a problem. Please refresh the page and try again.
While we're huge Pretty Little Liars fans, we can't help but notice that Hollywood tends to glamorize relationships that are a little disturbing, and even at times illegal. There's nothing romantic about older men taking advantage of younger women, and while we tolerate it in the fictional Rosewood bubble — you know, the place where no one has to go to school, report crimes, or tell their parents what they're up to — we'd rather see age-appropriate relationships heat up and these types fade away.
1. Aria and Ezra a.k.a. Ezria
This fan-favorite student and teacher affair kicked off PLL's ongoing theme: high school girls dating older men and no one thinking it's weird.
2. Spencer and Ian
In Alison's words, "He's your sister's boyfriend. And he's like, old."
3. Alison and Ian
Ironically, Allison had her own thing going on with Ian. Never trust a guy in the N.A.T. club.
4. Spencer and Wren
We began sensing a pattern when Spencer had a fling with the older doctor who's also her sister's fiancé.
5. Hanna and Wren
Wren can't get enough of the younger women.
6. Alison and Ezra
He thought she was 21, but she was still in high school. Classic Ezra.
7. Hanna and Detective Holbrook
A man of the law knows better than that. Or does he?
8. Hannah and Zack
Aria's mom's new fiancé: "Always had a thing for the bad girls..." Unfortunately it's a common trend in Rosewood.
9. Aria and Jason
The fact that she's the same age as his missing little sister isn't going to stop Jason.
10. Jenna and Toby
They're step-siblings — enough said.
Related:
30 No-Makeup Celebrity Selfies That Are Totally Gorgeous
The 7 Most Iconic Red Lips On TV
The Celebrity Biggest Photoshop Controversies
Celebrity news, beauty, fashion advice, and fascinating features, delivered straight to your inbox!