Celebrate Bastille Day by Drinking Like a French Girl
À la vôtre!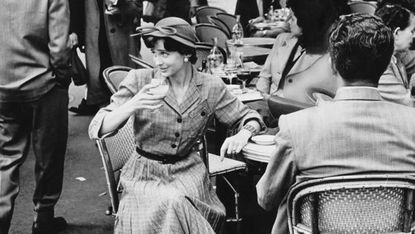 (Image credit: ARCHIVES)
1. Coffee
The French need their espresso, so start your day with a plain café, or perhaps a café au lait. Take a seat with that teeny, tiny mug—French girls don't treat to-go cups like a fashion accessory.
2. Wine
Today's the day to order wine with lunch. Some Merlot or Chardonnay are classic, but all wine is good wine—and definitely get a baguette to go with that.
3. Apéritifs
The French love their pre-dinner cocktails, and what's a better way to show your appreciation for the culture than by emulating your favorite French designer? Try the Christian Dior, filled with brandy, triple sec, lemon juice, and Lambrusco, or the Coco Chanel, made with London dry gin, kahlua, coconut milk, and cocoa powder.
4. Champagne
You won't gain weight and you won't stain your shirt—enough said.
5. Cider
The French's version is a bit more sweet than its British or Spanish counterparts. Cool off with a bottle from Cyril Zangs or Duche de Longueville.
Related:
7 Game-Changing French Beauty Secrets to Adopt Right Now
11 of Coco Chanel's Best Quotes
How to Dress Like a French It Girl
In Honor of Audrey Hepburn's Birthday, We Got Holly Golightly Highlights
Photo Credit: Getty Images