15 of The Most Dead-On Lyrics About New York
A place filled with opportunity, yes; fun, of course, but also a unique melancholy that allows for cheap thrills and late-night inspiration.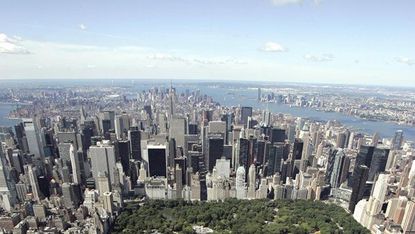 (Image credit: Archives)
New York City isn't for the faint of heart. The downtown grit, the uptown glamour, and the make it there attitude that Frank Sinatra so eloquently immortalized in his iconic song, "New York, New York," has been muse to more artists, poets, writers, and of course musicians, than one can count.
Taylor Swift recently dropped the second track off her forthcoming album, entitled "Welcome to New York." Her wide-eyed optimism beams through with lines like, "Like any great love, it keeps you guessing. Like any real love, it's ever changing." After listening to it I couldn't help but imagine a list miles long of her predecessors, singers and songwriters that also moved to New York with dreams of the "city that never sleeps."
My research, however, found that the most moving lyrics about New York were those that really understood New York. A place filled with opportunity, yes; fun, of course, but also a unique melancholy that allows for cheap thrills and late-night inspiration. Here, I detailed 15 favorites that really hit the nail on the proverbial head, all featuring the reeling ride that is living in Gotham.
"Talkin' New York" by Bob Dylan

I swung on to my old guitar

Grabbed hold of a subway car

And after a rocking, reeling, rolling ride

I landed up on the downtown side
"53rd & 3rd" by The Ramones

No more of your fairy stories

'Cause I got my other worries

53rd and 3rd

Standing on the street
"New York City Cops" by The Strokes

Here in the streets of American nights

Rise to the bottom of the meaning of life

Studied all the rules, and I want no part

But I let you in just to break this heart
New York City" by John Lennon

Well nobody came to bug us,

Hustle us or shove us

So we decided to make it

Our home

If the man wants to shove

Us out

We gonna jump and shout

The Statue of Liberty said,

"Come!"
"The Only Living Boy In New York" Simon & Garfunkel

Hey, I've got nothing to do today but smile.

Da-n-do-da-n-do-da-n-do here I am,

The only living boy in New York.

Half of the time we're gone but we don't know where,

And we don't know where.
"Walk On The Wild Side" by Lou Reed

Little Joe never once gave it away

Everybody had to pay and pay

A hustle here and a hustle there

New York City's the place

Where they said, "Hey, babe,

Take a walk on the wild side."
"Venus" by Television

You know it's all like some new kind of drug.

My senses are sharp and my hands are like gloves.

Broadway looked so medieval

It seemed to flap, like little pages:

I fell sideways laughing with a friend from many stages.
"All The Critics Love U In New York" by Prince

Purple love-amour is all you're in it 4

But don't show it

The reason that you're cool

Is 'cause you're from the old school and they know it

All the critics love you in New York
"Downtown Train" by Tom Waits

Will I see you tonight

On a downtown train

Where every night its just the same

You leave me lonely

Will I see you tonight

On a downtown train

All of my dreams just fall like rain

All upon a downtown train
"Summer in the City" by Loving Spoonful

Hot town, summer in the city

Back of my neck getting dirty and gritty

Been down, isn't it a pity

Doesn't seem to be a shadow in the city
"Hot Child in the City" by Nick Gilder

So young to be loose and on her own

Young boys, they all want to take her home

When she goes downtown, the boys all stop and stare

When she goes downtown, she walks like she just don't care
"Welcome to New York" by Taylor Swift

Walking through a crowd

The village is aglow

Kaleidoscope of loud heartbeats

Under coats

Everybody here wanted something more

Searching for a sound we hadn't heard before

And it said

Welcome to New York
"Empire State of Mind" by Jay Z feat. Alicia Keys

New York, concrete jungle where dreams are made of

There's nothin' you can't do

Now you're in New York

These streets will make you feel brand new

The lights will inspire you

Let's hear it for New York, New York, New York
Celebrity news, beauty, fashion advice, and fascinating features, delivered straight to your inbox!
Hallie has worked in beauty editorial for ten years and has been editorial director at Byrdie since 2021. Previously, she was a senior editor at Byrdie since 2016. During her time at Byrdie, she's written hundreds of high-performing stories on skincare, wellness (including fitness, diet, mental health, body image, et al) makeup, and hair. She's a regular on set, helping to source inspiration for makeup and hair looks, as well as interviewing celebrities, models, and other notable women and men in the beauty space.
Before that, Hallie ran Marie Claire's social media and wrote beauty and culture stories for the site, and helped launch Time Inc.'s digital-only beauty brand, MIMI. After college, she contributed to Time Out New York's Shopping & Style section before landing her first beauty editor gig at Hearst's Real Beauty. Hallie's writing has also appeared in ELLE, Cosmopolitan, and InStyle. Hallie graduated with a BA in Communication Arts from the University of Wisconsin-Madison.