On Repeat: A Chat with Erica Driscoll of Blondfire
Be prepared to put Blondfire on repeat. With their dreamy yet heart-thumping tempos, we can't get enough of this band's mesmerizing sound.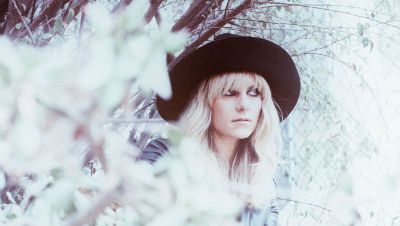 (Image credit: Eliot Lee Hazel)
Photo Credit: Eliot Lee Hazel
Be prepared to put Blondfire on repeat—with their dreamy yet heart-thumping tempos, we can't get enough of this band's mesmerizing sound. We chatted with frontwoman, Erica Driscoll about her down to earth style, being the only girl on the tour van (not bus!), and Death Valley shoots.
Marie Claire: How would you describe Blondfire's sound in three words?

Erica Driscoll: Definitely dreamy, emotional, and bittersweet.
MC: Who is your ultimate music icon?

ED: There are so many, but I'm going to have to say The Smiths and Morrissey. I had some older friends that made me a mixtape when I was around 14. I remember hearing "Frankly Mr. Shankly" and "The Queen is Dead", and the lyrics and the vibe of the music just inspired me to want to write songs.
MC: What was the most memorable concert that you've ever played?

ED: The one I'm remembering right now that was just so much fun was when we played Firefly Festival in Delaware—people on the bill were like Tom Petty, Yeah Yeah Yeahs, and MGMT. Just performing and actually seeing people in such a giant audience sing back our lyrics to me was a pretty amazing experience.
MC: How would you describe your style?

ED: I'm really inspired by timeless and glamorous women of the 60's like Brigitte Bardot and Sophia Loren. Also Kate Moss is amazing, she looks so put together but she probably just threw whatever she is wearing on. They all just look kind of natural and a little bit bohemian. I'm half Brazilian, and I definitely take away a little of that bohemian vibe from spending time in Brazil.
MC: What designers do you like?

ED: I love AllSaints and their leather jackets—I just got suede and leather jacket that I love to wear. I also love rag & bone—I have a couple pairs of their shoes, including these ankle boots that are gold—I call them my "stardust boots". Also, I would love to be dressed by the Rodarte sisters—they are amazing. And of course Valentino: I watched the live steam of the Spring 2013 show and I was blown away by it.
MC: What was your favorite video to shoot?

ED: I feel like the video for "Waves" was just a really fun and interesting experience because we got to go shoot in Death Valley, and I had never been there before. The director had scouted a bunch of cool areas to shoot, and every location was really surreal and different from the next. For one of the shots we hiked down into this crater—I can't remember how deep it was— of course, I was wearing flip-flops and my feet were getting cut up by rocks. We woke up at like four in the morning to get my makeup and hair done so we could catch the sunrise, and it was freezing, but it was surreal watching the sunrise over the mountains.
MC: What are your beauty essentials that you bring with you on tour?

ED: My hair's pretty thick so I always have to blow it out, so definitely Moroccanoil, a good straightening iron, blow dryer, and a good moisturizer. Also organic coconut oil—it's great because it's all natural and an all-in-one moisturizer for face, body and hair. Plus, I'm obsessed with the smell of coconut. It's so funny being a girl on the road and trying to keep up your beauty routine. Everything you bring along, you're pretty much dragging everywhere with you, so I try to keep it very simple as much as possible.
MC: Isn't it stressful being on tour for so long?

ED: It's really crazy because you're running on a lack of sleep and I also always try to make myself workout everyday. I would definitely say workout videos, as funny as that is, are always playing. We're traveling in a van right now and not in a tour bus, so there's definitely a lot of time when you're just sitting down, so I try to like do something everyday, and I like workout videos. I introduce them to my team a lot just to kind of keep it fresh.
MC: You're a trooper.

ED: I know. It's pretty funny, everyone in my band laughs at me.
Marie Claire email subscribers get intel on fashion and beauty trends, hot-off-the-press celebrity news, and more. Sign up here.