MC@Play: Natalia Kills
Her image is all seduction and glitzy fashion. But privately, pop music's bad girl has led a troubled life.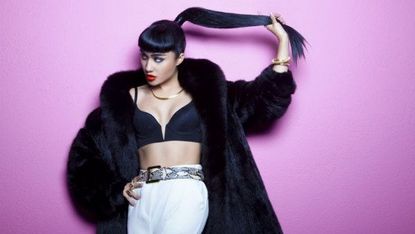 (Image credit: Cherry Tree/Interscope Records)
Her image is all seduction and glitzy fashion. But privately, pop music's bad girl has led a troubled life. MC's Sergio Kletnoy sat down with the singer who opened up about her tumultuous past and her hopes for the future.
Marie Claire: Your real name is Natalia Cappuccini. Where did Kills come from?

Natalia Kills: I could give a fancy answer about "killer heels" or "looks could kill," but that would be a lie. The truth is the word kills just felt right and nothing else did.
MC: When was the first time you realized you wanted to be a star?

NK: I was probably 10 years old or younger, and my dad was in our piano room watching Casino. I remember seeing the character Ginger, who had on a white fur coat and sparkly earrings, and thinking, I really, really, really badly want that life, but I don't want a man to just give it to me.
MC: I get the sense that women might be intimidated by you—that you're more of a tough girl who is one of the guys.

NK: Oh, my God, no! The opposite! I only like girls. Boys are toys, but girls are forever.
MC: What's behind the title of your new album, Trouble?

NK: I feel like trouble has followed me from the day I was born. I have this awful riches-to-rags childhood story: When I was born, my family had a lot, but by the time I was 11, my dad had been accused of being a criminal and we were visiting him in jail. The police took everything—all the cars, all the houses.
MC: How did you stay positive through all the dark stuff?

NK: I would tell people what I was going to do in the future as if it were already happening. Like, "I'm a writer, I'm a this, I'm a that," rather than, "I live in a $20-a-night motel in Hollywood."
MC: Does your past creep into your songs?

NK: To be perfectly honest and selfish, I made the album for myself. It was important for me to be able to take all the bad bits in my life and turn them into defiant anthems.
MC: Do you ever feel like you have a dark cloud hanging over you?

NK: If I do, it's raining diamonds.
Follow Natalia on Twitter @nataliakills, and watch the video for her single "Problem" below!
Celebrity news, beauty, fashion advice, and fascinating features, delivered straight to your inbox!